In your bag 437, Matt Erasmus
Matt has a great bag for us today. Coming to you all the way from Norway, this bag has some interesting bits, but you will have to guess what some of them are. Check it out.

Howdy
Here's my submission for your "In Your Bag" section. I have to admit I have a fairly unhealthy obsession with stuff like this.
A little bit about me:
I'm an enthusiastic amateur photographer from South Africa. I live in Norway currently. I mostly shoot street with the occasional dabbling in model photography when I get the chance. Mostly I enjoy being behind the lens. I probably got into photography when my ex-girlfriend got me a digital camera for my birthday a few years back. Since then I've been expanding my gear and learning as much as I can.
After moving to Norway I got my first Leica and it's been going "downhill" since then. I love how film photography slows the entire process down. The light in Scandinavia is also amazing at this time of year :)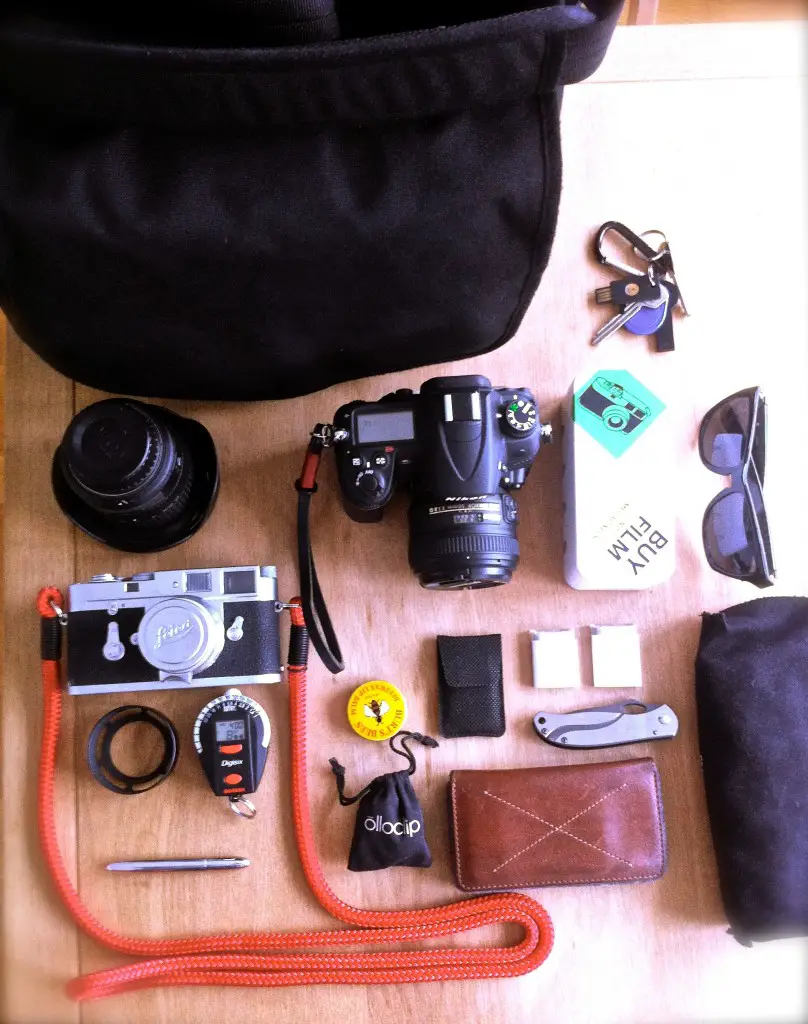 Gear:
I try and pack light. I've been using a Thinktank Retrospective 10 for a few months now. I generally just carry my Nikon with two lenses and the Leica. I have a Gossen Digisix light meter and a couple of odds and ends I think I might need while out in the city.
Nikon D7000 with a 50mm 1.8 (saving for a 50mm 1.4 and 85mm) and 10-24mm
Leica M2 with Elmar 50mm (saving for a Summaron 35mm)
I shoot mostly Ilford XP2 400 (shooting 100 in Norway in Winter is a little silly).
Flickr: http://flickr.com/photos/mattzn
500px: http://500px.com/mle
Thanks for the great site…
Thanks for sharing your bag with us Matt. I love seeing the old and the new together. And the film case, cheers.
Check out the links and make sure you come and comment.
Keep them coming folks, we need more submissions, so get your bag on Japancamerahunter.com. Send me a hi resolution image of the bag (please make sure it is horizontal) and its contents, with some details about yourself and what you shoot. Oh and don't forget your contact details (twitter, flickr, tumbler et al). Send the bag shots here.
Cheers
Japancamerahunter