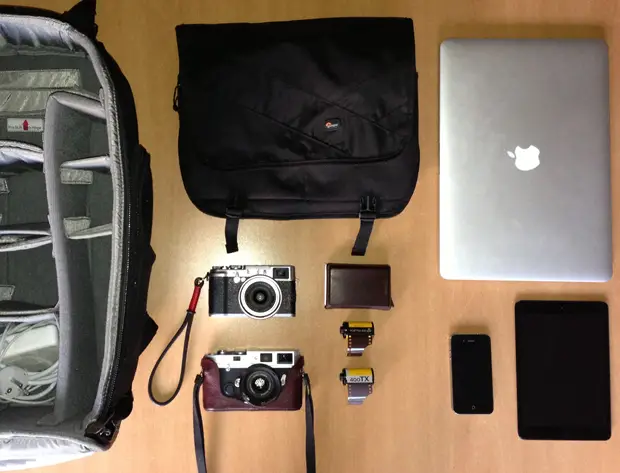 In your bag 436, Lorenzo Van Galen
Lorenzo has a lovely mixed bag. A fusion of film and digital, everything working in perfect harmony. Come and have a look at this simple and modern setup.

First of all, Mr. Hunt, thank you for this awesome site. I love the community here. I always enjoy checking out all of the gear people carry so I had some spare time and I decided to write and photograph something about my gear. Keep up the awesome work!
So a little information about myself; I'm Lorenzo van Galen, 21 years old and I live in the Netherlands. I have a fulltime job at Apple in the Netherlands and I absolutely love photography. I mainly shoot streetphotography but also like to shoot portraits with of camera speedlights.
So here we go! This is my bag. It's a combination of digital and analog.
I use a Think Thank Streetwalker Harddrive to carry all my stuff. I always carry a small Lowepro messenger bag with me to take the camera's to the street, so actually it's what is in my bag that's in my bag. The Think Thank bagpack is way to big to use on the street but is perfect to take it with you on holiday for example.
So this is what I carry;
– Leica MP .58x,
love to use this camera. It's so much more rewarding when pressing that shutter than with a digital camera. It's an whole other way of shooting. I use it with a CV 35mm 2.5. It's perfect with the .58x finder and it's sharp. All dressed up with the Artisan & Artist brown leather half case. Love it!
– Fuji X100,
Great camera, still using it with great pleasure! Perfect for my digital photography. Small, cheap and awesome quality pictures! Got a footprint wriststrap on this camera and it's perfect!
– MacBook Pro Retina 15inch,
My lovely MacBook. Great for photo editing with the Retina display.
– Kodak Tri-x 400, my every day b&w film.
– Ilford Delta 3200 (in the camera),  been experimenting with this film. Heavy grain, shoot in low (no) light but I don't always like the grain. Works best with one lightsource in my opinion. If anyone has tips to shoot this film and get the best results, please let me know.
– Kodak Portra 400, my everyday color film. Beautiful but pretty expensive. About $8-$10 a roll.
Will travel to Tokyo on the 24th of February and will be staying there for a week in Shinjuku. This is the gear I'll take on my trip. Never been in Tokyo, really looking forward to it. I'll be shooting the whole week (and camera/film shopping of course) so maybe I'll bumb into Mr. Bellamy Hunt somewhere on the Tokyo streets or in Mapcamera or Yodobashi ;)!
If you would like to see some work you can check these sites;
www.lorenzovangalen.com
www.flickr.com/photos/lorenzovangalen
For the people that are interested, here is a quick overview video of the Leicavit on YouTube which I've made some weeks ago (I was looking for some information about the Leicavit but I couldn't really find any useful video demonstration on how it works so I've made one myself):
http://youtu.be/0xxu9z_Jgsw
And if anyone has some tips for Tokyo please let me know! Wish you all the best.
Cheers!
Lorenzo van Galen.
Thanks for sharing your great bag with us Lorenzo, Nice to see both processes getting on so well.
Check out the links and make sure you come and comment.
Keep them coming folks, we need more submissions, so get your bag on Japancamerahunter.com. Send me a hi resolution image of the bag (please make sure it is horizontal) and its contents, with some details about yourself and what you shoot. Oh and don't forget your contact details (twitter, flickr, tumbler et al). Send the bag shots here.
Cheers
Japancamerahunter