In your bag 434, Joel Chavez
What'o Carruthers, this chap has a rather dashing bag, does he not? Jeeves, fetch me my camera and my shooting stick, we have a bag to look at.

Hey, My name is Joel Chavez and I'm a 27yr old Graphic Designer and Videographer from Long Island, NY just outside of New York City. I started photography as a sophomore in high school and its been a staple in my life ever since. I shoot only film and have owned quite a collection of cameras which I have either sold or traded in to finally come to this conglomeration of gear.
I shoot predominantly street photography and some occasional street level portraits etc. so I like to maximize my load capacity when I'm out shooting for an entire day or a weekend. That being said, I despise unnecessary bulk and awkward ergonomics in a bag. For that reason I settled on this tactical MOLLE system rucksack, which is collapsable and expandable depending on the carrying load. The functionality of the pack can also be expanded with the addition of MOLLE compatible pouches and accessories, that hook onto the double stitched nylon PALS webbing surrounding the pack.
I have a few different bag configurations that I carry depending on what I'll be shooting specifically. I am big on shooting multiple formats and film types in one outing. Thats why, quite possibly my favorite camera in my collection is my Mamiya Universal Press camera (in the middle) with the relatively rare 100mm 2.8 Mamiya Sekor lens (sourced by Bellamy). I mostly keep the polaroid back attached and shoot polaroid 669 type 100 film as well as fuji fp 3000b instant pack film. Affixed to the camera is a custom made leather strap with adjustable neck support, which I've duplicated and attached to the majority of my gear. To the right of the Mamiya Press is an interchangeable 6×7 back that I use to shoot mostly 120 Kodak Portra.
To the left of the press is my auto to manual converted Polaroid 250 with the Zeiss finder that I've attached a 127mm 4.5 Tominon lens to. I use it as my back up pack film camera, should something malfunction with the press. I love its collapsibility but more so, just the fact that I made it makes it that much more fun to shoot with.
Top left is my go to 35mm slr. My Canon A1 with the wonderful and relatively cheap 50mm 1.4 FD lens.
Next to the A1 is my baby, 1967 Leica M4 with 50mm 1.5 Leica Summarit. It may sound cliche, but I totally dig the "Leica glow" from the Summarit. Might not be the most technically sharp wide open, but certainly does not fall short on character.
My second red dot is the pride of all my thrift store purchases. I paid $1 for this bad boy a few years ago, and though its not the greatest leica ever made, its still a nice, sharp, semi compact Leica, and did I mention I only paid $1??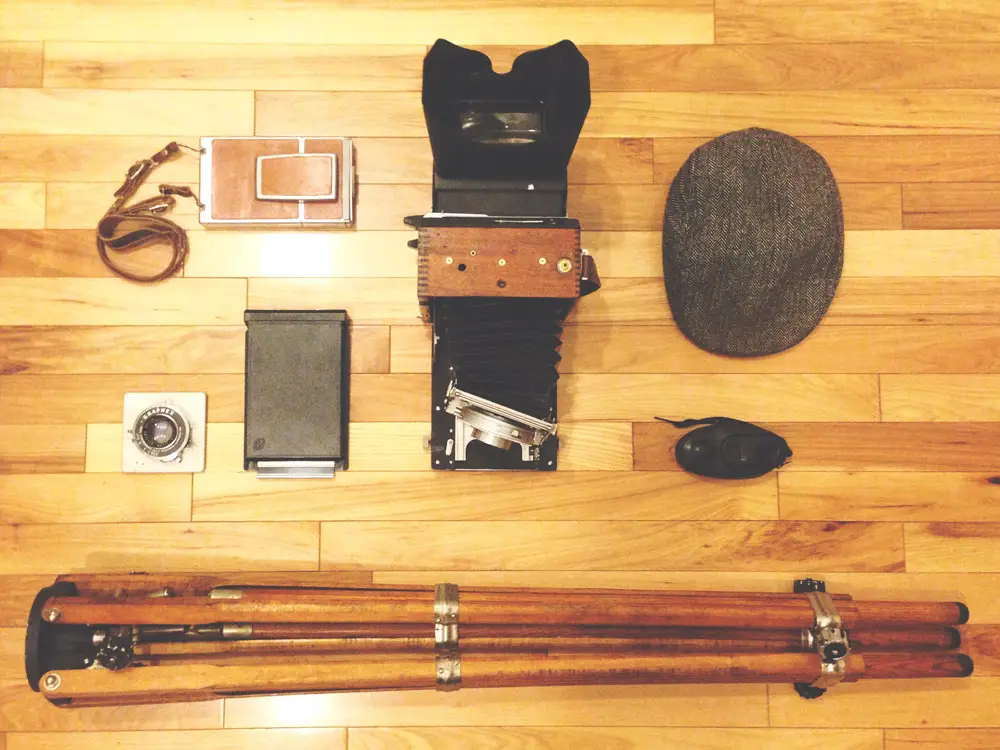 My second configuration is for my large format gear. Mainly my stripped and modified Crown Graphic with custom made leather hand strap and a modified reflex viewer originally meant for polaroid MP4 copying station. With the crown graphic I shoot predominantly 3×4 polaroids so I bring along a fuji pa145 polaroid back and two lenses, 8.5 Kodak Commercial Ektar, and 135mm Graflex Optar.
Below the crown graphic is a vintage Ries wooden tripod from the 1950's. The tripod isn't the lightest but its certainly sturdy and just down right sexy in my opinion.
To the far right is my Sekonic L-398 light meter and my china town bought newsboy cap to keep the press photographer look.
As I said I love to shoot multiple formats every time I'm out shooting, predominantly to see how the scene is portrayed in one medium in comparison with the other. To the top left is an SX70 Alpha with another custom made Leather strap, which I use to shoot Impossible instant film and any vintage polaroid film I find on ebay.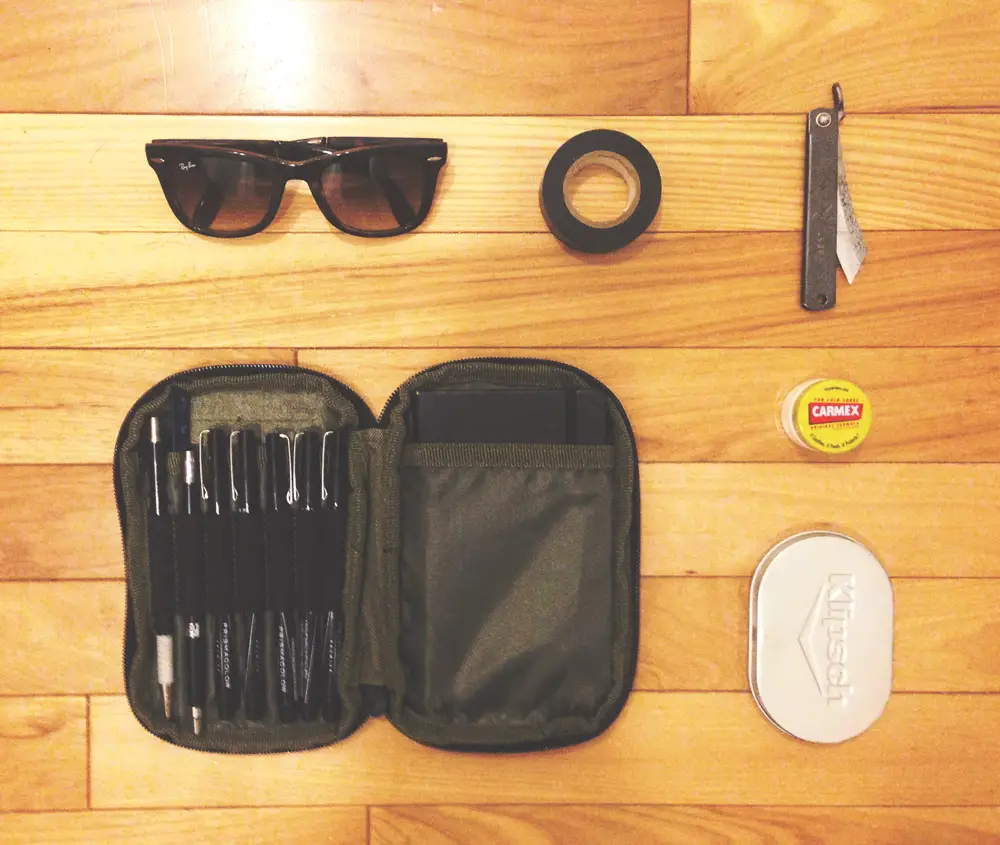 Last but not least are my smalls. My military tool/pen case that currently holds two retractable pencils and 5 prismacolor archival pens for writing down exposure settings, notes, or random doodling. Beside that, my trusty Moleskine notebook which fits nicely in the case' internal pocket.
A little electrical tape can go a long way in temporarily repairing any malfunction that could occur in the field, so I always carry a roll just incase.
Similarly, a man should never be without a trusty pocket knife. So I carry a Best Made Japanese Higo knife which I like to think of as a mini sword.
The rest is purely cosmetic but essential nonetheless. Tortious shell ray bans, Klipsch in ear headphones, to shut the world out, and of course being a street photographer, I cant leave the house without my Carmex lip balm for those days when I'm freezing my ass off.
So thats about it. This is my gear, and all in all an extension of my creative vision. If you want to see some of my photography peep my blog; http://streetcub.tumblr.com and my flickr stream; http://www.flickr.com/photos/j-chavez/
Cheers,
Joel
Thanks for sharing your wonderful bag Joel. I love the Crown Graphic, it is a stunner.
Check out the links and make sure you come and comment.
Keep them coming folks, we need more submissions, so get your bag on Japancamerahunter.com. Send me a hi resolution image of the bag (please make sure it is horizontal) and its contents, with some details about yourself and what you shoot. Oh and don't forget your contact details (twitter, flickr, tumbler et al). Send the bag shots here.
Cheers
Japancamerahunter