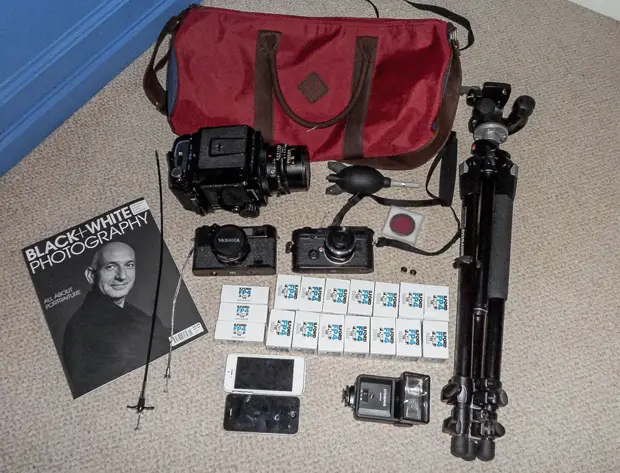 In your bag 420, Dale Murray
Dale brings us an interesting bag from the UK. Dale may be young, but he already has the film bug and he knows what he wants to shoot with. Check it out.

Hello, My name is Dale Murray and i am an 18 year old student from the midlands in England. I was first introduced to the world of film in high school. I choose to take Photography at GCSE. A huge part of this course was analysing the work of the "Masters of Photography" this include Eadweard Muybridge, Ansel Adams and Bill Brandt. I was amazed by every one of these pictures!
One photography that truly struck me was "Mount Williamson From Manzanar" photographed by non other than Ansel Adams. The Depth that this photograph has is huge! For two years i shot with a Canon 400d, it was a nice camera no doubt, but my facination with Black and White photography made me move on. I hated converting every photo taken into monochrome, and felt that i was producing fake bland photographs. I wanted to campture the raw shot straight to monochrome, and this is where i made my move to film.
I started with the Yashica Electro 35 G, The cameras leaf shutter stopped working midway through the second roll of film, and so i moved to the GT model. These cameras forfilled what i wanted, but they are Aperture Priority cameras. I ended up dreaming about a Leica (Just like Everyone else)(All manual Goodness). I finally got one for my 18th Birthday!! Then came the dreams of huge prints, hence the RB67.
The bag i have to show you today is what i typically travel with.
– Leica M6 Classic, with Ziess Planar F2
– A couple of LR44 Batteries for the Leica's Meter
– Manfrotto 190XPROB Tripod
– Manfrotto 460MG
– B+W Red filter (For those black skies)
– Yashica Electro 35 GT
– Giottos Rocket Blower (Got to keep those lenses crystal clear!)
– Iphone 5 and 4. I use these as light meters for the RB67. So i cant have one die.
– The latest issue of Black+White Photography Magazine
– Mamiya RB67 with 90mm 3.8 lens, and waist level finder.
– Two cable releases to operate the RB67 mirror up.
– Crappy flash (Just incase)
– Lots of fp4. The best film in my opinion! It fuels all off my cameras.
– Topman Bag
This awful photo was taken with my Dads point and shot. I really should have kept that 400d!
Some of my work is on 500px:
Thanks alot Bellamy for all the Camera Geekery!
Thanks for sharing your bag and your photo dreams and inspiration with us Dale.
Check out the link and come and comment.
Keep them coming folks, we need more submissions, so get your bag on Japancamerahunter.com. Send me a hi resolution image of the bag (please make sure it is horizontal) and its contents, with some details about yourself and what you shoot. Oh and don't forget your contact details (twitter, flickr, tumbler et al). Send the bag shots here.
Cheers
Japancamerahunter