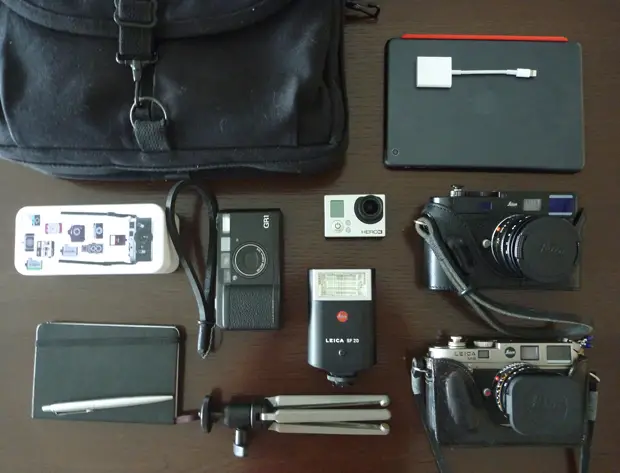 In your bag 408, Tom O'Hara
Todays bag is great because I have seen the camera. Tom came to Japan in December and I bumped into him on the street, so I got to see his lovely M6. This is a great little setup and I hope you enjoy it.

Hi all,
my name is Tom O'Hara, im 21 years old, and im a full time law student, part time photographer from Brisbane, Australia. I've been shooting for around 5 years and in that time i have dabbled in pretty much everything. I started shooting my mates while they were surfing and now my interests lie primarily in fashion, beauty and portraiture. I've recently moved from Canon digital to smaller more discrete rangefinders and film SLRs. The New Year is set to bring some exciting projects and hopefully the chance to develop some film in the kitchen sink.
The bag that i've shown here today is what i will be taking with me to Tokyo on Christmas day, for two weeks. Everything you see in the picture fits in the bag. I will be taking it everywhere and anywhere with me. I am super excited to get to Japan to browse the shops that Bellany, no doubt, painstakingly plotted on google maps for us all. I think i might pick up an old MF camera and some 120 film to play with whilst there.
So here is what is in my bag
– The bag is a Domke F803, awesome bag, very discrete, sturdy, lots of pockets and you can jam a whole bunch of stuff in it.
– Ipad mini with sd card reader – i love this thing, its extremely light, very fast and good for reading books and browsing the web when i'm on the move.
– The trusty sticker laden Japan Camera Hunter film case, filled with Trix, HP5 and Delta 400. All 400iso B&W, but i'll be pushing and pulling accordingly.
– Ricoh GR1, arguably the best point and shoot film camera ever, if you don't count its younger siblings. This is great to slip in your pocket when you don't want to lug anything around
– Moleskin and parker pen to take notes, sketch (terribly) and write important ideas on.
– Manfrotto table tripod, a sturdy little thing that is perfect when you need a tripod or when you want to take a selfie.
– Leica SF 20 flash, sourced by Bellamy
– A GoPro HD Hero3 Black for fun fish eye shots and video should i require it. This thing is wicked!
Now to the work horses
First is a Leica M9. Its wearing a Zhou case and soft release, thumbs up and a Gordy's wrist strap. I've also taken the effort of putting on a black dot and covering the 'M9' so i don't have to worry about getting mugged around Brisbane. I pair this primarily with a 50mm pre-asph 'Lux E46 which is a wicked lens. This camera is everything its hyped up to be, the sensor is something else and shooting with it is great fun!
My other camera is a Titanium M6 classic which has a 35 'Cron asph mounted to it. It also has a zhou cover, soft release and Gordy neck strap. This camera i plan on keeping for a very very long time. As many who frequent this site can attest there is nothing like a Leica, particularly their film cameras. The build quality is second to none and its great fun shooting with a rangefinder.
So thats my current kit folks, i don't often upload my work online, i prefer to keep it between myself and the person who i have shot. However given the aforementioned trip im sure there will be plenty of new content to show off in the new  year.
Here are my links:
https://www.flickr.com/photos/[email protected]/
Instagram username – tomohara91
I hope you have enjoyed my bag, Merry Christmas to all and i hope you all have a very safe and enjoyable New Year.
Cheers
Tom
Thanks for sharing your bag with us Tom, it was great to bump into you in December and great to see your camera. Nice to see you using my map too.
Check out the links and make sure you come and comment.
Keep them coming folks, we need more submissions, so get your bag on Japancamerahunter.com. Send me a hi resolution image of the bag (please make sure it is horizontal) and its contents, with some details about yourself and what you shoot. Oh and don't forget your contact details (twitter, flickr, tumbler et al). Send the bag shots here.
Cheers
Japancamerahunter