In your bag 384, Jason Fung
Todays bag is amazing. The camera itself is a thing of wonder, and there are several shots of this wonderful piece of kit. Jason has sent in a fantastic bag for us to drool over. Come and have a look.

Thank you JapanCameraHunter for having such a consistent 'what's in your camera bag section.'  It gives me a few moments to take a break from work, recompose myself and view all the different carrying solutions that people have.  Admittedly, it doesn't help with my bag fetish; as I search for the perfect camera bag for the perfect situation.
I am an avid enthusiast that shoots multiple formats.  I would best describe myself as a convoluted photographer, who has dabbled in everything but struggles to define his own photography.
The Bag I'm sharing today is one I designed to fit a particular need.  I recently attended a friends wedding as a guest.  I was adamant not to get in the way, and not to appear in any photos with my armpits exposed.  (That was after I read an article about how some wedding photographers are struggling to capture an intimate moment between the bride and groom; because there are too many people in the background with their cameras pointed up.)  Despite all that, I still had no idea what camera I wanted to bring.  The creative process of this bag was somewhat of a Swiss Army knife approach.  I wanted to be able to give prints to enjoy at the wedding – heighten the experience as people gather and look at physical prints.  The economy of shooting 120 film (as opposed to the other two alternatives).  And the large film size advantages of shooting 4×5.  There is a single camera; and a single lens that can accomplish all of this!
I created this one time use bag for this event.  I don't imagine many applications where this bag will be used again,
The Camera:
Polaroid 110B + 127mm f/4.7 Rodenstock Ysarex
This camera has been converted to a graflox back.  My intention was to shoot multiple formats at this wedding; from 6×9 to fuji instant to 4×5.
The Bag:
The bag is just a regular duffle gym bag that I dug out of my mom's closet.  Apparently she got it as a gift at some company event.  I asked her if I could use it and viola, a bag stuffed with film that I can leave somewhere in the corner.  The most valuable things in there were a lot of film; and an extra film back (I carried one of the film backs in my jacket pocket.  Easily replaceable if someone was stupid enough to steal a bag with nothing essentially valuable inside. Normally, with such bulky equipment, I'd choose a backpack; however since I didn't want to ruin my suit, I settled on a shoulder bag.  My back didn't complain that much.
The bag is quite wide; so I just fit in two non-branded bag adapters and stuff all the film in there.  This bag is 75% just film.  I'm still waiting for the day when Bellamy makes me a film case to fit all this.  As much as I like the idea and concept of Bellamy's bikirui cases, I just don't shoot enough 35mm to justify a bikirui case. The cases still seem like a wonderful idea if you are the kind of person who needs to carry 10 rolls of film.  *cough cough* I needed one of those for my 120 film today.  *hint hint*
The accessories:
Polaroid 505 back: for the fuji instant film.  This was the only back I used at the event.  All the other film was left untouched for the entire event.  I was just having too much fun. I'm sure I'll eventually find some use for them.
Horseman 6×9 back: for 120 film
Ground Glass: for 4×5 film
Sekonic L308
Black Rapid imitation strap.
Fuji EF-X20 (In my opinion; the best flash ever!)
Some coloured gels (just in case some extra lighting is required)
Wireless Remotes (Phottix Stratos II): I use a pc sync cord to connect the flash to this remote because the Polaroid flash hot shoe isn't standard; and it doesn't work.  It also doubles for off camera flash work.
filter adapter: Necessary because the Polaroid uses these push on filters I've never seen before.  I believe Rollei's uses a similar kind of adapter.
filters: 58mm various colours from 80A warming and most of b/w filters
Photos: I tend to prefer these to business cards because it is nice to talk about photos; instead of talking about the latest gear obsession.  Which I was able to use as I caught up with a few friends that I haven't seen for a long while (before my photographic obsession consumed me)
The Films:
– Ilford HP5 (120 + 4×5) This is my go to film, primarily because I can use it for any format.
– Fuji Provia (4×5)
– Porta 400 (120)
– Delta 3200 (120): Just in case the venue gets dark
– Fuji 100C (instant film for the 505 back)
– Fuji 3000B (instant film for the 505 back)
in the end, i just used a pack and a half of Fuji 3000B and one pack of 100C. I know I know, I brought to much film.  I figured I'd air on the side of caution.  I really didn't want to say, "everyone wait.  I need to take a four hour commute home because I need to pick up another roll of film." Yes.  It did take me almost four hours to reach the venue.
At the wedding, I found myself enjoying myself so much – and genuinely happy for the couple – that I only shot about 23 photos the entire event.  I stood there smiling and in awe of the future this lucky couple has together.  I gave the photos to the best man (only 4-5 photos turned out really great; the others were just too difficult to meter) and I an hour after the wedding their facebook accounts was already being flooded with tags and albums.  I didn't feel like I wanted to compete in that kind of a crowd anyways.
Congratulations and Best Wishes to Chris and Sherry.
P.S.
As I mentioned earlier, more and more of my current work has become more personal. I have been printing more and sharing them individually – and not so much online.  Such as it is, my flickr account has some amazingly old work.  As such the galleries included will not really recent photos.  Thanks for looking.
If anyone is in the Hong Kong area, get in touch with me.  I find shooting with others a wonderful change of pace.
Cheers!
Added explanation of photos:
Just film: All the film and the other goodies loaded into the bag all filled up.  From the top insert, traveling from left to right: Wireless transmitter, light meter, flash, extra batteries, cloth, cable release, flash cord, photos, 4×5 film.  The Bottom Insert, from left to right: horseman 6×9 back, Polaroid 505 back, lots of instant film.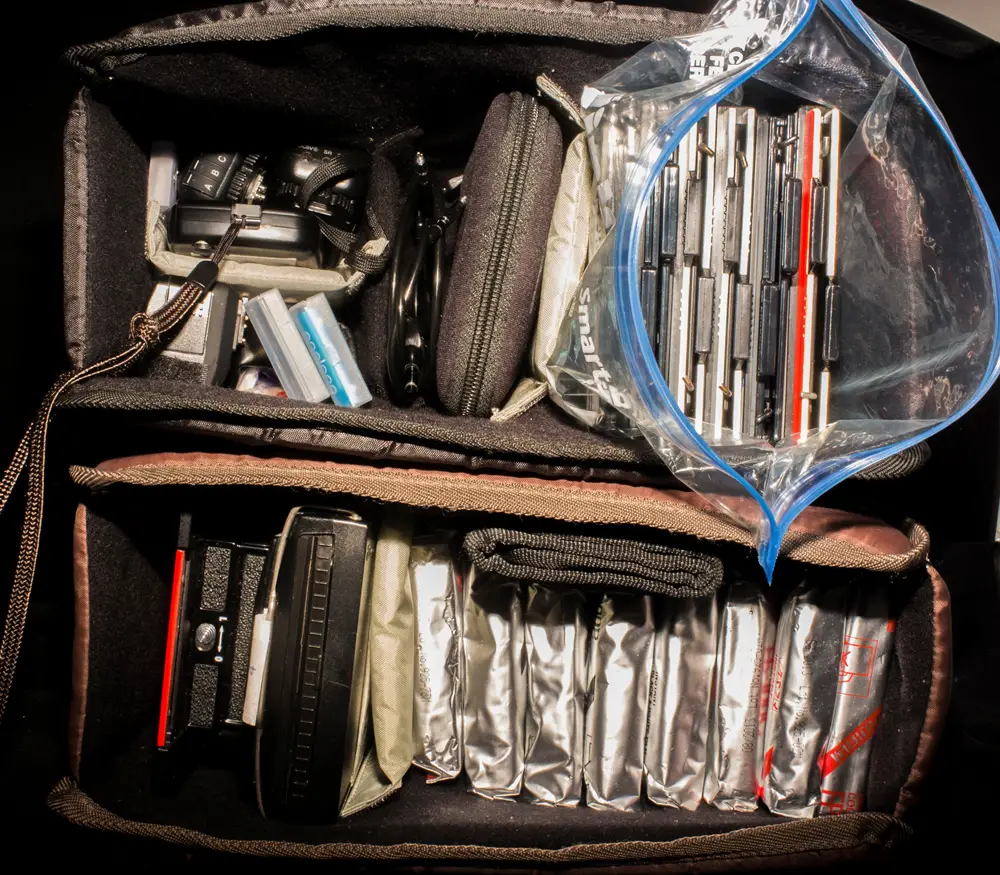 The Bag: Everything in the bag out on display.  Refer to the description above.
Polaroid 110B: Seems self explanatory.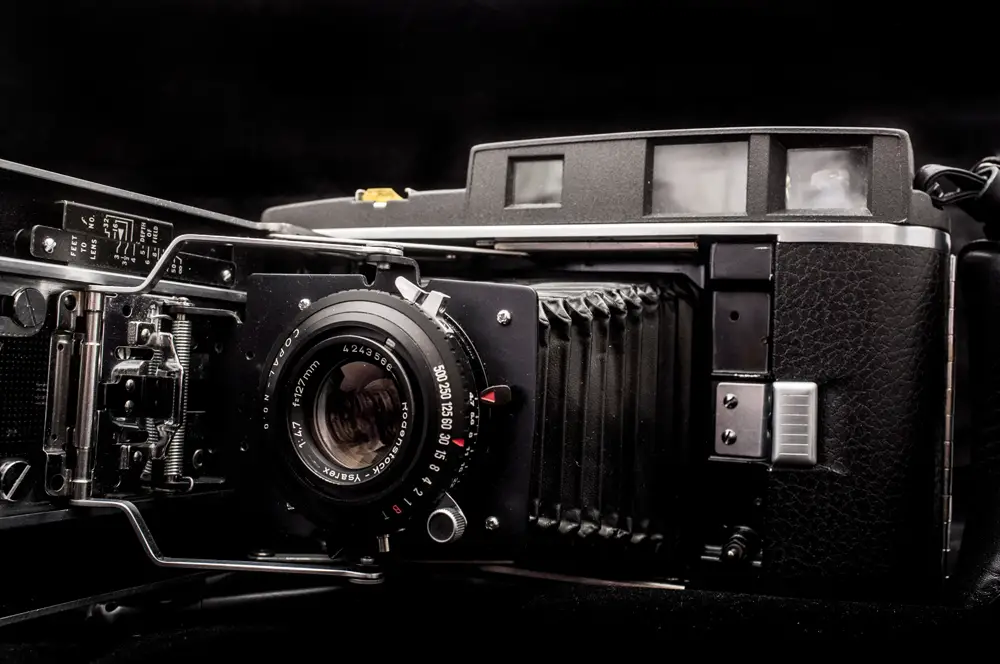 110B on the Bag: This too, just with the camera on the bag to give a better sense of scale
Through the ground glass one: Yes I know the image looks upside down and out of focus; that is because this is a ground glass.  The image comes up upside down – this means that there is no mirror or prism to turn the image the way most SLRs are configured.  What you see in the picture is some of my more recent prints I've made.  Some of the more eagle-eyed viewers might notice some red dots.  These are markings on the ground glass to help me frame and line up my shot.
Two: Same, just a few inches back just so you can see the camera
Wow, what a camera and what a story. Thanks for sharing your bag and your thoughts with us Jason. Though you didn't include any links. If you want please add some in the comments.
Hope you liked that one as much as I did. Come and comment, it is always welcome.
Keep them coming folks, we need more submissions, so get your bag on Japancamerahunter.com. Send me a hi resolution image of the bag (please make sure it is horizontal) and its contents, with some details about yourself and what you shoot. Oh and don't forget your contact details (twitter, flickr, tumbler et al). Send the bag shots here.
Cheers
Japancamerahunter