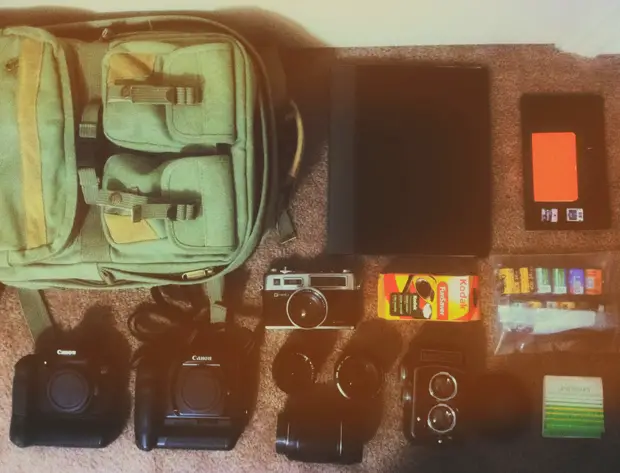 In your bag 376, Brian Green
Today we have a great bag for you from the Sunshine State. Brian has a mixed up bag with a few different cameras inside. Come and have a look.

I am a street photographer currently in Orlando, Fl but i am always on the move so its nice to be able to have my life on my back even if it can be a little heavy i think its worth having too much and not needing it then wishing you had something. I have had to run a few blocks to get a lens out of my car and have almost missed shots because of it so now i just pack accordingly.
The bag is a Promaster and inside i keep:
Canon 60d Body
Canon Eos-1 Body
Yashica Gsn Electro 35
Rolleicord IIc Tlr
Kodak Disposable
Vivitar 28mm Film Lens
M42 to Eos Adapter
Canon 50mm
Canon 18-135mm
Lens Hood
Lens Tissue
The 35mm film i keep in my bad is mostly expired i prefer the feel of it most ranges from 99-2006 expiration.
I also keep a black portfolio of my most recent work in case people ask, Also the homeless i hangout with like seeing the photos i have taken of them and or their friends and it opens up more stories.
I also keep a Molskine to write down names of the people I am shooting as well as a pack of smokes to spark conversation when homeless will ask me for one, Very good ice breaker.
I also carry more SD cards than i need because some detectives threatened to take my footage for photographing crime scenes, and even tho legally they cant that does not stop some from overstepping, so if I am shooting a scene with a body or something similar i switch cards a good bit just to cover myself.
Link: www.urnotfree.com
A very interesting set up and interesting subject matter. Crime scenes? There must be a lot of that down there I am guessing. Take care of yourself and your gear.
Check out Brian's link and make sure you come and comment.
Keep them coming folks, we need more submissions, so get your bag on Japancamerahunter.com. Send me a hi resolution image of the bag (please make sure it is horizontal) and its contents, with some details about yourself and what you shoot. Oh and don't forget your contact details (twitter, flickr, tumbler et al). Send the bag shots here.
Cheers
Japancamerahunter