In your bag 365!!! Mikko Kalavainen
This is it, bag number 365! I never thought the sries would become this popular or carry this far. It is has been wonderful to see people bags from all over the globe, full of amazing surprises. I will continue the series until there are no more submissions, which means for a very long time. I want to thanks you all of your support, I really love doing this.
So, why this bag? Well, Mikko's bag shows everything. Film and digital together (they can get along), the bag (many people forget to put it in the shot), sundry items to show it is a bagshot and not just gear porn and finally, it is a reflection shot (I love the quirky ones). This is a brilliant shot that has everything I hoped 'in your bag' would be. So come and have a look at the special bag today.

In Your Bag
Hi everyone and JCH, I'm Mikko Kalavainen from the frosty reaches of eastern Finland (http://goo.gl/maps/xzl16). I'm just recently getting back to photography as a hobby, after 14 years of dealing with it professionally, sort of.
My first visit to the darkroom was at the age of 10, so that means photography has been a part of my life for nearly 25 years soon. And just now I feel like I'm slowly finding my own thing. Call it a "style" or whatever, finally realising what it is, is sort of exhilarating.
Exactly two years and one day ago I packed ALL the cameras into a box. In went the Leica and the Nikon FE2 and the homemade-4×5"-pinhole and the Lomo and the Olympus OM-2n and the Yashica-D and the Pentax 6×7 and even the old Nikon D200, plus all the lenses and flashes and remotes and filmholders and films and everything else. And I bought the Panasonic GF-1 with the 20mm that we all know and love. I wanted to see what would happen if I restrict myself to one lens and one camera for a year.
18 months later I added another lens. And that's still everything there is, practically.
So Whats In My Bag?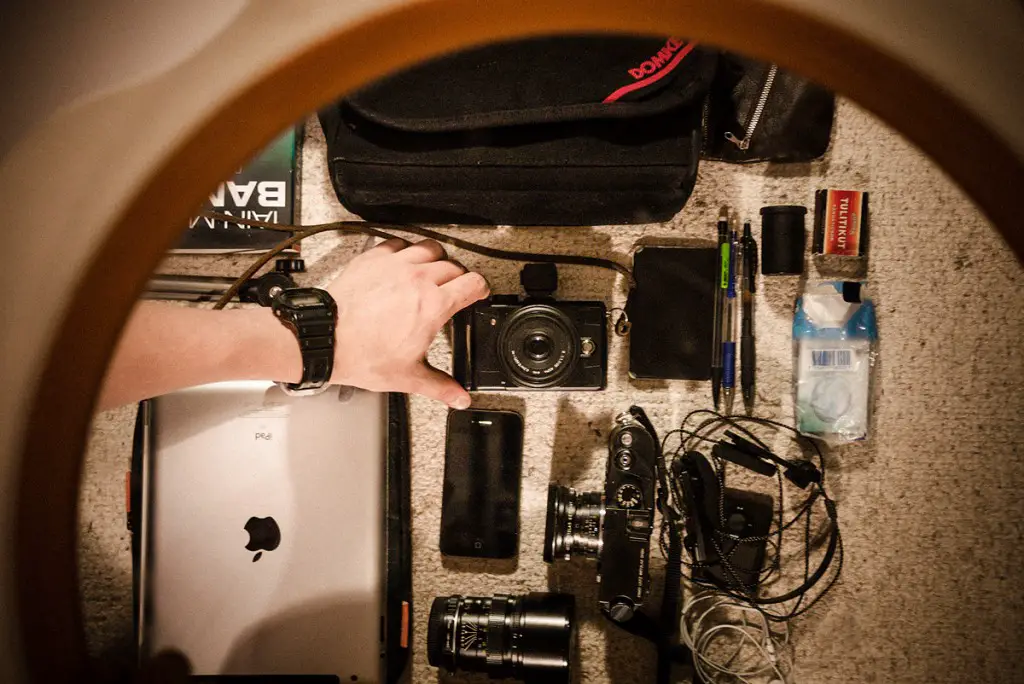 Well, the bags deserve the first slot here. I use as daily carry the fine Domke F-5XB. I also succumbed to the call of the Billingham, and got the Hadley Pro in classic tan. Lately I haven't used it as much, so the Domke is it for now.
The cameras are the above-mentioned GF-1 and the lovely Leica M6. That Leica was with me nearly every day for 9 years, which merits a place in this picture. It took a LONG time to buy, which makes even more precious to me. There's a 35mm Summicron (tabbed, non-asph with the round shade, so 3rd gen then?) attached to it. Oh, the strap on the GF-1 is from Gordy, of course.
The 75mm Summilux gets used on a cheap Leica M to m43-converter. I've been shooting some video with it mostly. I have no idea what to do with the footage though, but you never know.
And a quick list of the Other Stuff:
iPhone 4S, actually in my pocket, but since it is a central part of my craft, it's in the shot.
iPad2, never leave without it! This ofcourse doesn't fit in the Domke, but the Domke fits perfectly inside a Fjällräven Kånken, which also takes an iPad and a change of clothes and other stuff for travel. I don't carry that iPad with me to work or the supermarket, so it's okay. In the Billingham it fits nicely.
iPod 8GB 4th Gen, and a pair Koss PortaPros for work and pair of basic iPhone-earbuds for walking outside. Since the Kosses don't work well with hats in winter. The iPod gets listened to at work, otherwise music comes from the phone.
A Moleskine cahier and some pens. Actually I really suck at writing anything down, but occasionally useful to have. And yes, there is a Pilot G2. And some generic BICs.
The odd roll of film kicking around in the Billingham.
LensPen. Because they just work. And everything gets dirty.
A generic, tiny tripod, for the times when you just can't do without.
Tissues
a pouch for tobacco. For roll-your-owns. That too can be nice. Plus matches.
And a book. Always something to read.
There's also a toy mouse, but that's hiding under my arm. That's what you get, living with kids. Toys EVERYWHERE.
Sorry about the picture. All the other digital cameras are on loan somewhere, so this was shot with a mirror. And yes, none of the shots taken with the self-timer didn't work properly. I tried with an Ixus point-and-shoot, but that was just worse. It's in the blog though, see it there then.
Everything I do and decide to show to the public is in my blog, which you can find at http://fotomik.blogspot.com. It's in Finnish, but then again, words are overrated anyway.
I used to have a "proper" website, but that hasn't been updated in ages, it's also sligthly broken (please use the BACK-button to return from the galleries), but there's a nice selection of Pinholes there. So, http://www.pmimage.fi/mikko for that.
A big thanks to you Mikko for sharing your bag with us all. I bet you didn't expect to be number 365 though!
Check out the links, come and comment. And many thanks for all your support.
Keep them coming folks, we need more submissions, so get your bag on Japancamerahunter.com. Send me a hi resolution image of the bag (please make sure it is horizontal) and its contents, with some details about yourself and what you shoot. Oh and don't forget your contact details (twitter, flickr, tumbler et al). Send the bag shots here.
Cheers
Japancamerahunter