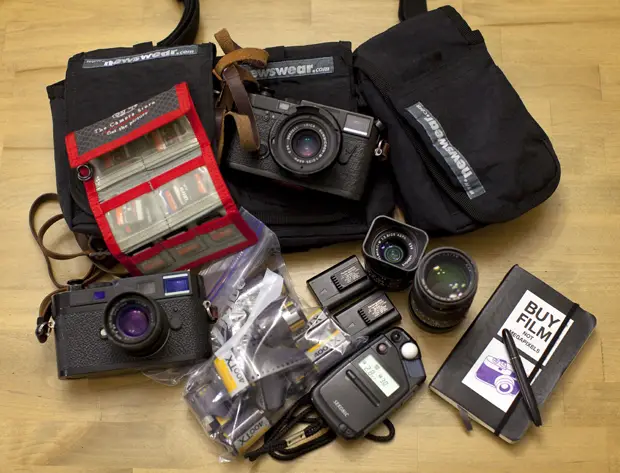 In your bag 348, Jeff McIntosh
Todays bag come from a proper photojournalist. But it is not his work bag, oh no, this is his travel bag, which is far more interesting. Come and have a look what a photojournalist carries when he is having some time off.

I am a freelance photojournalist working in the Calgary, Alberta, Canada, area. I have been working professionally in the news industry for over 25 years covering everything from war, natural disasters, news, and politics to pro sports. I have covered numerous Canadian Football League national championships and photographed several National Hockey League Stanley Cup finals as well as the Vancouver 2010 Winter Olympics. In 1998 I won a National Newspaper Award for sports photography.
Here's the bag I'll be taking with me on a 3 week trip to Peru with my wife and two daughters (ages 7 & 9.) This will be a nice change of pace for me with the chance to slow down and do some "real" photography, stepping away from the daily grind of being a freelance wire photog.
I'll be packing everything in a Newswear belt and 3 pouch combo. The gear includes a Leica M9, Leica M6, Elmarit 28/2.8, Summicron 35/2, Summicron 50/2, Summarit 90/2.5 and Sekonic L-308 light meter. Along with 12 rolls of Tri-X and a wallet of SD cards.
Cheers
Jeff McIntosh, Photojournalist
Calgary, Alberta, Canada
Thanks for sharing your bag with us Jeff. It is great to see a jobbing photog who still has passion for it when he is not working. I hope you have a great trip to Peru.
Check out Jeff's link, you can see some of his work there. And make sure you come and comment.
Keep them coming folks, we need more submissions, so get your bag on Japancamerahunter.com. Send me a hi resolution image of the bag (please make sure it is horizontal) and its contents, with some details about yourself and what you shoot. Oh and don't forget your contact details (twitter, flickr, tumbler et al). Send the bag shots here.
Cheers
Japancamerahunter