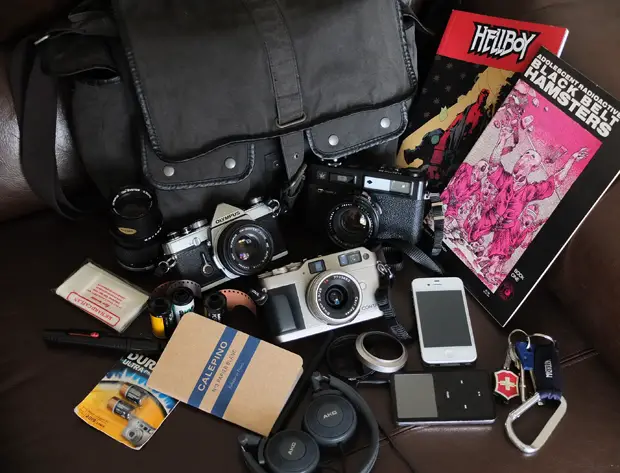 In your bag 332, Adam Hanley
Adam has two, yes two, lovely bags for us. Both of them are great and both of them have comic books in them! How cool is that?

Hi JCH, I'm Adam Hanley from Wakefield, UK. I've been following the blog with massive camera envy for ages (seriously, 3 LEICA's?! That's just rubbing it in!), and thought I'd send a couple of pics of my own gear.
I'm 30 year old amateur photographer and an even more amateur comic book artist, but my day job is in the print industry. I took up photography 2 or 3 years ago after I bought myself a DSLR, but over time I've gravitated towards film. The feel, tone and colours of film just can't be replicated by digital in my opinion. I just love it! I have aspirations of doing documentary and street photography, but I have a new baby girl, so like most new dads my pictures are mostly of her! Hopefully as she gets older I'll get more opportunity to go out and  shoot other stuff, but for now I'm happy documenting my new family.
Anyway, here's my setup:
Setup#1
Bag – Cheap courier bag from a menswear outlet, with padded inserts I added myself. This bag is surprisingly tough and durable, although it's not waterproof, so I always carry a plastic bag to wrap the contents in if it rains!
Olympus OM-1 with Zuiko 50mm and 135mm lenses – This is a fairly new purchase but so far I'm loving the results I get from this little beauty! The lenses are superb and the camera is so small for an SLR.
Contax G1 with 28mm Carl Zeiss Biogon lens. Absolutely love this camera, so fun to shoot with and the lens is amazing.
Yashica Electro 35 GTN. This has got to be the best value for money rangefinder ever! The lens is so sharp and the results always blow me away.
Film – usually a mix of Kodak Portra 400, Fuji Pro 400H and Ilford HP4.
Essentials – Hood for the G1, ND filter for the Yashica, lens pen, lens cloths.
Calepino plain notebook and Papermate Flare M pen.
iPod 80gb and AKG K420 headphones – Can't live without music!
Dubious reading material – in this case Adolescent Radioactive Black-belt Hamsters (the finest 80s Teenage Mutant Ninja Turtles ripoff money can buy. Don't leave home without it kids!) and Hellboy Conqueror Worm. Cool.
Keys – …erm, they make it easier to get in my house…
Setup#2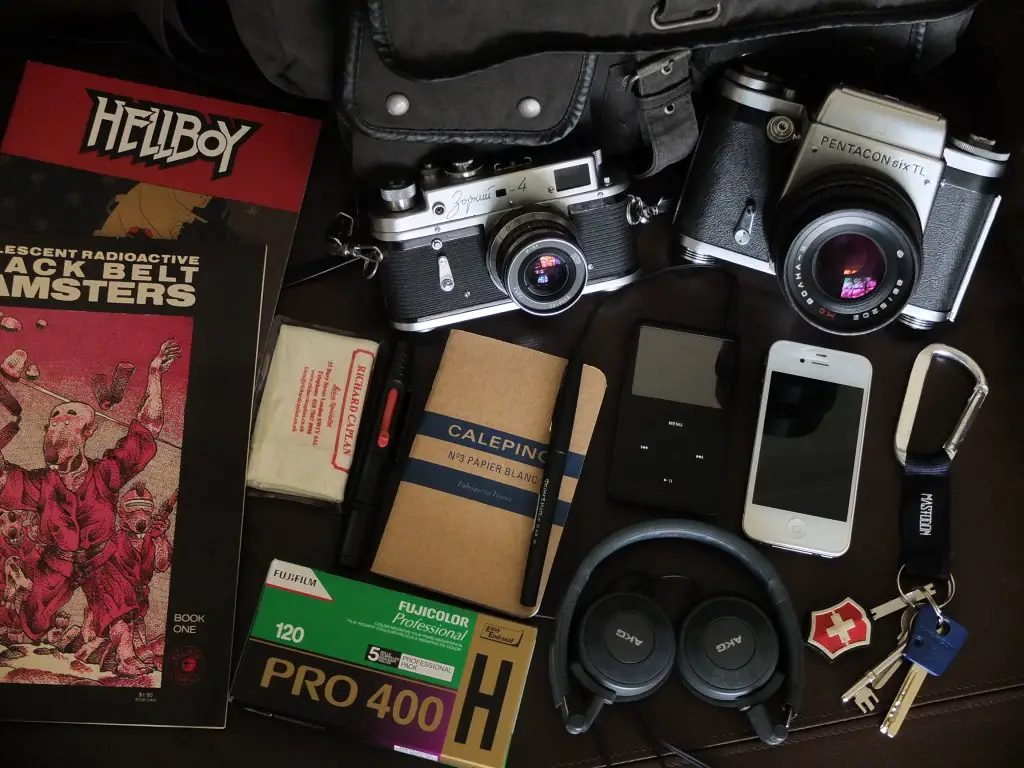 For when I fancy a bit of full manual control and medium format. It's the same as setup 1, but with:
Pentacon Six TL with Volna 80mm lens – by no means perfect, but it's my gateway into medium format, and is all I can afford at the moment. This camera gets a lot of bad press but I've been really happy with the results so far.
Zorki 4 with Industar N-61 lens – I love this camera, so fun to use and produces really nice images.
Thanks for looking, and keep up the good work JCH!
You can see some of my pictures at http://www.flickr.com/photos/adamjhanley/
Cheers!
Thanks for sharing your bag Adam. It is great to see someone who has a love of cameras, photography and comic books. That is awesome.
Check out Adam's link and make sure you come and comment.
Keep them coming folks, we need more submissions, so get your bag on Japancamerahunter.com. Send me a hi resolution image of the bag (please make sure it is horizontal) and its contents, with some details about yourself and what you shoot. Oh and don't forget your contact details (twitter, flickr, tumbler et al). Send the bag shots here.
Cheers
Japancamerahunter