In your bag 323, Greg Williamson
From yesterdays short bag shot we go to this whopper. Greg has given us a wonderfully detailed bag shot to enjoy. Let have a good rummage through.

I've been meaning to send you a bag shot for some time but I have several bags and way to many cameras and I haven't been able to settle on a typical bag to show you. I shoot everything from an iPhone to 8×10 film and have different bags to suit each system. I'm mostly a nature and landscape photographer at heart but also enjoy shooting people at work, and unobtrusive street shooting. I live in Townsville, Australia, which is a fairly quiet place and doesn't present a lot of opportunities for urban photography but is surrounded by some beautiful environments for nature photography. I get my urban photography fix when I travel.
I've been messing around with cameras since about 1969 when my Dad gave me his Nikkormat. I immediately converted the bathroom into a darkroom and, apart from a 4 year long foray into digital in the early 00's I've been a film shooter ever since.
I just got back from a trip to Port Douglas in Far North Queensland and this is the bag I took with me on this occasion. It was a work trip (I'm a veterinarian working in biosecurity) so I didn't have time to do any large format shooting so this is pretty typical of my casual shooting kit.
The bag is a Domke F1-x that I bought secondhand recently. It has become my favourite bag almost overnight. It's comfortable and conforms to the body even when it is heavily loaded. It's also nice non-descript and doesn't really look like a camera bag.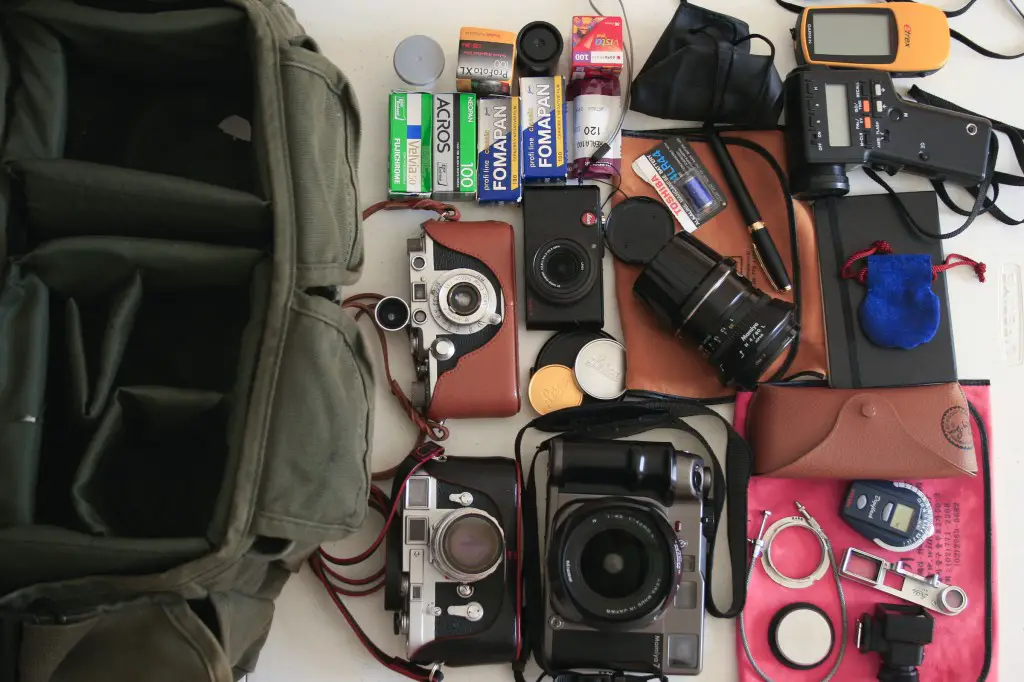 The cameras are(clockwise from the largest one) –
Mamiya 7, here with the 43mm 1:4.5 lens, loaded with Fomapan 100; I love this lens – it gives me results as good as I get from 4×5.
Leica M3 single-stroke, here with Summicron 5cm 1:2 DR lens and a Boop soft-release, loaded with Photopro 100.
Leica IIIf, with an Elmar 3.5cm 1:3.5 lens (a miraculous lens! So, so sharp), loaded with T-Max 100. The external viewfinder is a Voigtlander. I use this camera even more than the M3. It is smaller and has a very accurate rangefinder.
Leica D-Lux 3, my second one of these. I gave the first to my daughter and picked this one up cheaply secondhand in Seoul because I missed it.
I also carry an iPhone, but not usually in the bag.
Also in bag –
Mamiya 7 80mm 1:4 lens. Another great. sharp lens. It lives in the bag it's sitting on.
Some films Fomapan, Acros (my very favourite film), Velvia 50 and Reala in 120; and, in 35mm, Vista 100, APX400, Photopro XL and an empty canister.
A simple GPS unit – Garmin e-Trex.
Minolta Spotmeter-F. I'm a bit of a zone system enthusiast and use the spot meter a lot for getting my landscapes just right.
Fountain pen. I don't like ball-points. I usually also carry a mechanical pencil, but not today.
Spare battery for the Mamiya 7. It's dead in the water without power.
Moleskine notebook. This one is new. I just retired my old one, though it's not quite full, it's falling apart.
Sun-glasses in their case. For driving.
Gossen Digi-flash meter. I love this little meter. It's usually in my pocket but the battery went flat just yesterday and I tucked it away in the bag and used my iPhone's Lightmeter App instead.
The external viewfinder for the Mamiya 43mm lens. I take it off the camera when it's in the bag and wrap it in the pink bag it's sitting on.
LTM to M adapter in case I want to use the Elmar on the M3.
LTM back-cap and body cap, screwed together.
Cable release.
The spectacles for the Summicron DR. They usually live in the black drawstring bag at the top of the photo.
Assorted little bags for lenses and whatnots – I love the little bags they give you in Korean camera shops whenever you buy something; they are excellent for keeping things clean and safe. The blue drawstring bag is for the Voigtlander viewfinder.
The brown half-case on the IIIf is an Osakar Barnack Special Edition by Luxecase.
The black half-case on the M3 is an Arnuvo. The straps on both cameras are Arnuvo.
The strap on the Mamiya 7 is an old Pentax strap I picked up in Korea.
Also usually in the bag is a dust blower. I as using it yesterday in the car and it's still there. I work in some dusty environments like cattle yards and need it for cleaning cameras and lenses.
All that stuff barely fills the big Domke bag. There is room for more. The three film cameras, lens, and spotmeter are readily accessible in the main part of the bag. Films, the GPS and other bits and pieces are in the external pockets.
There you go. Next week I'll probably have different cameras in the bag. Possibly my Fuji GW690, Rolleiflex, Bessa-L, Nikon F2, or Shenhao 4×5. The Domke fits everything you give it. The only camera it won't accommodate is my 8×10 view camera, but that usually just sits in a box in the car. As every large format photographer will tell you – "If it's more than 50 metres from the car, it's not photogenic."
My flickr – http://www.flickr.com/photos/hojucandy/
Tumblr – http://un-sensored.tumblr.com
Various other online presences – http://about.me/greg.williamson
Greg Williamson
Townsville, Australia
Wow, thanks for sharing that with us Greg. That really is a whopping amount of stuff to carry around.
Check out Greg's links and make sure you come and comment.
Keep them coming folks, we need more submissions, so get your bag on Japancamerahunter.com. Send me a hi resolution image of the bag (please make sure it is horizontal) and its contents, with some details about yourself and what you shoot. Oh and don't forget your contact details (twitter, flickr, tumbler et al). Send the bag shots here.
Cheers
Japancamerahunter