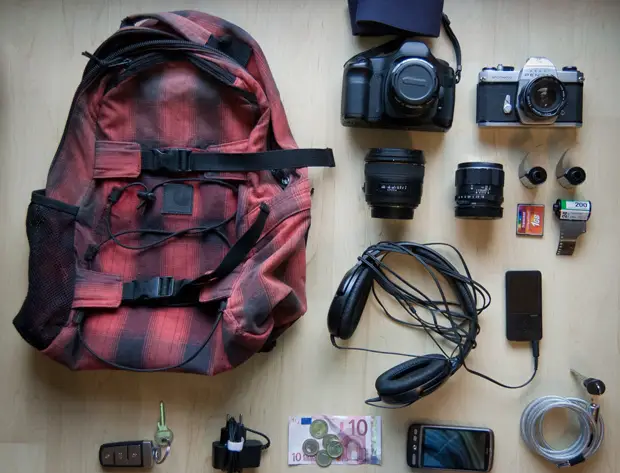 In your bag 314, Darius Kromoser
Darius is a young guy who has a great bag and great taste in classic cameras. Lets see what he has in his bag. Over to you Darius.

Hi fellow JCH readers,
my name is Darius, I'm 18 years old and a student living in Austria. I have been shooting for four years now and picked street photography two years ago. Without much further ado, let's move through my equipment for street shooting.
Carhartt Kickflip Backpack.
I bought this one when I was still skateboarding. It's somewhat nice looking and carries my stuff, which is all I need for a street bag. Doesn't need any special padding as I carry my camera over my shoulder. I do have a dedicated photo backpack for more serious occasions.
Canon 5Dc.
I got this one a year ago and love it. It's ancient in digital camera terms, and it has its quirks, but the images do come out spectacularly sharp and rich. Only goes to ISO 3200 and is only 12 MP, but who needs more anyway?
Obviously it's not nearly as stealthy as a M6 or similar, so I taped off the logos in a desperate attempt to be more "ninja".
Canon 28mm 2.8 (mounted).
Latest addition to the kit, haven't shot a lot with it but feels like a promising lens. Getting very close is a requirement, which helps me push my photography
Sigma 50mm 1.4.
My first "serious" full frame lens and by far my most used one. I love the colours and the way it handles flare (I shoot straight into the sun al lot). Doesn't look as fiddly as Canon's offering as well. Again, taped off logos for added stealth, currently looking at reversible solutions for getting rid of that gaudy golden ring…
I'm not using a 35mm for street as I find the working distance quite uncomfortable, somewhere in between very close or a little separated.
Pentax Spotmatic.
My film camera. Hasn't seen much use in the last few months as I had a Rolleiflex on loan, but I've shot loads with it before and want want to breath some life into it again. I used to have a black SP as well, but gave it to my cousin.
Super Takumar 28mm 3.5, this is the reason I got the Canon 28mm…
Super Takumar 85mm 1.8, M42 to EF adapter, for when I need a little more focal length. Don't use it super often, but love the bokeh and focal length. I am very bad at MF though.
I'll eventually get either a focussing screen for the 5D or the Canon 85mm…
Film. I'd usually shoot Ilford FP4, XP2 or Kodak Portra, but my aunt has given me a few rolls of Superia 200 she doesn't need any more, so I'm using up that.
A spare memory card. I have rarely needed more than the 4GB card that is in the 5D, but having a spare can't be a bad idea.
Sennheiser HD 201 headphones + iriver mp3 player for entertainment and inspiration. I shoot with tunes playing whenever I can, it inspires me and helps overcome the awkwardness of "shooting people in the face", to quote Kai W.
The Sennheisers are really awesome as well, nice sound and fit, they won't break and will be yours for only 20€.
A phone, my keys, some money ("Funny Euros!", as Jeremy Clarkson would put it) and a lock for my longboard.
You can check out my stuff (non-street as well) at: http://fuckthatimflexing.blogspot.co.at/.
I also blog and showacase my photos at http://haushochgraz.com/. Only in German, though.
Keep up the good work, and if you ever come to Graz, Austria, make sure to contact me so I can buy you a beer…
Cheers and many thanks in advance,
Darius
Thanks for sharing your bag with us Darius. Nice to see a Spotmatic getting some use.
Check out the links and make sure you come and comment. We love them comments.
Keep them coming folks, we need more submissions, so get your bag on Japancamerahunter.com. Send me a hi resolution image of the bag (please make sure it is horizontal) and its contents, with some details about yourself and what you shoot. Oh and don't forget your contact details (twitter, flickr, tumbler et al). Send the bag shots here.
Cheers
Japancamerahunter