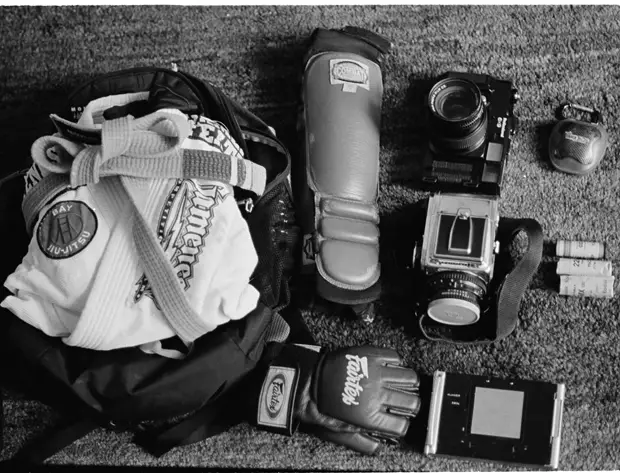 In your bag 306, Shawn Tamaribuchi
Shawn is a regular visitor to the site and an ex-pro fighter, so I had better be nice…Shawn's bag is not just filled with cameras, but her training gear too. Check it out.

Hey everyone!
Was testing out a Nikon F3 with some hand rolled 35mm Tri-X and thought I would get a picture of the bag and gear I haul around. My name is Shawn Tamaribuchi. I am 31 years old and spend my time between Tokyo and San Francisco.
Contents:
Mountain Hard Wear Agama Backpack
Hassleblad 500cm (hand painted)
Fujica GW690
Klinger Polaroid back for the Hassy
TMax 100 and some expired Pan X 220 film
Mouth guard
Sparring shinguards
MMA gloves
Jiu Jitsu Gi and Belt
I shoot portraits of female fighters ranging from Mixed Martial Artist, Muay Thai kickboxers, boxers and grapplers for the Female Fighter Project (femalefighterproject.com). The project is a documentary portraiture series shot only on medium format film. I was a former pro MMA fighter and still train. Most of the time I shot my training partners and folks I meet on my travels. I travel quite a bit and bicycle to most locations so all my gear needs to fit on my back. The backpack was been a perfect solution to house all my photo and training gear together with a laptop and external hard drive to boot! When I am not training or shooting, I manage the film camera inventory at RayKo Photo Center (raykophoto.com) in San Francisco, CA where I hand process and scan my film on an Imacon.
I also have a Yashica D, Leica R4 and CL that occasionally come with me too. My digital cameras include a Canon 5D and 95S.
Shawn Tamaribuchi
twitter: @liarphoto
facebook: http://www.facebook.com/pages/Female-Fighter-Project/122118471215422?ref=hl
tumblr: http://liarphoto.tumblr.com/
website: liarphoto.com
Thanks everyone for checking out my bag and thank you Bellamy for having such a great website!
Thanks for sharing this with us Shawn. I am very interested to see what the series will look like.
Check out Shawn's links and make sure you come and comment.
Keep them coming folks, we need more submissions, so get your bag on Japancamerahunter.com. Send me a hi resolution image of the bag (please make sure it is horizontal) and its contents, with some details about yourself and what you shoot. Oh and don't forget your contact details (twitter, flickr, tumbler et al). Send the bag shots here.
Cheers
Japancamerahunter