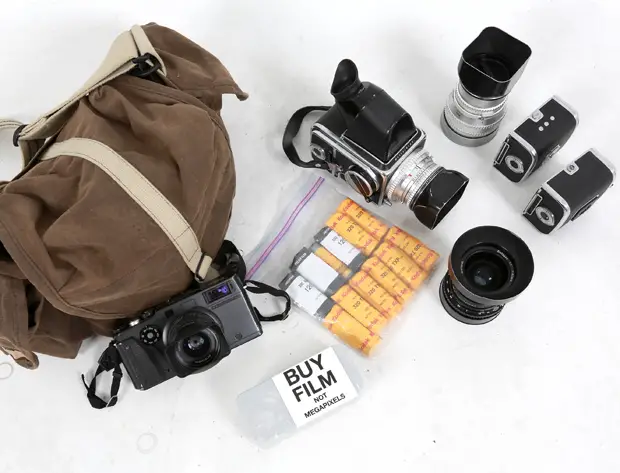 In your bag 291, Colin Corneau
Colin has been on the site before, featured as bag number 71. And he is back, this time with his Nepal bag. With a cool set of gear and a great purpose. Come and check out this great bag.

IN YOUR BAG – Nepal Edition
Hello folks, I'm happy to share the kit I took on a recent trip to Nepal. This bag, along with a small backpack with my clothes in it, was all I had for 3 weeks on the other side of the planet. If it's at all possible, I'd highly recommend travelling light! There's nothing like breezing through airports on a long international flight, and not having to wait for luggage carousels to spit out your stuff. It's fairly easy, even given how far away Nepal is, because most small day-to-day items you need can be easily and cheaply had once you're there.
I went to Nepal on a bit of a lark – I knew I wanted to travel faraway, and friends recommended the country to me. It was mainly a photographic journey for me, as I'm not terribly interested in hiking, climbing mountains, or smoking large amounts of illegal drugs. I'm happy to say photography there gave me far more pleasure than any of those things would have, anyway!
One bit of hard-won advice – as absolutely wonderful as the classic Domke F-3X (in Waxwear, no less!) is, it's a very bad choice for travelling. I got really tired, really quickly because when you're in far-flung places your bag is on your person most of your waking hours; this just isn't a bag designed to be on your shoulder 6, 7, 8 or more hours per day.
Personally, if I had it to do over again, I'd have stuck with my Loew-Pro Slingshot 300 or a similar design. These bags distribute weight much more evenly and swing around quickly out of the way when you're hiking. Hindsight, I guess.
OK here goes — my kit for travelling from rural Canada to way-off Nepal:


• Domke F-3X Waxwear bag – a classic! Stores lots of stuff but sent me to a blind masseuse (no, really) pretty quickly to take care of my sore shoulders.
• Hasselblad XPan I camera w/45mm lens. – One of my favorite cameras. I had the option of panoramic or regular proportioned images and one of the sharpest lenses I've ever put in front of my face. A wonderful, tough travelling companion I'd recommend to any street photographer for work at home or on the road.
• Hasselblad 500c w/80mm lens – I'm a big fan of the square format, very Zen. This is solid and, for me, light and small enough to carry around. Mine is with the prism finder as I'm not a big fan of the waist-level finder. I guess it's just quicker and feels more like the 35mm cameras I've used for so long.
• Hasselblad 65mm lens – another favorite of mine. This is roughly equivalent to a 35mm focal length in 35mm format, which I use almost exclusively, so this one saw a lot of use by me. Needless to say, it's wicked sharp as well.
• Hasselblad 150mm lens – didn't use this a lot but I knew it'd see some shooting on my trip. I was right, as a few choice portraits came courtesy of this fine piece of glass.
• zip-loc bag to keep my film – this was handy in two ways: one, to make it easy to request hand inspection at customs to avoid X-ray machines (it's never been a problem and carry on machines are safe, but what the heck) and two, to keep dust and moisture out once I was on the ground in Nepal. They're cheap, they work and I recommend them.
• Film case with Buy Film sticker – gotta have it. Makes life real easy.
MISSING FROM PHOTO: My Gossen Digi-Six meter. Fantastic accessory, deadly accurate and small enough to not be a bother on the road.
My iPhone 4 — backup meter courtesy of an app, as well as any Hipstamatic photos I took to keep in touch with folks back home. WiFi is everywhere in Kathmandu so it was easy to check email, Facebook, Twitter or anything else you'd need online. Very handy and the small size is very appreciated, too!
Lonely Planet Nepal guidebook. Good for advice, maps, phrases and more. Fits nicely into the rear slit pocket of the Domke, too.
So, there you go — my Nepal kit. Hope this can be of help to anyone planning their own journey!
LINKS: www.ExploreNepal.colincorneau.com (the site I created to explain my benefit art auction for a Nepal NGO)
www.colincorneau.com (my main site)
www.reservedatalltimes.com (my regular, hometown street photography work)
I'm on Facebook under my name, and you can find me on Twitter – @ColinCorneau
Thanks!
SITE – www.colincorneau.com
BLOGS – www.reservedatalltimes.com
www.ExploreNepal.colincorneau.com/
Thanks for sharing your second bag with us Colin. I love the X-pan and I think it is the perfect travel camera. Good to see you on the site again.
Check out the links and make sure you come and comment.
Keep them coming folks, we need more submissions, so get your bag on Japancamerahunter.com. Send me a hi resolution image of the bag (please make sure it is horizontal) and its contents, with some details about yourself and what you shoot. Oh and don't forget your contact details (twitter, flickr, tumbler et al). Send the bag shots here.
Cheers
Japancamerahunter