In your bag 287, Mitchell Canfield
We have a great bag for you today, with tons of pics of all of the contents. Come and have a look at what Mitchell is carrying around in his bag…

Hello my name is Mitchell Canfield I'm 22 years old and I'm a film hobbyist from Adelaide, South Australia.
I enjoy the nostalgic process of shooting film and processing and printing in my darkroom in my basement. I love shutting the door to the outside world and turning up the music and spending hours in the dark in my spare time.
Theres nothing better than watching that print slowly come to life in the developer for the first time!
Im still trying to find my photographic voice but i try to mix things up and shoot new things to broaden my mind! Mostly i use my pictures as a visual diary and try to take photos of how I feel!
I try to always have a camera on me! You never know when you will get that moment!
My bag is a Billingham Leica Combination bag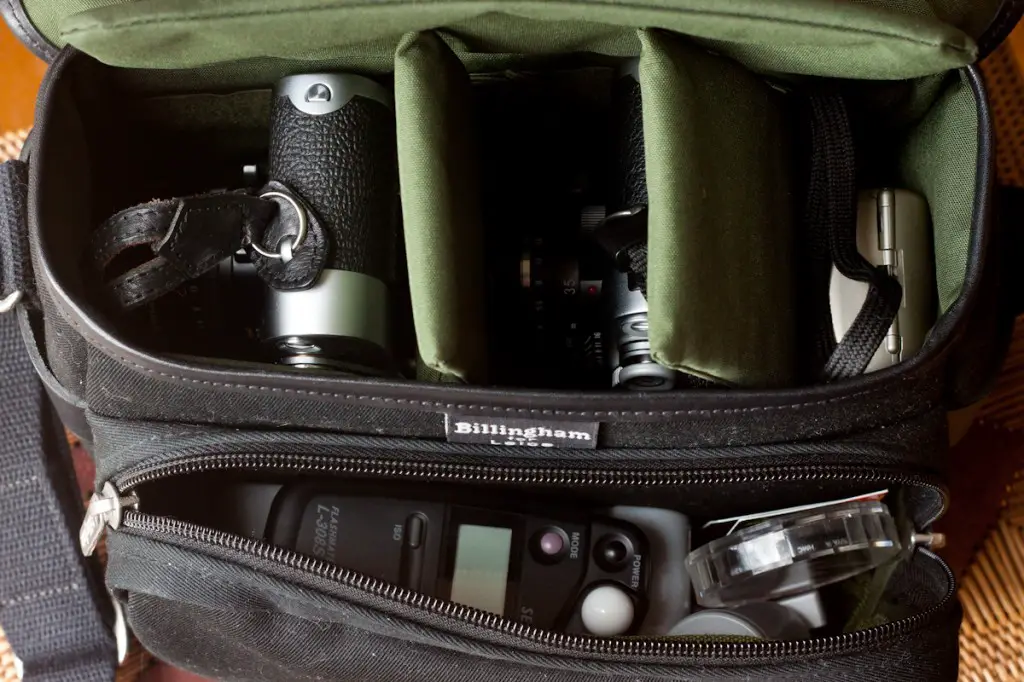 In my bag today i have my:
-Leica M3 Single Stroke – In my opinion this is the nicest 35mm camera of all time, Its so buttery smooth and a true classic.
Matched with my M3 is a Leica 50mm Summicon V4. I love this version with the focus tab! A great pair!
-Leica M6TTL – I love the M6TTL, i like the larger shutter speed dial and how it turns the opposite way to correspond with the meter readout! Ive also had a M3 style advance lever installed.
Paired with the M6 is the Voigtlander Nokton 35mm 1.4SC! I really like this lens. A lot of people complain about the distortion and focus shift. But its minimal and not worth crying over. This was my first lens and i think its good value for money!
-Olympus Mju-II – I try and always have this on me. Its a great camera. It fits in your pocket, its light, has spot metering, the lens is sharp and they can be picked up for next to nothing compared to to other point and shoots!
-Sekonic L308s – A good meter for a reasonable price. Does everything basic you need
-Voigtlander VCII – This usually fits on top of my M3. A good little meter and is easy to use and accurate.


Some other things i usually carry around are Spare Batteries, Filters, Lens Hoods, Lens Cloths and of course film!
I usually shoot with either Tmax 100 or Tri-X in Black and white and for colour Kodak Portra 160/400 or Fuji 400H.
I carry my film with me in Fujifilm film carriers!I love these things. I wish you could still buy them! (You can, I make them)


Thats pretty much it! If you want to have a look at my photos i keep a photo blog
http://uselessgeneration.tumblr.com/
Thanks for checking it out if you do!
Mitch
Thanks for sharing your bag and your gear with us Mitch. That is a very nice selection that you have got there.
Check out the link and make sure you come and comment.
Keep them coming folks, we need more submissions, so get your bag on Japancamerahunter.com. Send me a hi resolution image of the bag (please make sure it is horizontal) and its contents, with some details about yourself and what you shoot. Oh and don't forget your contact details (twitter, flickr, tumbler et al). Send the bag shots here.
Cheers
Japancamerahunter