In your bag No: 1700 – Joel Benguigui
Go large or go home is how Joel rolls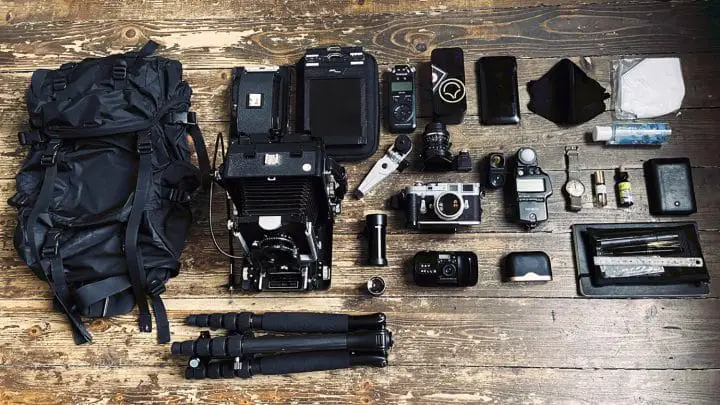 With this new year, I'm happy to send you all, with my latest bag update, my best wishes! It's on us to make the best of the times to come!
It's been a long time I didn't check in. It's always such a pleasure to browse the JCH website, In you Bag and interviews. Since my last IYB post, there's been lotsa travels between Europe, Indonesia and Australia. Field research trips, documentaries, family time in Flores, Indonesia, and my wife and I managed to get married in Paris in 2019, a few months before the start of the pandemic; luckily close family and friends were able to fly from all over the globe and be there for us!!
Now, when it comes to gear, I have a few constants and lots of variables, so here's the breakdown.. (also, G.A.S. is real, trust me)
Leica M3 SS + grip + Summilux 50mm + Elmarit II 28mm & finder

Olympus MJU — found for a bargain in mint condition. It shared a heavy bag with a Pentax 67 and lost its LCD during the battle, yet still works perfectly!

Wista 45SP + Nikkor-w 135mm + Cokin filter holder — that's the new guys. It replaces my Cambo monorail and the few MF cameras I bought and swapped recently.

Horseman 6×7 roll film back and two 4×5 film holders.

Toyo x3.6 et Schneider x8 loupes

Sirui carbon tripod with ball-head

Minolta Auto Meter IV with 5° spot attachement

JCH 135 film case.

Most of the time, I travel with FP4 and HP5+ in 135 and 120, and soon in 4×5. I'm experimenting more and more with direct positive paper, and I'll be replacing my Fuji pro 400H with a combination of C41 and E6 in each format.

Tascam recorder and table tripod — I started recording during one of our latest field trip with my wife in Indonesia.
Small accessories I take with me almost all the time include
Moleskine notebook and pens — one of the pens is the fountain pen my mother used when she was working on her PhD back in the days.

Omega Seamaster de Ville — belonged to my dad's father. Not pictured: the other Omega Constellation which belonged to my mum's father.

Montblanc card holder — That's a gift from dad from when I was in high school!

Sony noise cancelling earphones — so essential for me, being home, on the train or on the plane.

Small roller of Saint Rita Parlor fragrance, my favorite perfume.

Rescue sleep by Bach Flowers

Hand gel, a mask by Wolford and a pack of FFP2 masks
As for the bag, since I'm a real sucker for bags, it was kinda hard to pick one, but I chose my Japan-made Porter Yoshida Extreme backpack. It's a fantastic weather-proof bag that resembles a trekking backpack in many ways except for its volume.
In 2020, most shows I had scheduled got cancelled, but eventually I focused on new creative outcomes; objects and furniture design, painting, and I published my first limited-edition book, OUT OF CONTEXT, based on a work I created pre-pandemic and really found its public in 2020.
Anyway, enough said, feel free to check out my work here: http://joelbenguigui.com and follow me on IG: @_the_bside_ is my notebook & documentary work, @joelbenguigui_ is my abstract & research work.
Take care you all!
J.
Keep them coming folks, we need more submissions, so get your bag on Japancamerahunter.com
Send me a high resolution image of the bag. Optimum size is 1500px across. Please ensure there is a bag in the shot, unless you don't use one. The more you can write about yourself the better, make it appealing and tell us a story. Snapshots of your gear with a camera phone and no words will not be featured.
Oh and don't forget your contact details (twitter, flickr, tumbler et al). Send the bag shots here. Please understand that there is a long wait now as there is a backlog of submissions. Not all make the cut, so make sure yours is funny/interesting/quirky. And please make sure the shot is of good quality, as the ones that are not do not go up.
Cheers
Japancamerahunter