In your bag No: 1699 – Davidde Stella
Davidde shares the story of the tools that showed him the road back to film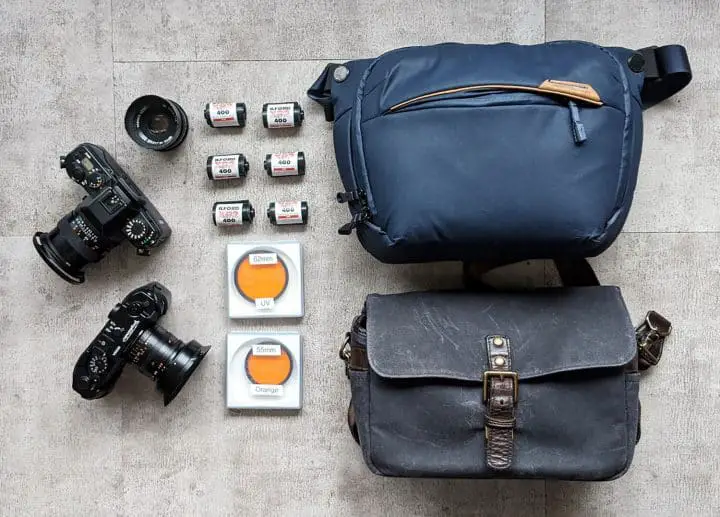 I started learning film photography over 20 years ago with a Konica Autoreflex TC and its 40mm f/1.8 Hexanon.  My first serious rangefinder camera was a lightly-used Konica Hexar RF purchased in 2002 (which was later stolen in 2007 with a 35/2 Summicron V4 attached to it). After a regrettable venture into digital (@ 2010-2015), I have returned to film exclusively.
Whether travelling around the world, or just being a tourist in my own state (Michigan USA), I have experimented with many different camera combinations.  The goal has always been to carry the least amount of equipment that can cover the most amount of situations.  But what is a magic formula?
My current travel and walkaround set-up includes:
Contax Aria with a Zeiss Distagon T* 28mm f/2.8 MMJ lens

Voigtlander Bessa R4M with a Konica M-Hexanon 21-35mm f/3.4-4 lens

"Optional" a 50mm lens for either the Aria or the R4M (pictured here is a Yashica ML 50mm f/1.9 but it could be a Konica M-Hexanon 50mm f/2).

Self-rolled Ilford XP2 and some kind of 35mm color film.

B+W orange filters for all lenses.

Peak Design bag (nice and padded) or an ONA Bowery Bag.
Between the Aria and a R4M, this combination covers the 21, 28, and 35mm focal lengths, which can be considered "traditional" travel views.  A two-camera set-up also allows to load b&w film in one and color in the other.  Because one never knows what will happen while travelling, the Leicas and medium format stuff stay at home.
The 1998 Contax Aria needs little introduction.  It is an incredibly light and capable manual-focus SLR.  The top shutter speed of 1/4000 permits the use of 400 speed film with fast lenses for depth of field. The 28mm Distagon is also one heck of a lens. 
The R4M with its built-in 21-25-28-35-50 framelines and the Konica M-Hexanon 21-35 are a match made in heaven.  Indeed, the R4M pairs the 21 and 35 framelines so no switching is necessary.  The R4M also obviates any need for external finders, which not only slow down the photo-taking process but also somewhat inaccurately frame the scene (sitting above the lens).  Although the M-Hexanon and its lens hood do block a good portion of the 21mm framelines, this is not fatal — and you can always add an accessory 21mm finder if needed. What's funny about both the R4M and the M-Hexanon is that neither were very appreciated when they came out.  The M-Hexanon was introduced during a bad time in film photography (2002), and it apparently did not even sell out for years. The R4A/R4M (2006), although receiving praise for its innovation, was also generally passed over during those dark days for film cameras.  Today, used examples of the M-Hexanon and R4 series are selling for at least 150% of what they cost new. 
Both the Peak Design and the ONA bags are able to stow all of the equipment listed above (although it is a little tight).  With one camera around the neck, there is enough room for your travel guide and other things.
Although I used to develop my own b&w film for many years, I have moved to using easily-processed C41 film instead — the consistency of the results are worth it to me (and I have a local lab that still does "develop only" at a reasonable price).  While Kodak BW400CN was my absolute favorite, Ilford XP2 is no slouch either.  It produces beautiful tonal range, is reasonably tolerant of mis-exposure, and scans perfectly and easily.  While XP2 can be a little pricey, a 100-foot roll can save some money.  Because I am SO BAD at correcting regular color negatives in Lightroom or Photoshop, any color film will normally do — Portra 400, Superia X-Tra 400, Pro Image 100, whatever.
For me, photography is but one of many aspects of travelling.  Experiencing how people live; sampling the cuisine; and attempting to absorb and appreciate a place's history, language, and culture are equally, if not more, important.  At the same time, good photographs can continue to connect you to a time and place when memories inevitably fade. 
Please be safe, wear a mask, see all of you on the other side, and happy shooting!
IG: davidde_photo
Website: davidde.com
Keep them coming folks, we need more submissions, so get your bag on Japancamerahunter.com
Send me a high resolution image of the bag. Optimum size is 1500px across. Please ensure there is a bag in the shot, unless you don't use one. The more you can write about yourself the better, make it appealing and tell us a story. Snapshots of your gear with a camera phone and no words will not be featured.
Oh and don't forget your contact details (twitter, flickr, tumbler et al). Send the bag shots here. Please understand that there is a long wait now as there is a backlog of submissions. Not all make the cut, so make sure yours is funny/interesting/quirky. And please make sure the shot is of good quality, as the ones that are not do not go up.
Cheers
Japancamerahunter