In your bag No: 1666 – Matthew Smith
Hard to argue with Matthew and this setup which he used for his first solo exhibition going on now right here in Tokyo.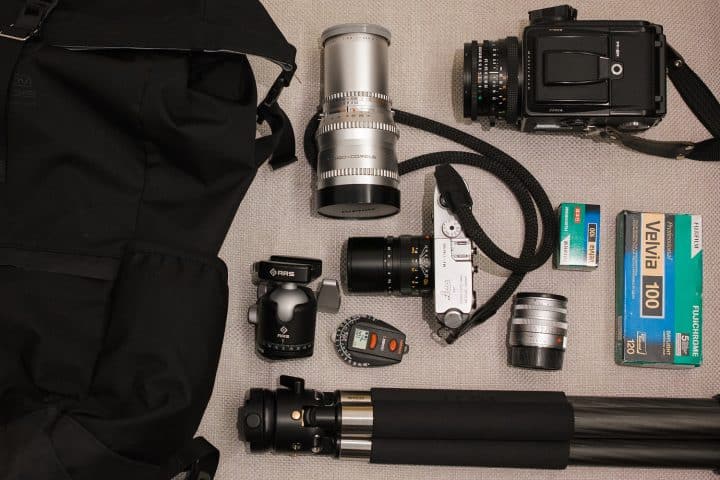 I am currently in Tokyo for the opening of my first solo exhibition, Chora at Hagi Art. https://www.matthew-smith.co.uk/chora  Almost all of the pictures in the show were taken on the Leica M4 with the 50mm Summicron (one on my old Mamiya 7, cropped to 3:2). In fact, almost every photo I have shown in an exhibition has been taken with the Leica.
I felt no need to have any other film camera for a couple of years after I sold my Mamiya 7. Recently I started using the Hasselblad to vary things up a bit, and bought the 90mm Elmarit for the Leica. I'm enjoying the new possibilities, but the Leica plus 50mm remains indispensable.
Some combination of the above items, occasionally all of them, go with me on trips in my home town of London, in Tokyo, and to Italy, Mexico, the US and India, my other favourite places to travel.
I also use a Sigma DP2 Quattro, which would be a pain to use if I wasn't a film photographer. Its quirks seem reassuring and familiar. A handy digital camera if you're in Tepito or Dhavani – the quality is incredible and no one notices it. I've evaded a mugger on Hampstead Heath with the Blad and the chrome 250mm attached – a little less convenient for the occasion.
People ask me what kind of photographer I am. Aside from the label 'fine art', which seems too rarefied, I'd say I take pictures of anything I like: street; people; the world in general.
In the Bag
• Leica M4 with 50mm Summicron and 90mm Elmarit lenses
• Hasselblad 503cw with 80mm CF and 250mm C lenses
• Sigma DP2 Quattro – Which was used to take this photo. I am a big fan of this camera. It is light, compact and under the right conditions the unusual Foveon sensor can produce amazing results. I wrote an (unsponsored) piece on the camera for Sigma here https://www.sigma-imaging-uk.com/lounge/matt-smith-201118/
• Alpa/Novoflex tripod with Really Right Stuff ballhead – It took me an age to figure out this tripod setup, but eventually I found what I wanted. The tripod extends to eye-height with no centre column, and can be fully dismantled to fit inside the backpack. Reassembly takes less than a minute. The ballhead is light but rock solid. The whole thing weighs around 2kg all-in
• Gossen Digisix 2 light meter – This is just perfect for a basic reading in unusual conditions and it fits in a small pocket
• Velvia 100 – I mainly use slide film and shifted to Velvia 100 from Provia 100f recently. Finding that 35mm Velvia is just over a tenner in Tokyo was a happy experience
• AS20V backpack – A Japanese company that make very tough, water-sealed backpacks. I prefer roll top backpacks for easily accessing gear
_____
My new exhibition is Chora at Hagi Art in Yanaka, Tokyo from 7 January–16 February 2020
https://www.matthew-smith.co.uk/chora
My website – www.matthew-smith.co.uk
Instagram – @msmith_wundor
—————————
Thanks for sharing with us your bag shot Matthew. Congrats and I hope to be able to swing by the exhibition!
Keep them coming folks, we need more submissions, so get your bag on Japancamerahunter.com
Send me a high resolution image of the bag. Optimum size is 1500px across. Please ensure there is a bag in the shot, unless you don't use one. The more you can write about yourself the better, make it appealing and tell us a story. Snapshots of your gear with a camera phone and no words will not be featured.
Oh and don't forget your contact details (twitter, flickr, tumbler et al). Send the bag shots here. Please understand that there is a long wait now as there is a backlog of submissions. Not all make the cut, so make sure yours is funny/interesting/quirky. And please make sure the shot is of good quality, as the ones that are not do not go up.
Cheers
Japancamerahunter