In your bag No: 1660 – Nuno Cruz
Nuno checks back in with this carefully curated camera carryall for his Japan trip and has a humorous customs story as well.
It's me again!
Been meaning to write to you for a long time, but then life just gets in the way and we park things for far too long. Anyway, here I am again!
I guess these posts of mine should be more appropriately named to "What was in my bag". I always do the shot beforehand but end up writing to you way after, 5 months after this particular time. Anyway, enough of this.
This is a special one, it's the travel bag that I took with me to Japan. A trip of my dreams, something I have been wanting to do for sooo long.
I was definitely decided on taking my Sony for general photography, and the Xpan for landscapes, the GoPro revelated itself a nice companion when I took it to Iceland, so I added it into bunch too. What kept me awake at night was if to take the Contax or not. I was thinking that it would be good for nights out, where I would not want to take the big Sony with me, but in the back of my mind, I was also thinking of how much value I would be carrying around with me in a single trip. It's size though, so appealing and practical ended up being the winning factor, always ready in a jacket pocket, was a nice camera to take out in the subway, or cozy dining places, or to use when I became one-armed after dislocating my forearm in the dangerous hills of Naoshima.
Took the peak design clips with me which allow for nice and quick access to the cameras, the loops also help in just needing on neck and wrist strap, to shed some weight, since this was a proper heavy bag. A small tripod for quickly setting it up on top of something, with a long Arca place because of the Xpan's thread location. A bigger tripod for more serious and timed shots, still quite light though since it's made out of carbon. Empty JCH film cases, since I decided to get the film in Japan, as theoretically I would be able to get a tax return on it, but in the end I was not, because I was going to buy and use it in Japan. The refund only applies if I take the film out of the country and not use it while in it (kind of makes sense). Extra memory cards, batteries for all the cameras and some other accessories.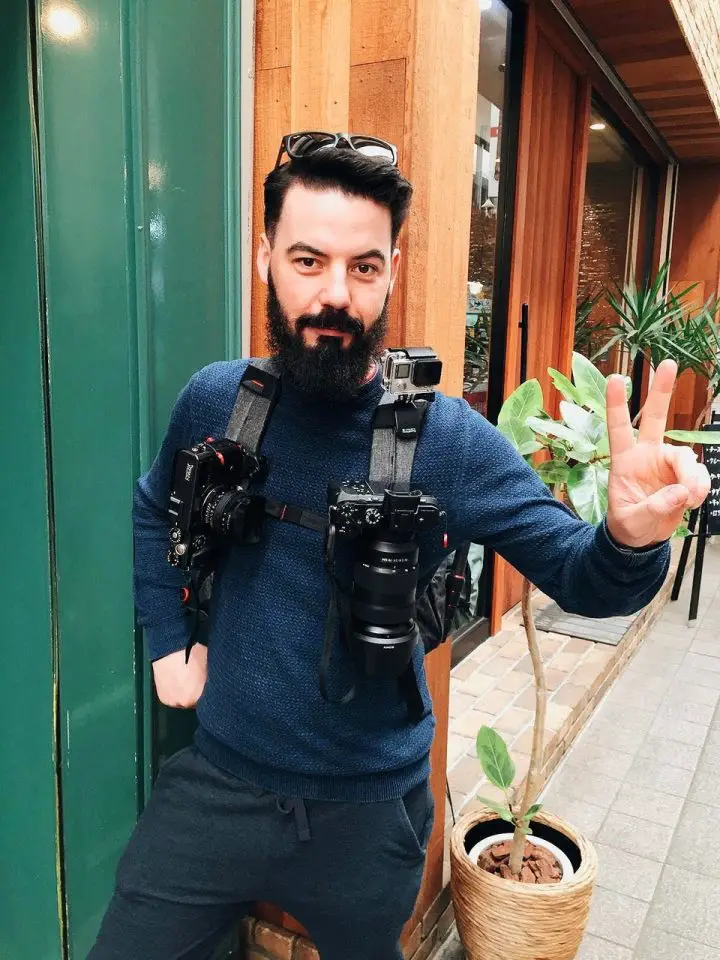 It was quite an amount of gear to carry around as a friend properly noted, I looked like an Asian when they come to Europe, to be fair, don't think they look this cool. While waiting in a queue on an Okonomiyaki place, a Japanese gentleman took notice of me, he was carrying an A7 with a vintage lens on it, so it was apparent that he knew his camera stuff as well. He was quite enthusiastic about how I looked and when noted that the Xpan was a film camera called me "Kaiko", with a big smile. I thought I had heard the word before and went to look it up shortly after, I was pleased with it's meaning.
On the way back we stop in Seoul for 2 days, to visit as well and my companion Kazoo caught the eyes of the security guard in Seoul airport, so I had to play a little serenade for him to see that it was not a smoking pipe. Suffice to say that everyone in the security line was amused.
It was a great trip and I was glad I could fit everything and also use it. 
The list:
Peak Design Everyday Backpack 20L

Peak Desing medium lens pouch (to have the Xpan 90mm within easy reach when I was out shooting)

Sony A7 MkII with 24-70mm f/2.8 and extra battery

Hasselblad Xpan with 45mm and 90mm lenses and a level

Contax T3

GoPro Hero 4 Silver with protective submergible case, open case, grip, and backpack adapter.

Rollei Compact Traveler No. 1 Carbon

Manfrotto Pixi Evo 2 with phone holder and long Arca plate

2 Peak Design clips and key

Metal Kazoo

Traveler's notebook

Dune (book)

Wrist and Neck straps

Hama SD card pouch

Empty film canister for the analog camera batteries
Your camera shop guide provided itself quite useful to hunt for some gear and it was amazing to see those shops where you can find literally anything.
Thank you for kindly replying to my email that I sent to you with some questions, ahead of my trip.
website: nunocruzstreet.com
instagram: @nunocruzstreet
Until the next time!
Cheers
—
Nuno Cruz
—————————
Thanks for sending us your bag shot Nuno. What song did you serenade them with? :)
Keep them coming folks, we need more submissions, so get your bag on Japancamerahunter.com
Send me a high resolution image of the bag. Optimum size is 1500px across. Please ensure there is a bag in the shot, unless you don't use one. The more you can write about yourself the better, make it appealing and tell us a story. Snapshots of your gear with a camera phone and no words will not be featured.
Oh and don't forget your contact details (twitter, flickr, tumbler et al). Send the bag shots here. Please understand that there is a long wait now as there is a backlog of submissions. Not all make the cut, so make sure yours is funny/interesting/quirky. And please make sure the shot is of good quality, as the ones that are not do not go up.
Cheers
Japancamerahunter