In your bag No: 1656 – Andrea Aguzzi
For any adventure Andrea has it all covered with his carefully curated carryall.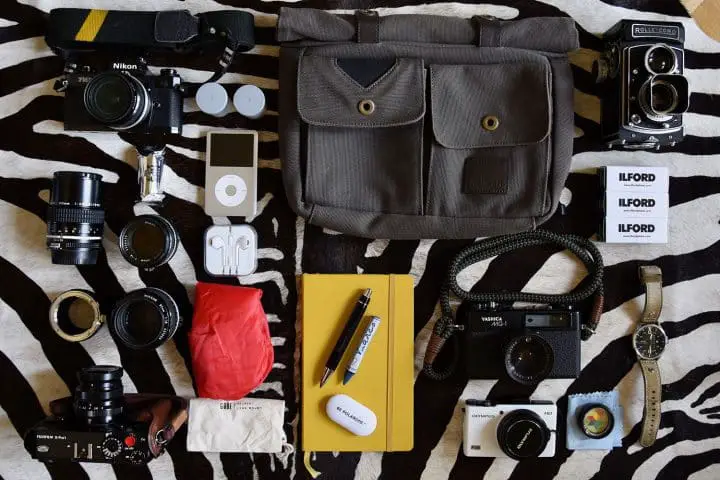 Dear Bellamy, dear readers,
My name is Andrea Aguzzi, I live in Rome and work in a national public institution in the health & research area. My passion for photography started around 15 years ago when my dad let me use his Canon AE-1 (forgotten in a closet) for a job travel in Sri Lanka.
At that time Sri Lanka had been hit by a terrible tsunami wave and I was getting involved in a relief project. I spent two months in the island taking shots of everything that was capturing my attention with the Canon AE-1. Back in Italy I developed the film rolls and I got astonished by the memories, the colors, the faces, the landscapes …and the incredible quality of those pictures. Now I always look for that kind of emotion when I decide to start a new photo project. I like the idea of being a lonely traveller with my bag and just walking without a destination waiting for things to hit my imagination and then …click!
That's why in my bag's selection I gave greater importance to the portability rather than to the capacity. I just wanted something that could fit  basic gear and let me forget I was taking a bag with me. The Millican waist pack is perfect for this purpose as it can be fixed like a belt and let your shoulders free, then when you need to open it, you may just rotate it around your waist.
My gear is half digital and half based on film cameras. I generally take with me only one camera choosing it according to my mood, then I put it in the Millican pack with few accessories plus my old iPod and Moleskine notebook.
Let me introduce you to my cameras!
Nikon FM2 with the following Nikkor AI-S lenses: 24mm F/2, 50mm F/1.4, 85mm F/1.8, 135mm F/2.8

Yashica Mg-1, I love it for B/W shots.

Rolleicord Vb 2, I like to use it when I'm in a meditative mood!

Fuji X-Pro 1 with Fujinon 35mm F/2 lens. This is a great camera and together with the Nikon FM2 they are a sort of "Invincible Armada". When I decide to go out both on digital and film this is the winning team as they also share the Nikon AI-S lenses thanks to a GOBE lens adapter for Fuji X-series.

Olympus XZ-1, this compact camera is the longest living object in my gear, it has a beautiful lens and it is small and portable and easy to use …it comes with me every time I decide to leave with anything but a camera!
Photography is not my job, but it keeps my heart beating and I love to share this passion with people, therefore if you wish, you can find more from me at:
https://www.flickr.com/photos/aguzziandrea/
https://www.viewbug.com/member/Zagadovic
Thanks and regards!
Andrea
Thanks for sending us your bag shot Andrea. Digging the old school iPod as well.
Keep them coming folks, we need more submissions, so get your bag on Japancamerahunter.com
Send me a high resolution image of the bag. Optimum size is 1500px across. Please ensure there is a bag in the shot, unless you don't use one. The more you can write about yourself the better, make it appealing and tell us a story. Snapshots of your gear with a camera phone and no words will not be featured.
Oh and don't forget your contact details (twitter, flickr, tumbler et al). Send the bag shots here. Please understand that there is a long wait now as there is a backlog of submissions. Not all make the cut, so make sure yours is funny/interesting/quirky. And please make sure the shot is of good quality, as the ones that are not do not go up.
Cheers
Japancamerahunter