In your bag No: 1644 – Jorge Carmigniani
These are the preferred tools of the trade for Jorge when he's light stalking along the equator.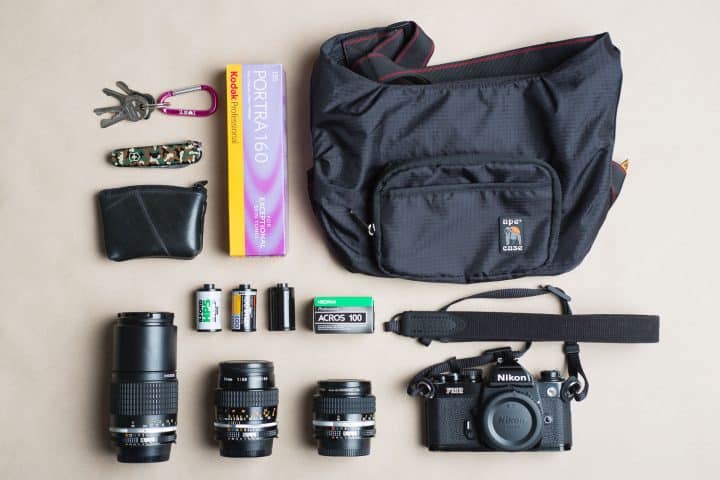 My name is Jorge Carmigniani, I'm a photographer based in Ecuador. My main interest is in documentary photography. My work develops around nature, mostly.
I try to find authentic manifestations of identity in everyday subjects. I don't call myself a Travel Photographer, although is really easy to be one in this country.  You can travel from corner to corner in one day. It gives you the idea of how small and biodiverse we are. I live in Guayaquil, a port city within a gulf so there are a lot of vivid landscapes around here.
The urban development is notorious and yet precarious, I focus on rescuing that relationship we often despise and I try to connect it with some conservation values. The city is also surrounded by mangrove, humid forests among others ecosystems that are threatened by landlords, population growth and mine exploitation.
I explore these areas from time to time, you don't want to encounter a stranger in those places, trust me. I choose film because complements my vision, I also shoot digital when I feel cheap.
This is my film setup:
Nikon fm2n

Nikkor 28mm f/2.8 ais

Nikkor 55mm f/2.8 ais

Nikkor 200mm f/4 ais

A sample of my favorite film and a rechargeable cartridge

My messenger bag

Victorinox Knife

Coin purse

Keys
My website:
IG:
https://instagram.com/whatisntnature/
Thank you Bellamy for supporting the film community!
—
Jorge Carmigniani
Thanks for sending us your bag shot Jorge. Haha "I shoot digital when I feel cheap" :)
Keep them coming folks, we need more submissions, so get your bag on Japancamerahunter.com
Send me a high resolution image of the bag. Optimum size is 1500px across. Please ensure there is a bag in the shot, unless you don't use one. The more you can write about yourself the better, make it appealing and tell us a story. Snapshots of your gear with a camera phone and no words will not be featured.
Oh and don't forget your contact details (twitter, flickr, tumbler et al). Send the bag shots here. Please understand that there is a long wait now as there is a backlog of submissions. Not all make the cut, so make sure yours is funny/interesting/quirky. And please make sure the shot is of good quality, as the ones that are not do not go up.
Cheers
Japancamerahunter