In your bag No: 1642 – Keith Baillargeon
When Keith isn't negotiating chaotic mosh pits for work he'll be lugging his ideal minimal setup incognito in the streets.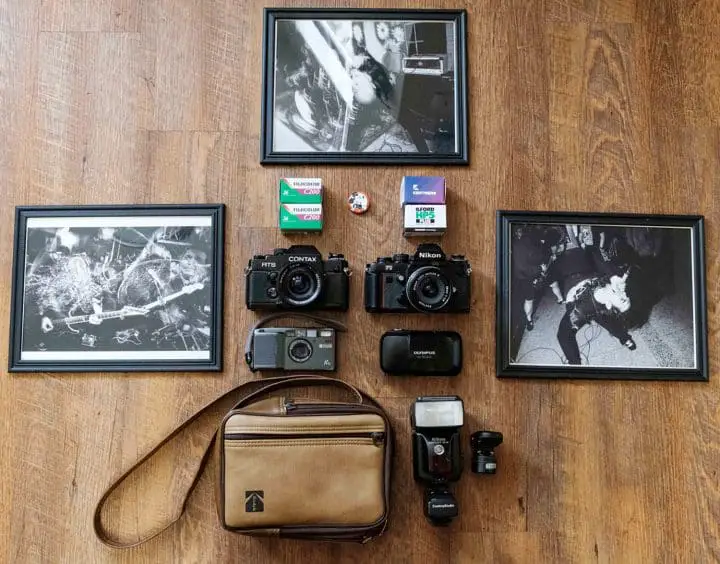 Hey! My name is Keith Baillargeon and I'm a music photographer based out of Norfolk Virginia.  I'm usually out shooting punk rock / hardcore shows since the chaos and energy that they bring always results in some pretty wild pictures.
The bag I use is a Kodak shoulder bag from the 80's that I found at a thrift store.  I don't like to carry a lot of gear with me so having a smaller bag makes me think twice about bringing too much.  
My digital setup for concerts is a Fuji X-Pro2, 16-50 kit lens (both not pictured since it was what I was using to take this picture) and a Nikon SB-28 flash mounted either on camera or on a wireless adapter.  The kit lens is by no means a slouch, especially with flash/good light.  I like to be up in front of the stage so there's always chance of the lens getting broken by someone stage diving / moshing and I wouldn't want to risk that with super expensive glass.  I haven't had a camera or lens broken (yet) but I've definitely had the SB-28 kicked out of my hand many of times. Luckily it's a tank and still running strong. If I can't use flash, I use an adapted Contax Zeiss 35mm 2.8 and I will eventually replace that with a Fuji 23mm 1.4 once I get around to it.
I mainly use film for street/documentary style photography and sometimes I'll incorporate it at shows.  I alternate between a Nikon F3 with a 28mm Series E or a Contax RTS ii with the CY Zeiss 35mm 2.8 and 50mm 1.7.  Both cameras are a joy to use but I've been having mirror slip issues with the Contax so the Nikon gets put in my bag more since its reliable.  I'll also carry either the Ricoh R1S or the Olympus Stylus for snapshots when I need to be quick.  This is my 2nd Ricoh R1S – the first one literally blew up in my hand one day while it was rewinding film.  I was super bummed about that because I paid way too much for it on eBay but luckily I was able to find a replacement plus the Olympus for $5 a piece at a thrift store. 
99 percent of what I shoot is in black and white so HP5 and Kentmere 400 are my go to films.  I push both to 1600 for just about everything.  For the rare instances when I want to use color film I use Fuji C200 rated at ISO 100 but developed normally.
The Mickey Mouse pin is for good luck.  Don't trust anyone who isn't a fan.
You can check out some of my work on my website www.kgbphotos.com or on instagram @keithusHchrist
Thanks Japan Camera Hunter!
Thanks for sending us your bag shot Keith. Love that old school bag and I totally agree with you about going minimal as possible.
Keep them coming folks, we need more submissions, so get your bag on Japancamerahunter.com
Send me a high resolution image of the bag. Optimum size is 1500px across. Please ensure there is a bag in the shot, unless you don't use one. The more you can write about yourself the better, make it appealing and tell us a story. Snapshots of your gear with a camera phone and no words will not be featured.
Oh and don't forget your contact details (twitter, flickr, tumbler et al). Send the bag shots here. Please understand that there is a long wait now as there is a backlog of submissions. Not all make the cut, so make sure yours is funny/interesting/quirky. And please make sure the shot is of good quality, as the ones that are not do not go up.
Cheers
Japancamerahunter