In your bag No: 1638 – Alan Marshall
David is checking in on his 85 year old father's behalf who still hauls these lovelies around the world on projects.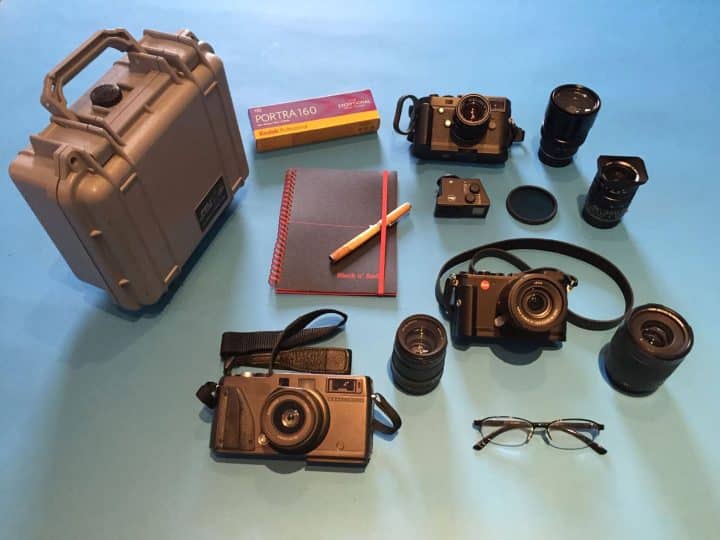 Alan Marshall is my Dad and a photographer, still, at 85 years old. This month he heads off to Trinidad & Tobago at the start of a project photographing schools around the world.
He's been a professional photographer since he was 21, won the Kodak Scholarship in 1960 and the RPS Hood Medal in 1961. All this was long ago though, and he wouldn't want me to talk about it. For most of his career he's worked in landscape and industrial photography.
In 2002 he did a job photographing a body of linked schools in several different countries. Since then he's more or less retired. Then last year he told us he wanted to go back and return to the job, update the photos and show how the schools have changed and how they relate to each other. Over the course of the year, him and my mum will visit 8 schools in 6 countries, starting with Trinidad & Tobago and ending up back in the UK.
This time he intended to go back only with digital, having bought the Leica 240M and the Leica CL especially for the project. He's never worked professionally with digital but felt it would be better all round for ease and speed.
Intended that is, until he picked up his old Hasselblad X-Pan again. After a few days shooting, he changed his mind. Something about it worked for him. I spoke to my Mum last week. She said now he's tinkering around in the darkroom again and the Hasselblad is firmly back in the bag. I guess he'll need more of the Porta 160.
The two digital Leicas in the photo come with the lenses next to them (plus filter and rangefinder for the 240M):
The lenses for the 240M are a 50mm f/2 Summicron, an f1.4 75mm Summilux and a Tri-Elmar 16-21mm f/4.
For the CL the lenses are a Vario-Elmar 18-56 and a 35mm Summilux 1.4.
Then there's the X-Pan, a beautiful camera beloved by analogue photographers. The grey box is the hard bag for this camera. On the Hasselblad is an f/4 45mm and next to it an f/4 90mm.
The pen is something he's had for years. He found it at an art fair. It's handmade and he says it's the best pen he's used. He needs a new one but can't find the maker again, so if you recognise it, drop me a line! Anyone who's received a letter from him knows he writes in calligraphy, and his letters are always philosophical and thoughtful.
Finally, I asked him to put his glasses in the shot. He'll need them for reading and there'll be plenty of time to get into the latest Robert Harris or the Bhagavad Gita – he'll probably take both!
The schools for the project all come under the umbrella of the Education Renaissance Trust. You can read more about them here: www.education-renaissance-trust.org.uk. His itinerary isn't fixed yet but my Mum will update me as they book each stage. A rough travel plan (with returns to the UK in-between) looks like this:
San Fernando, Trinidad
Auckland, New Zealand
Sydney, Australia
Melbourne, Australia
Johannesburg, South Africa
Durban, South Africa
Dublin, Ireland
London, UK
They don't have a website or anything online but you can find me here on Instagram: @filmbum81 and once it's done I'll put up some photos and a link to the photobook.
Thanks for sending us your father's bag shot David. Amazing he's still at it, looking forward to see his work.
Keep them coming folks, we need more submissions, so get your bag on Japancamerahunter.com
Send me a high resolution image of the bag. Optimum size is 1500px across. Please ensure there is a bag in the shot, unless you don't use one. The more you can write about yourself the better, make it appealing and tell us a story. Snapshots of your gear with a camera phone and no words will not be featured.
Oh and don't forget your contact details (twitter, flickr, tumbler et al). Send the bag shots here. Please understand that there is a long wait now as there is a backlog of submissions. Not all make the cut, so make sure yours is funny/interesting/quirky. And please make sure the shot is of good quality, as the ones that are not do not go up.
Cheers
Japancamerahunter