In your bag No: 1619 – Jingyu Li 
Jingyu is the Chinese Macguyver as he hacks together another contraption for his gear.
Hi everyone, I'm Jingyu Li. About Four years ago I post my cameras here(in your bag No:1049). Unfortunately Fuji stopped their peel-apart film, thus all my modification for Polaroid stay in the carbine. Fortunately we can buy new film for SX-70 which is great.
I like to read "in your bag posts" try to find interesting gear and fun staff, it's time for me to contribute one, here is my story.
By the end of year 2017 I brought a broken Horseman Convertible on ebay for $40, apparently the owner drop the camera and lens break in the middle. I like the idea of 6X9 "Hasselblad Biogon" and want to learn how it works.
The camera is the beginning model later developed into SW series, good example of "less is more". After disassembled it I was tried to replace the broken part, but it seems too difficult to make new shutter housing. Weeks later as an engineer myself, I tried to follow the design logic of the camera. I think they will try to use as many as standard part possible to build a camera, than I found the broken Copal shutter also applied to many 35mm camera in 70s.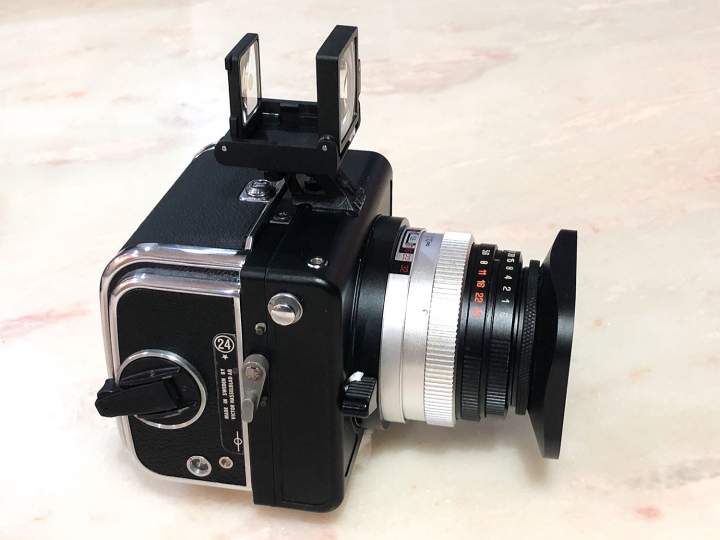 And I just got one in my hand, the camera is fixed. Maybe I can make it a little bit special too. A "Biogon" with 65mm lens. Thanks to the 3D printing technology, I can make prototype for testing easily. Also film winding mechanism is made from metal 3D printing. The viewfinder borrowed from IMPOSSIBLE.
I hope I can share my other projects here, if you guys are interesting in technical camera. Regards and have good time with your camera
Thanks for sharing with us your bag shot Jingyu. Would love to see the images you get from this bad boy!
Keep them coming folks, we need more submissions, so get your bag on Japancamerahunter.com
Send me a high resolution image of the bag. Optimum size is 1500px across. Please ensure there is a bag in the shot, unless you don't use one. The more you can write about yourself the better, make it appealing and tell us a story. Snapshots of your gear with a camera phone and no words will not be featured.
Oh and don't forget your contact details (twitter, flickr, tumbler et al). Send the bag shots here. Please understand that there is a long wait now as there is a backlog of submissions. Not all make the cut, so make sure yours is funny/interesting/quirky. And please make sure the shot is of good quality, as the ones that are not do not go up.
Cheers
Japancamerahunter