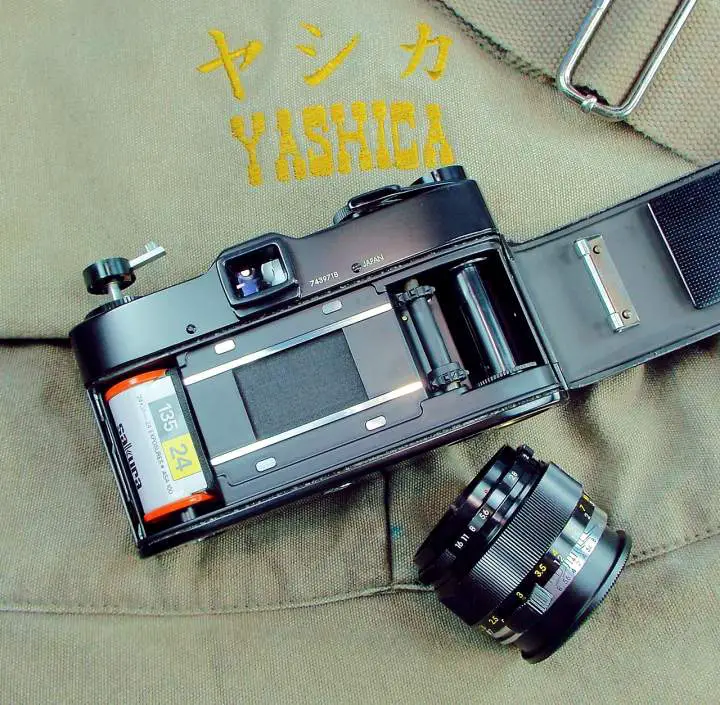 In your bag No: 1413, Chris and Carol
Today we have a very simple offering for you. Chris and Carol are a team it seems, and they both have a real love for Yashica cameras. Check it out.
Great camera bag that my lovely wife made for me. Converted from an old messenger style pocketbook, she embroidered the 'Yashica' in katakana for an eye catching logo.
The Yashica J-3 in gorgeous black comes straight from Yashica's factory in Suwa, Nagano Prefecture from early 1963. The matching Auto-Yashinon f/2.0 50mm lens was also part of the limited availability 'pro-black' SLR… Yashica's first ever 35mm SLR in black.
A wonderfully simple camera with a solid feel and a surprisingly accurate exposure meter. The vintage (not spot on to the early 1960s) Sakura color film wraps up a vintage set-up ready to go.
If you find the time, stop by our blog 'Yashica Pentamatic Fanatic' at www.yashicasailorboy.com
Many thanks,
Chris and Carol
Thanks for sharing your bag with us, Chris and Carol. Love your site, it is a treasure trove.
Check out the links and please come and comment.
Keep them coming folks, we need more submissions, so get your bag on Japancamerahunter.com
Send me a high resolution image of the bag. Optimum size is 1500px across. Please ensure there is a bag in the shot, unless you don't use one. The more you can write about yourself the better, make it appealing and tell us a story. Snapshots of your gear with a camera phone and no words will not be featured.
Oh and don't forget your contact details (twitter, flickr, tumbler et al). Send the bag shots here. Please understand that there is a long wait now as there is a backlog of submissions. Not all make the cut, so make sure yours is funny/interesting/quirky. And please make sure the shot is of good quality, as the ones that are not do not go up.
Cheers
Japancamerahunter