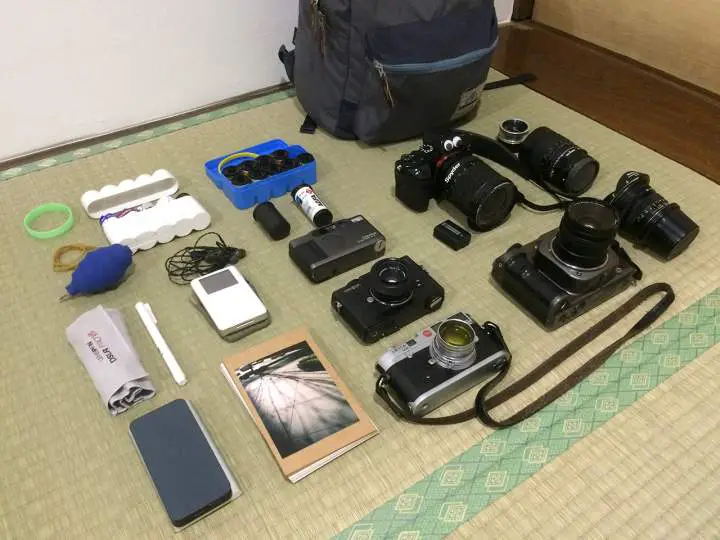 In your bag No: 1410, Vic Shing
Vic has a whole load of stuff to share with us today. Not just his bag shot (which is pretty epic) but a load of film and some of his work too. Come and beat hump day with this lovely set.
I am Vic Shing. Nice to meet you guys here. I usually shoot photos for live music shows in Hong Kong. The photos are uploaded to my Facebook page and Instagram which is called Music Surveillance. 
Here is the bag I bring to my last trip to Tokyo. I don't have much sightseeing this time but visit some old friends in Tokyo. I stayed at Shinjuku most of the time and it's nice place to find some second hand camera and lens. (Thanks for the map by Japan Camera Hunter) I also bought some film too, because its much cheaper than buying them in Hong Kong.
Here are the bag and cameras carry around in Tokyo. F-Stop Tijuana, A7R2(with Goggly Eyes), Mamiya 7, CONTAX T2, LEICA M6, Minolta CLE, 120 and 135 film with Japan Camera Hunter Case, Lens Pen, Extra battery and my beloved iPod 3rd Gen
Tijuana 
A Nice Sneaky bag to store cameras, but a little bit hard to get camera out of the bag on the go. It's my everyday bag.
Homemade Postcard~~~
I usually take one roll of film and print them locally. Then I will use them as postcard for my friends. This time I used Fuji Pro400H and the outcome is quite nice~~~ Haha I can send you homemade postcard from Hong Kong if support my projects~~~~~
M6
This is my beat up Leica M6, the film winder and focus patch is damaged >__<. My favourite camera after all. I usually pair it with 50mm Summicron and yellow filter with black and white film. I shoot it in my Live Music works in Hong Kong.
T2 and CLE is for colour film, one with fast film and one for slow film. And try to shoot some scenery with the Mamiya 7.
This is the film I took with me for travel. Delta 400 is my favourite and I will push it two stop. And I would like to take color slide with me for travel.
I buy fujifilm in japan every time.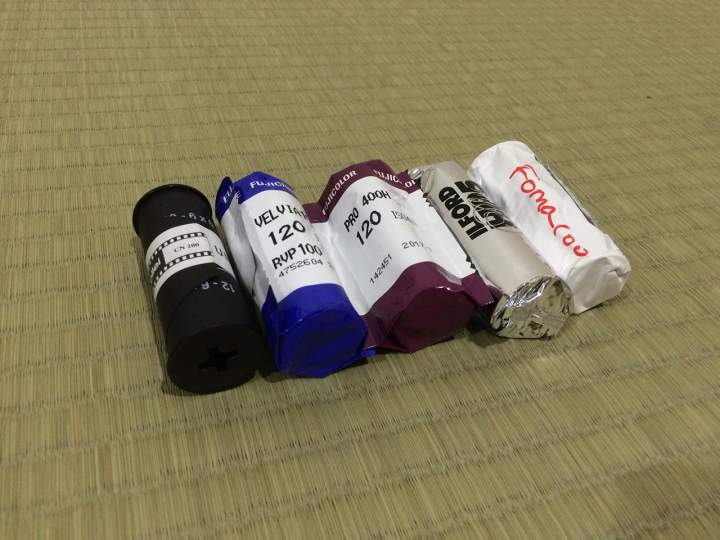 120films~~~
Music Surveillance is my project to shoot Hong Kong live music voluntarily. Hope you guys will enjoy the photos over there. But usually they are digital and I seldom upload film photos to the web. Please do like the page~~~~
http://www.facebook.com/MusicSurveillance
http://www.instagram.com/MusicSurveillance
And Meow Surveillance is cats photos by me~~~
http://www.facebook.com/MeowSurveillance
You can also support Music Surveillance and my other projects by being a Patreon in the following link!!! Your monthly monetary support will help the growth of Music Surveillance!!!
http://www.patreon.com/shingvictor
Best Regards,
Vic Shing
http://www.about.me/shingvictor
Best Regards,
Thanks for sharing your bag with us, Vic. Nice blue film case you have in the bag.
Check out the links and please come and comment.
Keep them coming folks, we need more submissions, so get your bag on Japancamerahunter.com
Send me a high resolution image of the bag. Optimum size is 1500px across. Please ensure there is a bag in the shot, unless you don't use one. The more you can write about yourself the better, make it appealing and tell us a story. Snapshots of your gear with a camera phone and no words will not be featured.
Oh and don't forget your contact details (twitter, flickr, tumbler et al). Send the bag shots here. Please understand that there is a long wait now as there is a backlog of submissions. Not all make the cut, so make sure yours is funny/interesting/quirky. And please make sure the shot is of good quality, as the ones that are not do not go up.
Cheers
Japancamerahunter