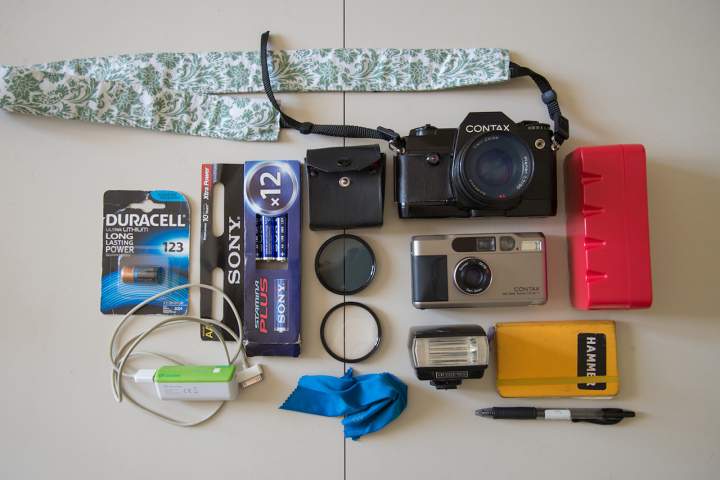 In your bag No: 1381, David Tinius Rossi
Third time is a charm indeed for David. He is back and with a lovely setup for us, including a very interesting strap, which I am sure some people will be asking about. Check it out.
Some people say three times is the charm, so here's my third bag submission to your blog!
After spending fifteen months in the U.S.A, eight months in Japan and three months in Portugal, I'm finally back home in Italy.
However, I'm packing once again for a romantic weekend in Amsterdam together with my lovely half, so here's the gear that I put together for this new adventure:
The bag is a mono shoulder "Energie" backpack. This Italian brand used to be quite popular back in the 90s.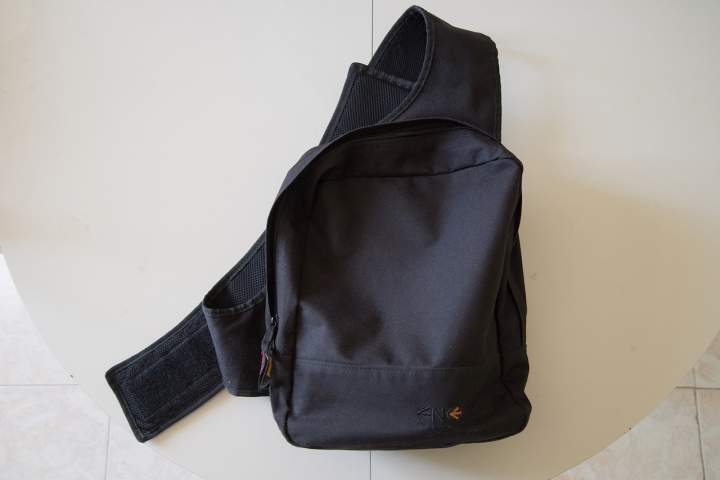 The first camera is a Contax 137 MA Quartz with a Zeiss 50mm f/1.7. I absolutely adore its viewfinder, which is bright and very clear. The strap comes from my trusty source The Sweet Strap.
The second camera is a Contax T2, which I believe speaks pretty much for itself ;-)
Among the accessories, I have one of your awesome 35mm film cases which I ordered when still living in Japan. I might order the 120 case soon.
Film prices have gone a little silly here in Italy, so all I can afford to shoot in 35mm is mostly Fujicolor C200 and Fomapan 100 (I can still get some good stuff in 120 though).
The Olympus T-20 flash (from my previous bag) fits and works pretty well with the 137.
I have a fake leather pouch for two 55mm thread filters: one is a circular polarizing filter, the other a +3 macro filter.
Then there's a notebook, a pen and a microfiber cloth. Field notes and clean lens are very important!
Finally, batteries, batteries and more batteries: a spare CR123 for the T2, several AAs for the 137 and the flash, and a small iPhone portable charger, the iPhone being the only true energy hog.
Thank you folks for submitting amazing bags, and thank you Bellamy for your articles and work!
Sincerely,
David Tinius Rossi.
Website: www.davidtiniusrossi.com
Blog: blog.davidtiniusrossi.com
Instagram: @davetiniusrossi
Thanks for sharing your bag with us again, David. The strap is very cool, not something you see everyday.
Check out the links and please come and comment.
Keep them coming folks, we need more submissions, so get your bag on Japancamerahunter.com
Send me a high resolution image of the bag. Optimum size is 1500px across. Please ensure there is a bag in the shot, unless you don't use one. The more you can write about yourself the better, make it appealing and tell us a story. Snapshots of your gear with a camera phone and no words will not be featured.
Oh and don't forget your contact details (twitter, flickr, tumbler et al). Send the bag shots here. Please understand that there is a long wait now as there is a backlog of submissions. Not all make the cut, so make sure yours is funny/interesting/quirky. And please make sure the shot is of good quality, as the ones that are not do not go up.
Cheers
Japancamerahunter