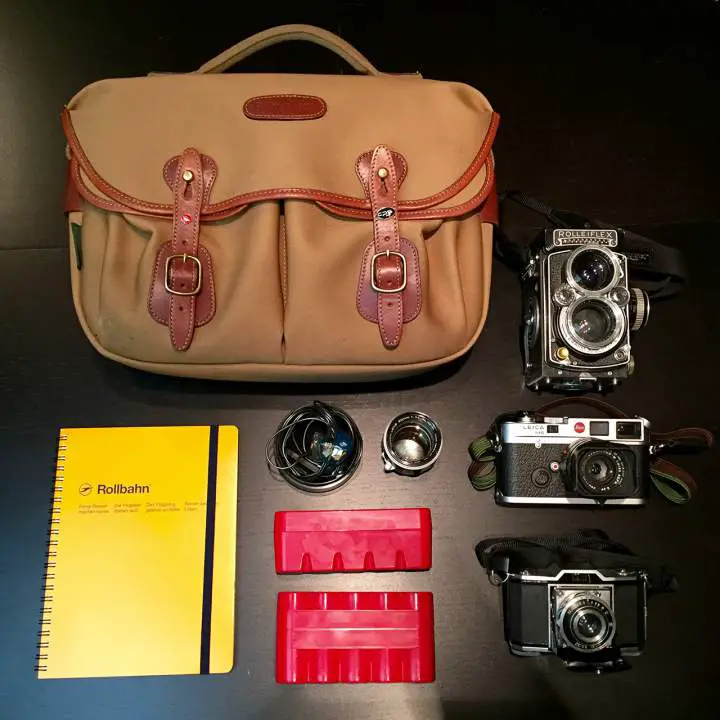 In your bag No: 1375, Chris Chan
Chris has a very tasty setup for us to kick off the weekend to. Some simple and classic cameras, a few lovely film cases and a very nice set of headphones. Check it out.
First time contributor, long time reader (and JCH customer) out of Los Angeles.
My name is Chris Chan and I started out shooting digital seriously about 9 years ago with a Nikon D80. Since then, I've attempted to incorporate various cameras into my bag but none have managed to make as big of an impact on my shooting enjoyment as the analog cameras in my weekend bag today. Now a true believer that Saturdays and Sundays are for film, that's almost all you'll ever catch me with.
I made the leap into analog photography about 17 months ago when a friend mentioned that she had a bunch of unused photographic paper. That pack of photo paper snowballed into a much larger collection of vintage and current cameras in addition to what you see here. Now I know JCH mentioned that "snapshots of [my] gear with a camera phone…" would not be featured but I just sold my last digital body, a Fuji X-T1, 2 days ago. So yeah… that's how much film has taken over my life this last year and a half.
Anyway, on to the goods…
My bag is a Billingham Hadley Pro and clockwise from the top right are:
Rolleiflex TLR with the 80mm Planar 2.8 and an Artistan & Artist strap
Leica M6 and 35mm ASPH Summicron and the silk Artisan & Artist for Leica strap
Canon 50mm 1.4 STM "Japanese Summilux" adapted for M mount
Zeiss Ikon Ikonta 522/24 with the standard Leica strap
JCH 120 and 35mm film cases with Kodak Tri-X 400, Fuji Neopan 100, and Velvia 50
Note pad
JH Audio JH16 Pro IEMs (since music is my life's other passion)
I haven't been keeping up my website but plan to start that back up again soon. For now, I just post the random photo on Instagram as @chan031.
Well that's about it for this bag. Hope you enjoyed it.
Chris
Thanks for sharing your bag with us, Chris. That Ikonta is lovely
Keep them coming folks, we need more submissions, so get your bag on Japancamerahunter.com
Send me a high resolution image of the bag. Optimum size is 1500px across. Please ensure there is a bag in the shot, unless you don't use one. The more you can write about yourself the better, make it appealing and tell us a story. Snapshots of your gear with a camera phone and no words will not be featured.
Oh and don't forget your contact details (twitter, flickr, tumbler et al). Send the bag shots here. Please understand that there is a long wait now as there is a backlog of submissions. Not all make the cut, so make sure yours is funny/interesting/quirky. And please make sure the shot is of good quality, as the ones that are not do not go up.
Cheers
Japancamerahunter