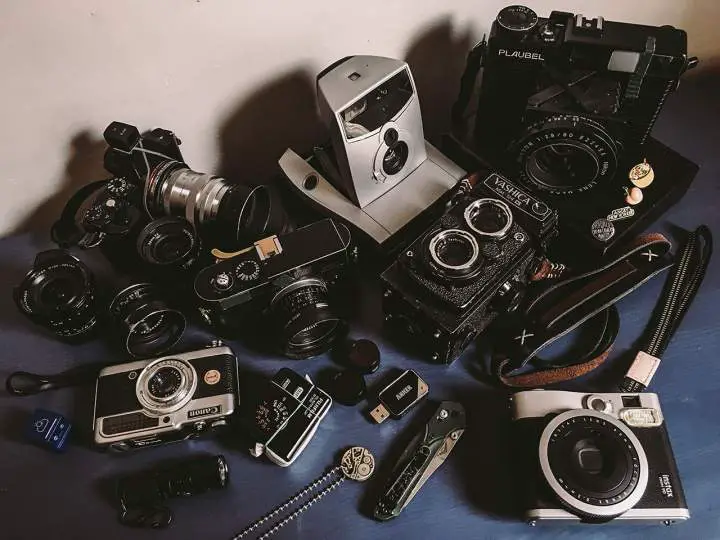 In your bag No: 1363, Daniel Schaefer
Daniel has been on the site a few times before, not only with a bag shot, but with some really interesting articles, which you can see by clicking here. Now Daniel is back, and with probably one of the biggest and most epic of all the bag shots. Check out this monster post.
Daniel Sawyer Schaefer – Shooters Saddle Bag. 
Heya Bellamy, thought I'd drop you a line with some new extensions to my seemingly bottomless bag of tricks. After a long time in somewhat random flux, things are finally settling into a comfortable space where no matter what I slide into the bag or around my neck for a days shooting, I'm working with equipment I finally know cold, not a single piece acting as an obstacle between me and making my images. 
The Four Horsemen. 
I have a long time mantra when it comes to the equipment I own, if it goes more than a month without use, i'd rather have it out in the field in someone else's hands, than gathering dust looking pretty on a shelf. Additionally, when it comes to my personal kit, I never like to have two cameras overlap too heavily in their capabilities and handling. 
Over time, only a few of my cameras have set themselves apart as true primaries, cameras that have no real peer within my kit, equipment that offers a combination of reflex like usability, distinct visual differences, and above all, when I grab one camera over the others, I am making a conscious creative choice. 
I've had the incredible luck as a professional photographer to be hired more often than not to create images within my own specific style, so rather than worry about building out a kit that will satisfy every possible gig in the industry, I've been able to pick and choose gear that compliments my own work, giving me the most naturalistic path between my concept, and my creation within my specific way of working. 
The Workhorses. 
A fellow photographer once referred to these two cameras as the old ham and the heel, when slung around my neck, clacking and crashing together as I work my way around a gig, the two wrestle relentlessly, vying for my eager eye as I survey a scene, they've even been known to take bites out of one another in the fray. 
M9 –  More casually called Katie by my former co-workers at Leica Los Angeles has been my hard worn daily driver for the past few years. There's a damn good chance if I walk out the door, no matter the weather or workday ahead, the M9 is slung over my shoulder. With the M9, I tend to lock on a single lens, and learn to love it, forcing myself to learn the tango that the two offer together. For years, Katie danced with a personal favorite of mine, the 40mm f/2 Rokkor, but over the summer I had the distinct pleasure of letting a pre-ASPH 35mm f/1.4 Summilux from 1969 cut in, and the two have been locked in a brass bayonet embrace ever since. There's something about the classic rendering of the Mandler designed glass absolutely swings coupled with the CCD. I'm often asked as a Leica AG expat what the best Leica combo is, and I can say far and above as far as digital is concerned, the M9 & 35mm lux are the Fred & Ginger of the camera world.
A7s – Tech wise, definitely the new kid on the block, and despite the pressure from the peers he sits alongside, the Sony A7s shines something serious. I've been primarily a low light shooter for my personal work for years, and became particularly adept at hand holding as low as half a second in some situations, but when I first handled the A7s, and made a frame at 1/200th of a second in a dimly lit bar, in full color at 51,200ISO, I was hooked. The camera puts out some of the most stunningly flexible digital files I've ever had the pleasure of editing, and allows for a subtlety in color and exposure control that so far from what I've handled myself is absolutely second to none. Usually rocking a rumba with the four lenses in my extended kit listed below, pictured here with one of my absolute favorite optics I've ever owned, the 8.5cm f/2 Nippon Kogaku, modified to LTM.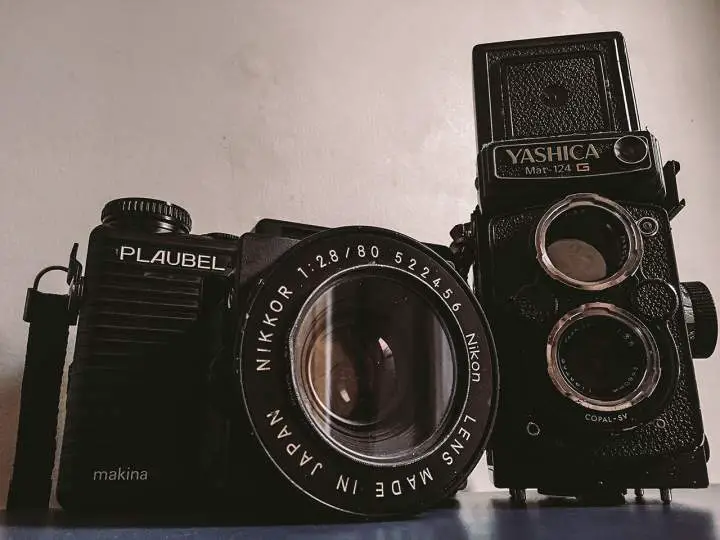 The Warhorses.  
While the two digital dancers listed above see the most frames made out of anything in the kit, these two heavy hitters have made some of the most meaningful work I've ever had the pleasure of exposing. There's an intentionality that no matter how we try, digital always seems to miss, but when slowly loading a roll of 120 into either of these big beauties, extending the bellows, or snapping open the waist level finder, these two bag filling classics elicit a powerful rush of passionate satisfaction.
Yashicamat 124G – The longest running continuous member of my kit, a gift from a family friend that I doubt will ever stop giving, the "Yassy" as it's endearingly called is without a doubt one of the best bang for the buck cameras to ever hit the market. A true warhorse from pouring summer rain in Spokane washington, to head on collisions with an italian ambulance in Firenze, Yaz has seen just about every bit of action a camera could hope for, and has come out without a dent every time. I kid you not, in 2011 while photographing a shockingly chic woman rounding the corner of Union Sq on a black vespa, the camera (and myself) were hit at full speed by a careless bike messenger, and when the damage was surveyed, the camera didn't have a scratch on it, but the handlebars of the hipsters fixie had a perfect figure eight, twin lens dent on the aluminum handlebars.
Plaubel Makina 670 – While the next statement I'm going to make may seem a tad hyperbolic, but trust that I do not say it lightly, and it is my full and honest opinion. The Plaubel Makina 670 is the greatest camera ever made. When it comes to making truly satisfying work, the kind where every roll is full of nothing but gems and you as a photographer can lift the camera to your eye and just know that this is the absolute best tool you could hope to use, the Plaubel Makina is that camera. Now while this is a statement that obviously will not be true for every photographer out there, I think that when the designers of this camera made their choices, they truly knew who they were making it for. Easily the single most user friendly, creative path of least resistance piece of equipment I have ever used. Putting it as simply as "Hit rate" the Plaubel Makina makes 6×7 frames on 120 or 220 film, 10 or 20 images at a time, and for every roll I've shot with the Plaubel, I've only ever discarded at maximum one or two frames per roll, the other eight all being as near perfect to my creative intention as any image I've ever shot on another system, when shooting with the 670, I without fail make some of the most reliably satisfying work of any system I've ever used. 
The Jockeys. 
For those familiar with my article "The Storytellers Kit", you'll remember my format of a three lens prime kit to suit almost all of my creative needs, to that same model, I've extended my kit to add two creative extremes that only ever end up in the bag during very specific jobs. 
15mm f/4.5 Heliar III – Just about as wide as a full format optic gets, this lens makes for a killer hyper wide on the A7s, used most often for architecture and video work.
28mm f/2 Ultron – My personal favorite lens on the A7s, this lens offers incredibly rich color, and tack sharp focus even wide open. 
40mm f/2 Rokkor – A long term favorite of mine, this has become the sort of default working lens when taking out the A7s as a primary camera. 
200mm f/3.5 Vivitar – Just about the best thrift shop find I've had in a while, a stunningly sharp telephoto prime for all of $9, this lens doesn't see a massive amount of use, but for concerts and the occasional headshot, this optic works wonders. 
The Zebras 
The best advice I've ever been given by a fellow photographer was from an otherwise quiet fellow participant of a downtown LA photo walk back in 2010, while the rest of us had Leicas, Nikons, and fuji's wound around our necks, she stood amongst the group with three Sx-70's draped across her chest. Her words of wisdom resonated well with me, as I was doing my best to make flawless work with every frame, and pulling my hair out when I wasn't succeeding "Hey man, every photographer owes it to themselves to make some satisfying nonsense every so often" she smiled, and strolled away, tucking her last frame into a warm pocket on that cold morning. These three funky bastards make some of the most satisfying nonsense I've shot in a long time. 
Instax Mini 90 – A camera that had caught my eye when it first came out, but lucked into my kit when I moved into my new apartment back in January. The mindless satisfaction that comes from the business card sized exposures that this killer little camera makes have an oddly endearing, immediate nostalgia aspect that makes this camera a pleasure to shoot with. 
Polaroid Spectra 1200FF – Easily the funkiest member of my current kit, the wide angle lens of this larger than life instant camera make for beautifully environmental shots, the only odd downside being the maximum f/11 aperture. With a silhouette that makes it look like it beamed straight out of Area 51, this camera is a constant hit with clients who hire me to shoot instant at events, and as much as I preach against shelf queens, is one hell of a conversation starter at dinner parties. 
Canon Demi – While sadly I've yet to put a roll through this absolute gem of a half frame camera, this Italian oddity has become my latest fix it mission. Sporting easily one of the most interesting designs of any flea market find I've ever snagged, I can't wait to put this half frame 28mm 2.8 beauty through it's paces once I can get the gears greased again. 
Lights
As a photographer, your most crucial creative tool is truly whatever light you can find. For the most part I work as an available light photographer, but every so often proper accent is needed to clarify an image in a clear and creative way, some of the most potent tools I've found to create this modification are the ones listed below. 
Fenix PD12 – A killer compact LED light, with variable powers ranging from 10 – 360 lumens off of a single CR123 cell. The digitally regulated CREE LED keeps the light clean and neutral at any power or battery level, and the simple addition of the pop on gel filters makes this light a fantastic accent to almost any light kit. 
Fuji EF-x20 flash– The best compact manual flash I've found in my shopping around, with powers from a nice 1/1 punch, down to a clean and quick 1/64th it makes for a perfect compact lighting solution, especially when paired with the FlashQ mini radio triggers. 
Bits & Bobs
Any good bag is fit to burst not only with equipment, but odds & ends that help get the job done in all sorts of creative ways. (Clockwise from top left corner)
Aluminum card wallet
"Hello" Business card holder
Leatherman  Style PS
"Energy" bar
LensPen 
Sekonic L308s (AKA THE BEST PURCHASE ANY PHOTOGRAPHER CAN MAKE!!!)
Lapel pins
Hand cream
Dayquil
Forrest green Gaffers tape
Aviator playing cards
Anker USB3 SD Card reader
Rubber bands (If you follow me on instagram, you'll know just how much I love rubber bands)
Timepiece
Anker 5200amh Backup battery w/ Amazon Basics mini lightning cord. (will charge both my Iphone, and the A7s in a pinch!)
The Shooters bag.
Made by DuluthPack in the USA out of phenomenally solid canvas, the Shooters Haversack is actually not designed as a camera bag, but as a shotgun shooters ammo bag. That being said, after trying every band from Ona to Domke and all others in between, DuluthPack makes the absolute best bags I've ever owned bar none. At a much friendlier price tag than most high end camera setups, they offer a wide range of bags and backpacks that can be built out to suit almost any shooters needs. In order to keep the bag camera ready, I use Tenba BYOB padded inserts in order to keep the gear safely settled. The shooters haversack is slim in profile, taller than it is wide, making it fantastic for event/crowd work photographers, with the bag slung to your front, even fully packed and fit to burst, it's still narrow enough to navigate without bumping it into everyone you slide past. 
As always, my kit evolves with my creative needs, but at the moment, I think I've settled into a kit that will keep me satisfied for a good long while. Until the next addition slides into my saddle bag, cheers to all the JCH readers!
About the author – 
Daniel Sawyer Schaefer is an NYC based photographer & writer, additionally offering 1 on 1 custom tailored workshops for photographers of all skill level. Visit his website OutlierImagery.com for additional work and booking information. 
Thanks for coming back and sharing with us your most massive of bag posts, Daniel. I am a sucker for the Warhorses.
Keep them coming folks, we need more submissions, so get your bag on Japancamerahunter.com
Send me a high resolution image of the bag. Optimum size is 1500px across. Please ensure there is a bag in the shot, unless you don't use one. The more you can write about yourself the better, make it appealing and tell us a story. Snapshots of your gear with a camera phone and no words will not be featured.
Oh and don't forget your contact details (twitter, flickr, tumbler et al). Send the bag shots here. Please understand that there is a long wait now as there is a backlog of submissions. Not all make the cut, so make sure yours is funny/interesting/quirky. And please make sure the shot is of good quality, as the ones that are not do not go up.
Cheers
Japancamerahunter