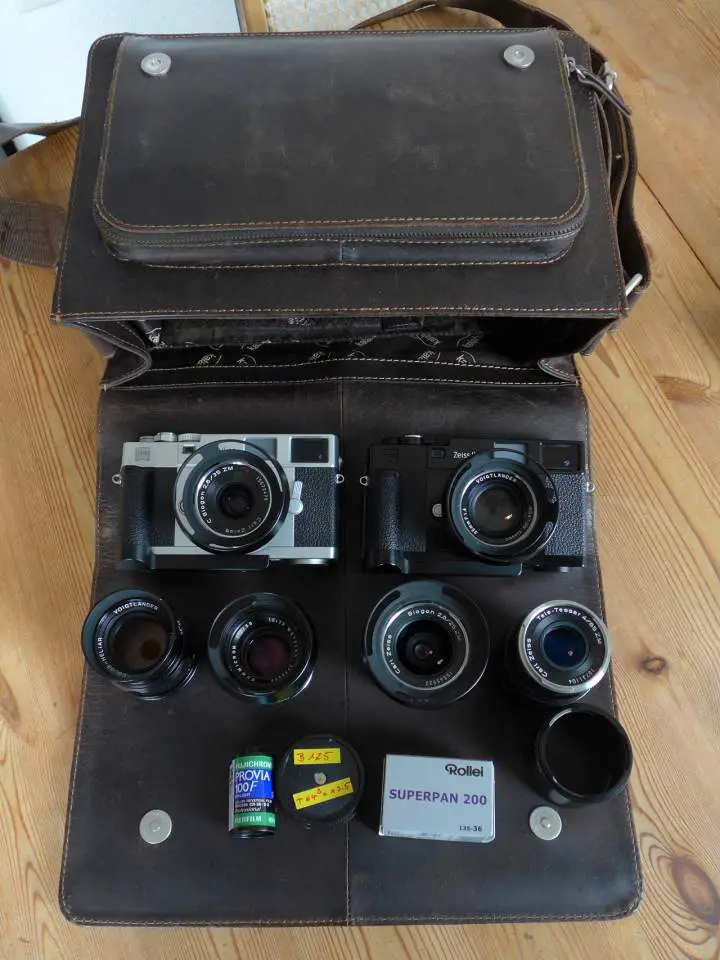 In your bag No: 1356, Peter
Peter has a box for us today. Not a bag, but a box. And he has a good reason for it too, but you will have to read on to find out why. Check it out.
My name is Peter and I live in Germany (first southwest now pretty much in the center, besides two great years in California) and photography is my major hobby since more then three decades. One of my favorite bags is actually a box, made of leather by Kalahari. What I like about it is it's stiffness. You just lift the lid and the camera slides just into it. No pushing, pressing etc.. I use it exclusively for my rangefinders. Besides this big box I just got a small one for one body and two lenses as a christmas gift.
One of my most favorite subjects are landscapes and animals in landscapes and this is done to 90% in B&W. For this, SLRs are perfect and I started with rangefinders only after using Yashica/Contax SLRs for decades and after a few years using a Bronica SQ-B MF. Rangefinder cameras and lenses used to be very expensive and they are not a standard tool for landscape photography. I always considered getting one, because they are small, lightweight, calm and you are not blind at the moment of exposure. Naturally, I had an eye on the Leica M6 and it is the one presented most often on this side and this actually made me think that I should add something to the rangefinder equipments shown here. Between my eyes and the camera are classes and they are not good to combine with the M6. I can hardly see the entire 35 mm frame and the viewfinder has a hard ring which scratches the glasses.
Eventually I could and did purchase bodies and lenses for 2 reasons.
Reason number 1 was the Zeiss Ikon (compares to the M7). I can even see the full 28 mm frame, while the entire viewfinder covers about 25 mm, AND the viewfinder has a rubber ring and is incredibly bright and precise. Now I have two bodies, one for B&W and one for color slide film (guess which film goes where) and I carry at least one of them with me most of the time. I take my SLRs and MF equipment with me when I need their strengths (lots of other bags!).
Reason number 2 was the Voigtländer 1,4/35 mm classic, with a lens coating optimized for B&W, meaning lower blue light sensitivity. Thus there is no need for yellow or orange filters to see a sky in landscape (!) images. I only exposed one color slide film with it and it is indeed not a useful combination. This peace of equipment is the only one I bought new, all the rest I found on ebay. My dreamtime is this lens and the Rollei Superpan 200 (on bright summer days also the 80S).
For color slides I just purchased a Zeiss ZM 2,8/35 mm (much better than the 1,4/35 by standard criteria). Besides the 1,4/35, I had a Zeiss ZM 2,8/25 mm early on. The Voigtländer Heliar 2,5/75 mm also produces nice B&W, but not in stark contrast situations. Therefore I got the Zeiss ZM 4/85 mm, which is really brilliant. Why do I keep the 75? Because it delivers nice and soft colors on slide film and it is certainly sharp enough at 4 and 5,6. But I was still curious about Leica products and got myself a Summicron 2,0/50 mm. The colors are really great, if there is soft light. It is definitely not for harsh light conditions in either color or B&W, unless you want to use this weakness to create a special image, which I manage once in a while.
Also, rangefinders are the ideal pinhole cameras! I have this camera body cap with a pinhole, which has a wide angle field of view of about 25 mm. It is fun playing around with this and you may take part in the ,world wide pinhole photography day' on april the 26, this year (pinhole.org).
I belong to the 50+ generation and so I started with analog photography (at my first year at the university) and decided only a little while ago to never move into digital, although I do follow the developments (Sony A7s II (!), but for that amount of money I can expose 240 Provia 100 slide films incl. development). I only use the Panasonic DMC-LF1, which is a great point & shot, but when you look at flower blossom shots, a cold shower is running down your back. It looks like horrible, smooth plastic plants and those are actually dead objects.
Some analog images do not look really great as scans, but there prints look very much different and are great again!!! I print them up to A3+. This is the major reason why I do not present images on those internet networks. I visited them for a while, but there are just too many digitial fakes around. When you do see something great, the first thought is "was this really so?" and some fakes are so bad that you wonder about their visual training.  
This is certainly one of the longer letters, but I hope that my experiences stipulate and help others to go for analog rangefinders. If somebody hesitated to use rangefinders for the same reasons I did, I can highly recommend such a system.  
Thanks for sharing your box with us, Peter. And your love of rangefinders is inspiring. I wish you had shared a link to your work too.
Keep them coming folks, we need more submissions, so get your bag on Japancamerahunter.com
Send me a high resolution image of the bag. Optimum size is 1500px across. Please ensure there is a bag in the shot, unless you don't use one. The more you can write about yourself the better, make it appealing and tell us a story. Snapshots of your gear with a camera phone and no words will not be featured.
Oh and don't forget your contact details (twitter, flickr, tumbler et al). Send the bag shots here. Please understand that there is a long wait now as there is a backlog of submissions. Not all make the cut, so make sure yours is funny/interesting/quirky. And please make sure the shot is of good quality, as the ones that are not do not go up.
Cheers
Japancamerahunter