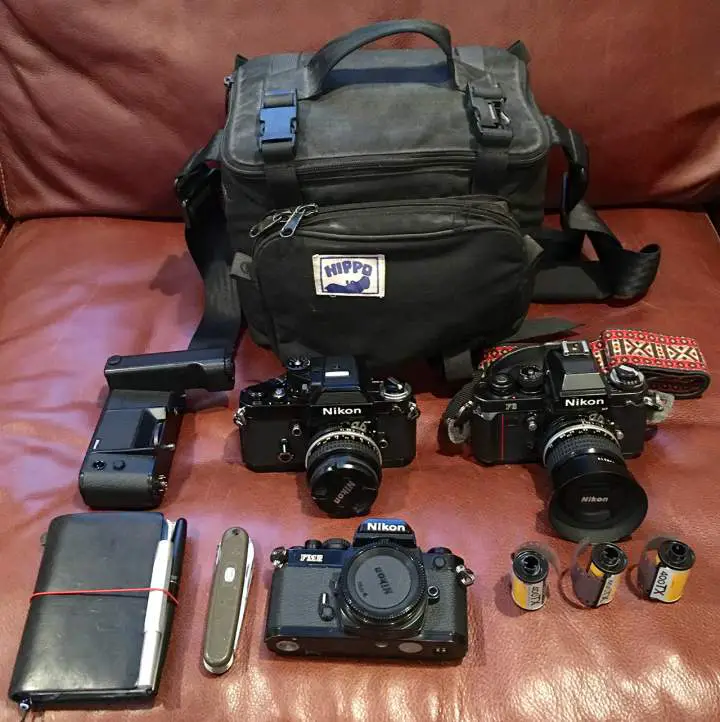 In your bag No: 1351, Andy Richman
Andy has a great bag for us to kick start the weekend, especially if you are a Nikon fan (like myself). Some classic Nikon bodies, a bunch of film, and somewhat inexplicably, a knife. A very well organised setup.
Attached is a picture of "My Bag". I am a bog fan of "In Your Bag. So much so I thought I would send a pic of mine over. The bag itself is circa mid-80s and has followed me pretty much ever since around the world. The buckles are broken, the bag beaten up but still (just) holding up. A bit like me.
On the camera front is:
Nikon F3P with a 35mm Nikkor F2
Nikon F2AS with 50mm F1.4
Nikon FM2 Body
Nikon MD-4 for the F3P
Also shown is:
Midori Traveller Passport notebook
Kaweco AL Sport Fountain Pen
Pilot Metropolitan Fountain Pen
Mauser Pocket Knife
x3 rolls Kodak Tri-X 400
The bag is a Hippo. I believe I purchased in London circa 1987. Recently found behind some of the inserts in the bag were a couple of receipts from Joes Basement in Wardour Street, also circa late 80s where I would drop off films late into the night for processing. Anyone working in London in photography in those years knew Joes.
The bag and I are just back from a few weeks backpacking Northern Vietnam. The cameras, just like me, were overdue some time on the road and a new tour of duty. During the trip I shot a dozen rolls of Tri-X and Portra 400. 
Although raised in London and long term residents (until 2008) of Brighton UK the cameras and I are now all resident in Washington DC. Although lacking the soul of London or New York, DC is a beautiful city with many iconic sites, some great opportunities for street photography and beautiful outdoor locations in which to shoot. My #1 challenge is finding time to get our and shoot a few rolls as my day job working with startup tech companies in the US is pretty demanding.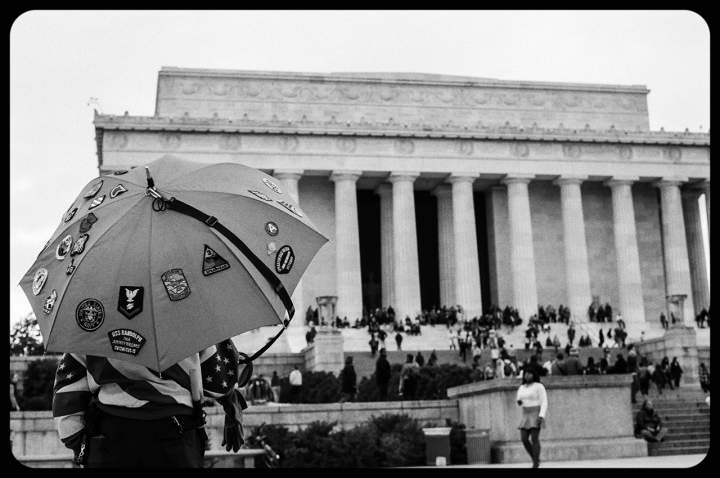 Regards
Andy Richman
Thanks for sharing your bag with us, Andy. It must be fascinating to go from Brighton to DC, a really different environment for shooting.
Check out the link and make sure you come and comment.
Keep them coming folks, we need more submissions, so get your bag on Japancamerahunter.com
Send me a high resolution image of the bag. Optimum size is 1500 across. Please ensure there is a bag in the shot, unless you don't use one. The more you can write about yourself the better, make it appealing and tell us a story. Snapshots of your gear with a camera phone and no words will not be featured.
Oh and don't forget your contact details (twitter, flickr, tumbler et al). Send the bag shots here. Please understand that there is a long wait now as there is a backlog of submissions. Not all make the cut, so make sure yours is funny/interesting/quirky. And please make sure the shot is of good quality, as the ones that are not do not go up.
Cheers
Japancamerahunter