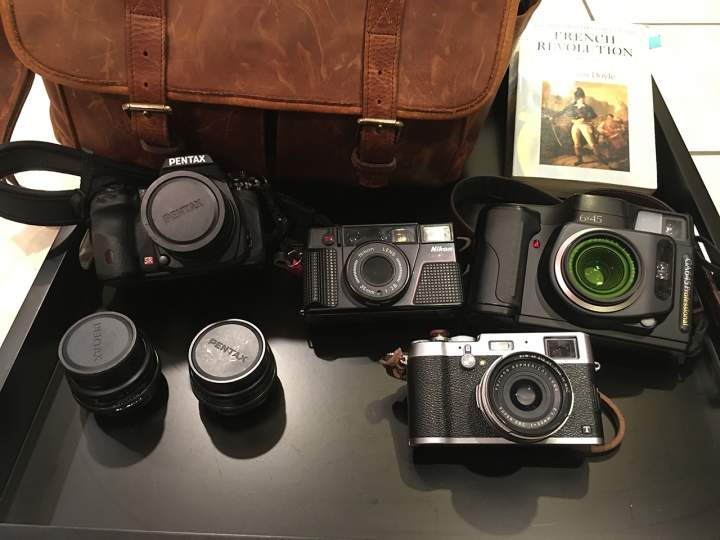 In your bag No: 1342, Jamelle Bouie
Today we have a very pleasing bag, one with old and new classics side by side. And a spot of serious literature too. Come and check out this cracking bag.
I'm Jamelle Bouie, a political analyst and hobbyist photographer in Washington D.C.
I caught the photography bug just after college, when I was tasked with taking event photos for my employer at the time. They had one of those huge, digital full-frame DSLR rigs, with long and medium lenses. I learned basics on that monster, but didn't start exploring photography until I bought a Pentax K-x for cheap about five years ago. I had that guy (and a 40mm lens) for about three years. I upgraded to another Pentax, and was fine until this past year, when I caught the film bug and wanted to downsize a bit in my everyday work. I've almost transformed my setup since last summer. Which brings us to my bag.
The bag itself is the ONA leather Brixton, a gift from my parents. The cameras are as follows:
– The aforementioned Pentax K-5 II, with a 35mm Limited lens attached, and two other lenses—21mm and 70mm—to complete the package. I don't use this camera so much anymore. It only comes out when I'm traveling to political events for work. Then, it's used for photojournalism.
– A Nikon OneTouch (L35AF2). I'm fascinated by these older point and shoots, and I carry this guy around for when I want to take snapshots, almost in lieu of an iPhone. Very handy for when I want a camera to stick into a jacket pocket when I go on a walk. Right now, there's some expired Fuji Neopan 400 loaded in. 
– A Fuji GA645 with a yellow-green filter. I wanted to get into medium format and this was the most affordable option! This is a new acquisition, and I just sent some rolls into a lab. We'll see what they look like. The filter is there because, in general, I like to shoot my film in black and white (right now, there is some Tri-X loaded in, but I have a few rolls of Ilford HP5 to use too).
– A Fuji X100t. I love this this little camera. I carry it everywhere and shoot with it constantly. One of the best purchases I've made in a long while. I tend to stick with color on digital, but the actual rule is that the subject determines the style (i.e., I do a lot of black and white conversions). 
– A book. I'm reading about the French Revolution right. Crazy stuff.
In general, the X100t and Nikon are with me during my Monday-Friday commute. The GA645 comes out on weekends when I want to slow down, and the Pentax when I'm reporting on location. I usually pair the Pentax with the Nikon and keep the Fujis together when I'm traveling for fun or just wandering around the city on a weekend.
I share all of my stuff on Flickr, some of it on Instagram, and select photos on VSCO.
https://www.flickr.com/photos/jbouie/
Thanks for sharing your bag with us, Jamelle. Yeah, that is some pretty heavy reading, but really fascinating.
Check out the links and please make sure you come and comment.
Keep them coming folks, we need more submissions, so get your bag on Japancamerahunter.com.
Send me a hi resolution image of the bag. Optimum size is 1500 across. Please ensure there is a bag in the shot, unless you don't use one. The more you can write about yourself the better, make it appealing and tell us a story. Snapshots of your gear with a camera phone and no words will not be featured.
Oh and don't forget your contact details (twitter, flickr, tumbler et al). Send the bag shots here. Please understand that there is a long wait now as there is a backlog of submissions. Not all make the cut, so make sure yours is funny/interesting/quirky. And please make sure the shot is of good quality, as the ones that are not do not go up.
Cheers
Japancamerahunter