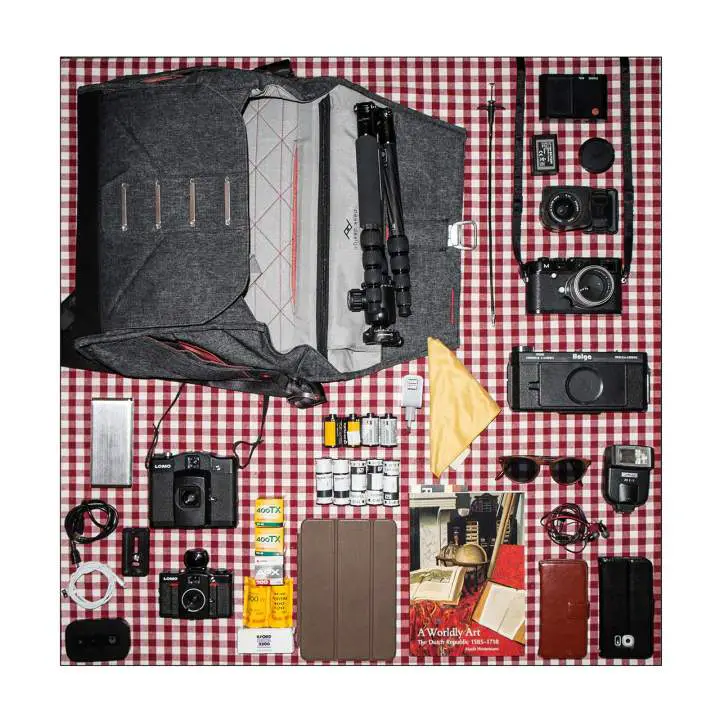 In your bag No: 1341, Nick De Marco
Nick shares his bag with us today, all the way from London. But the bag is not intended for London, rather a much more scenic area. Hence the multitude of different cameras. Come and check out this jam packed bag.
I'm Nick De Marco, a lawyer and photographer based in London. This is what was in my bag during a stay in my house in a mountain village in Southern Italy (hence the tablecloth) this New year's break
·    Peak Design camera bag (my Christmas present this year)
·    Cheap but ultra light Sirui T-025X tripod with Sunwayfoto FB-36 panoramic head
·    Lomo shutter release
·    Leica M (Typ 240) digital camera with Leitz 50mm Summilux f1.4 ASPH chrome lens, Leitz 28mm Summicron f2 ASPH lens, Leica battery charger and spare battery
·    Holga Wide Pinhole Camera – a slight cheat as I found this camera in the basement of my house. I had not used it since my last flirtation with 'lomography' 5 years or so ago when I took some very pleasing photos with it in Rome. I was delighted to find it, and it's not a complete cheat because I used it in my bag taking a film whilst staying in Italy
·    Kauser lens cleaning cloth
·    Persol sunglasses – I needed them here it was so sunny for most of the Xmas break in Italy
·    Metz 20 C-2 flash – inexpensice general all purpose flash – for Leica or Lomo
·    Samsung Galaxy S6 Edge and iPhone 6, both in leather cases. I like to have 2 phones for work and data roaming – and because it means I always have 2 half decent digital cameras with me if I need them
·    Book on the Golden Age of Dutch Art  have been reading since an Amsterdam trip in December 2015
·    Sennheiser hi-fi headphones for iPhone
·    Double European charger for USB devices
·    Used film (Kodak Portra 400 colour and Agfa APX 100 black and white 35mm film, and Kodak Portra colour 120 film), and spare remaining film
·    iPad2 mini and brown case
·    Lomo LC-A 120 medium format film camera with fixed 38mm Minigon XL lens
·    Lomo LC-W 35mm film camera with fixed 17mm Minigon lens
·    Arca-Swiss Quick Release Plate
·    PNY Power bank charger
·    Phone charger leads
·    Huawei internet mobile hotspot
I usually use rangefinder cameras – both film and digital. Over the past year I have mostly used either the Leica M or Q digital cameras, the Hasselblad XPan or either the Mamiya 6 or Rollei 2.8F medium format film cameras.
I recently discovered the Lomo LC-A 120 and Lomo LC-W 35mm cameras and have been having a lot of fun with them. In December I took only those two cameras on a trip to Amsterdam and did some experimental photography (having enjoyed experimenting with double exposures with the XPan II). I loved the results, in some ways thinking I made my nest work for many years. I am about to self-publish a book of the best photos from the trip, called 'lomodam'.
This re-ignited my love for small, pocket size film cameras you can take everywhere and experiment with – so I also took the two cameras, as well as my trusty Leica M, to my trip to Italy over the New Year break. It's in my house in the mountains, where my family come from, and it is one of the most beautiful, untocuhed places I ever visit – as I am always going back I can afford to take different gear every time – but I probably would have taken a bag loaded with the same cameras wherever I went that week.
The bag was my Christmas present, a new Peak design camera bag. I'm enjoying it so far, especially some of the little touches like the tripod holder.
I ended up taking 8 35mm and 8 120mm films during the 8 day stay, and only a few digtal shots. I'm looking forward to picking up the negatives, nights of scanning, and putting the best ones on my blog.
I have a regular blog of photographs called Rangefinder Chronicles: http://rangefinderchronicles.blogspot.co.uk/?view=magazine%3E
My flickr site is: https://www.flickr.com/photos/nickdemarcofoto/
And I am on Twitter: https://twitter.com/nickdemarco_
And Facebook: https://www.facebook.com/nick.demarco.545
Thanks for sharing your gear with us, Nick. I hope the trip got you some great shots.
Check out the links and please make sure you come and comment.
Keep them coming folks, we need more submissions, so get your bag on Japancamerahunter.com.
Send me a hi resolution image of the bag. Optimum size is 1500 across. Please ensure there is a bag in the shot, unless you don't use one. The more you can write about yourself the better, make it appealing and tell us a story. Snapshots of your gear with a camera phone and no words will not be featured.
Oh and don't forget your contact details (twitter, flickr, tumbler et al). Send the bag shots here. Please understand that there is a long wait now as there is a backlog of submissions. Not all make the cut, so make sure yours is funny/interesting/quirky. And please make sure the shot is of good quality, as the ones that are not do not go up.
Cheers
Japancamerahunter