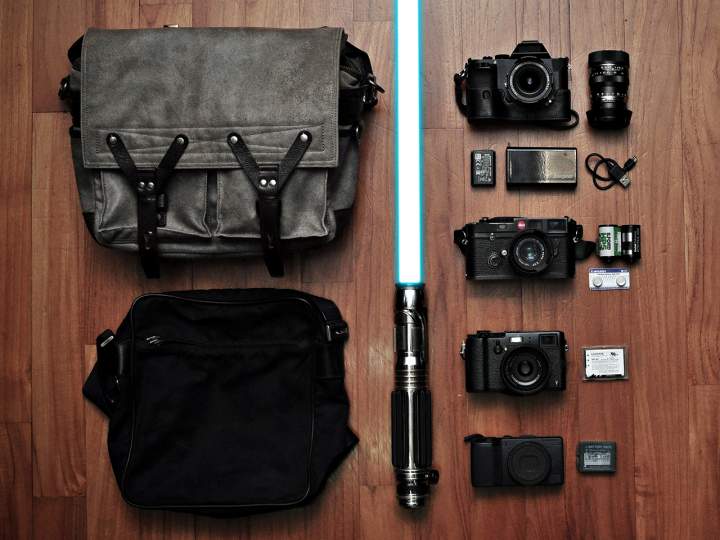 In your bag No: 1326, Raphael Too
Raphael shares what is possibly the only Jedi bag I have ever seen. Clearly the force is strong with this one. He also has a passion for fine timepieces, which suits me down to the ground.
Hola, my name is Raphael.
I was into photography in my teen years and shot with a film SLR and compacts then but as studies and work and other passions took up more of my time, photography took a back seat. One of these passions, for the last decade, is horology and I love the rich history, technical complications and aesthetic beauty of watches and their movements and after some time of shoddy pics with a compact Canon digital, I got a Nikon DSLR to take better watch photos and macros. It has and is serving me well for my watch photography and I was happy for many years until I wanted to expand beyond watch photography and get more into street photography and other genres, oh and lots of family pics too. 
This meant trying out a range of digital cameras before getting to my current Fuji X100T and the Ricoh GR. These are both fantastic fixed focal length compact digital cameras in my book and I've enjoyed taking a lot of pics on both but somehow I was still looking for something more. 
Enter The Film Camera! In my hunt for a good film camera I played around with a Contax T2 before deciding I needed a Leica. The original target was the M2 but as I do need the light meter, I went with the M6 and am happy with my choice. On the digital side, I got what is to me the best non-rangefinder digital body for M Mount lenses and that is the Sony A7S, with the excellent Hawk's Factory M Mount Adapter which allows for close focusing. 
When I do know that I won't have much photo taking opportunities, I just bring the GR or the Fuji in the black bag you see in the pic but as the Sony A7S is pretty compact too with the primes I have been bringing that out more and more. I am enjoying shooting and learning more in this journey and hope to improve over time. In terms of gear though, I see myself using this film and digital combination for quite some time… with a few more lenses down the road of course :) Ok onto it then.  
Bag 1 – Wotancraft Scout (u can't see it but I changed out the strap, removed the waterproof insert, so it's much lighter overall as in it's stock form it's too heavy)
1. Sony A7S with spare battery and external powerbank charger
2. Leica M6 0.85 with a couple of rolls of film and spare batteries for the light meter
3.  Lenses: 15mm Voightlander Heliar f4.5 vII, 35mm Leica Summicron ASPH f2.0, 50mm Zeiss Planar f2.0
Bag 2 – Prada black bag which was a present from the Mrs many moons ago
1. Fuji X100T (with spare batt)
2. Ricoh GR (with spare batt)
Whichever bag I do take, I do ensure my trusty lightsaber is with me just in case I have to get some snaps at more dodgier parts of town or over at Mos Eisley. I've always found blasters to be so uncivilised. Thanks for reading and links to check out my watch photos and other pics below.  
• Blog – http://timetapestry.blogspot.com/ and instagram 
• Instagram – https://www.instagram.com/timetapestry/
• facebook – https://www.facebook.com/timetapestry
Cheers
Raphael
Thanks for sharing your bag with us, Raphael. The Lightsaber is an especially nice touch.
Check out the links and make sure you come and comment.
Keep them coming folks, we need more submissions, so get your bag on Japancamerahunter.com.
Send me a hi resolution image of the bag. Optimum size is 1500 across. Please ensure there is a bag in the shot, unless you don't use one. The more you can write about yourself the better, make it appealing and tell us a story.
Oh and don't forget your contact details (twitter, flickr, tumbler et al). Send the bag shots here. Please understand that there is a long wait now as there is a backlog of submissions. Not all make the cut, so make sure yours is funny/interesting/quirky. And please make sure the shot is of good quality, as the ones that are not do not go up.
Cheers
Japancamerahunter