In your bag No: 1322, Lennart Normann
Seems that we are stuck in the Eurozone so far for 2016, with another submission from Germany. Not that it is a bad thing at all, especially when you see a nice selection such as this. Check it out.
I´m Lennart, Photographer, based in Berlin and i am here today to share my "analog-bag"  with you.
The bag is the Kata DR 465i – constructed by some ex-military guys ,but a very "civil-looking" Rucksack with lots of space and pockets , quick-access-to-your-camera- zippers , partly made of kevlar and can simply turned to a "normal" daybackpack. I don´t want to miss it.
What´s inside?
A Polaroid Land 350 with Fuji fp 100c –
I got this one a few weeks ago and just started with it- ..its awesome:)
I love medium format, so there is a Kiev 88 – the ukrainian wannabe Hasselblad…Anything left to say? :) I use the ttl prism because i couldnt find a waist level viewfinder yet.
Most of the time i shoot Portra 800 and Ektar.
For 35mm film and for snapshots i have a Revueflex SD1. I´ve heard some storys that these are Pentax,  produced for the german market under the name Revueflex. 
I don´t know and to be honest, i don´t really care.- Love this camera for it´s M42 bajonet ( and it´s my first SLR by the way ).
It comes with a 12mm f/8 Beroflex Fisheye, a 50mm f/1.8 Goertz Lens and a 35mm f/3.5 no-name-plastic "Lens"
On 35mm film i love to experiment with a lot of different types of colorfilm. Right now its the "600nm" Revolog and the Adox "color implusion".
Next is my Gossen Profisix Lightmeter. As the rest of my Equipment old, but works great!
Beside my Cameras i carry a Notebook, Sunglasses, a small "Photonpump" Flashlight , a leatherman-multitool and some Buisnesscards.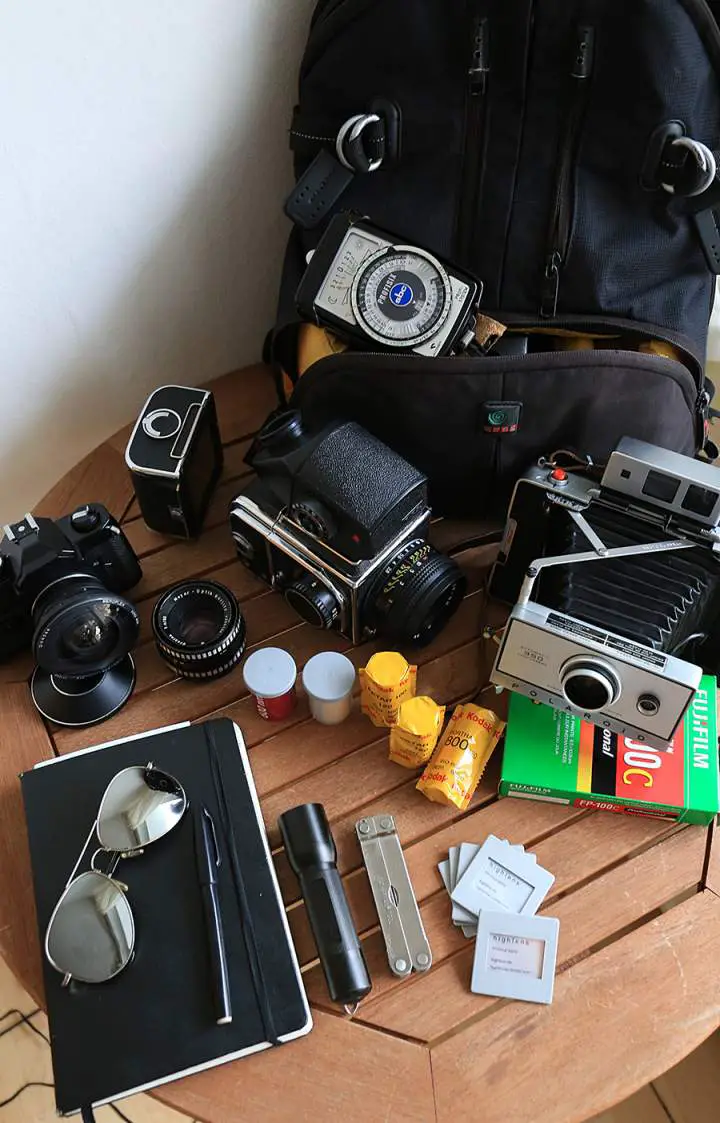 Here is my Filmphotography-blog
If you want to see more of my work ( and digital-stuff ) here is my official website
Thanks for sharing your bag with us, Lennart. Cool business cards you have got there.
Check out the links and make sure you come and comment.
Keep them coming folks, we need more submissions, so get your bag on Japancamerahunter.com.
Send me a hi resolution image of the bag. Optimum size is 1500 across. Please ensure there is a bag in the shot, unless you don't use one. The more you can write about yourself the better, make it appealing and tell us a story.
Oh and don't forget your contact details (twitter, flickr, tumbler et al). Send the bag shots here. Please understand that there is a long wait now as there is a backlog of submissions. Not all make the cut, so make sure yours is funny/interesting/quirky. And please make sure the shot is of good quality, as the ones that are not do not go up.
Cheers
Japancamerahunter