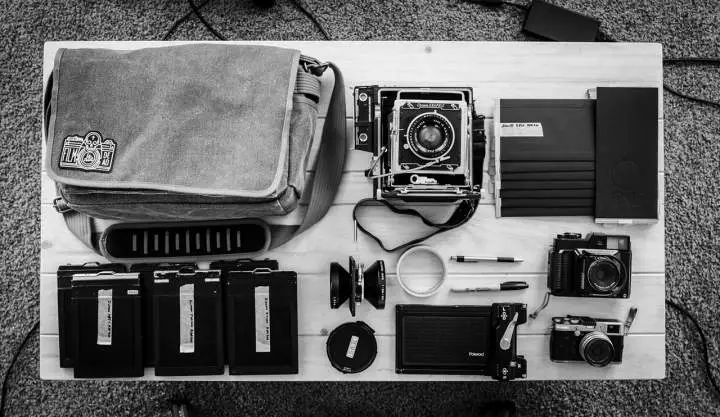 In your bag No: 1310, Lex Dodson
Lex has possibly one of the coolest looking cameras of all time in his bag. Every time I see a graphic it immediately makes me think of the news photographers in the movies from the 50's and 60's. This one is very cool.
Greetings from Detroit. My name's Lex, an editorial photographer. While my day-to-day work is largely digital thanks to the high volumes and fast turnaround most clients demand, I still shoot film whenever I can. It slows me way down, keeps my eye on the details and the craft, and lets me try a huge range of cameras on a relatively narrow budget. A film lab recently opened a few blocks from my apartment, which has massively increased the amount of film I shoot. 
This kit is my walkabout large-format rig. I first assembled it to shoot a friend's wedding. While it's no featherweight, it doesn't cripple my shoulders, and it's small enough that I can grab it on a whim and go make some pictures. 
The only thing not shown here is a Three-Legged Thing Brian tripod. 3-segment, magnesium, nice and light. Usually lives on my shoulder when I'm out shooting. 
The bag is a Think Tank Retrospective 30. Pricey, but discreet, well-designed, and sturdy enough for the next decade or two, even with some uncareful handling. Flying the analog flag with a Film Is Not Dead sugar skull patch. 
Depending on what I'm up to, this bag will contain one of two cameras; a Graflex Crown Graphic, or for barrel lenses, a US Army Signal Corps KE-12. It's a military version of the Speed Graphic finished in olive-drab leather with black hardware and fittings. Currently torn down to get its back repainted. A third, very rough Speed Graphic is serving as a parts donor for the KE-12. In my opinion, Graphics are the best-designed cameras in history. Highly modular, robust, simple, and capable. Not the most user-friendly, but I'll cheerfully deal with the ergonomic quirks of any camera that gives me the results I'm after.  
The kit includes two lenses. An Ilex 190mm f/4.8 (convertible to 300mm f/10.0), and a Fujinon SWD 90mm f/5.6. Both really solid bits of budget glass. The Ilex came from a wood-and-paper large-format camera my dad built in his garage back in the 70's. Which, yes, I still have. 
Film holders pictured here are all Graflex. I have a few Liscos floating around, but Graflex is my preference. Wood and metal construction, and I've had a few dark slides jam in the Liscos. 
Each holder has a piece of masking tape labeled with its contents and the box speed. After taking a shot, I turn the tape 90 degrees and write the developing instructions on it. The tape adds some security to the darkslides, and there's no chance of losing track of which instructions go with which holder or piece of film. Thus the tape and the writing implements. 
The large-format films include Ilford HP5 for high-speed work, Ilford FP4 (my favorite), Kodak Portra 400, and Kodak Ektar 100. Conveniently, the Retrospective 30 has two pockets under the flap which are perfectly sized for 4×5 holders. Black and white in one, color in the other. 
Finally, there's a batch of New55 1Shot from their Yellow Dot fundraiser; I told a bunch of friends that if they bought a pack to support the project, they could tell me what to shoot with it. Result; eight packs of five 1Shot loads each. So I've been busy. The Polaroid 545 holder is for the 1Shot loads and my increasingly precious stock of Polaroid Type 55 and 59 instant loads. 
Rounding out the bag, we have my favorite camera, period; a Fuji GS645S rangefinder. This one's a bit of a crock, assembled from parts and purchased for a bargain. Still has a slightly sticky rangefinder coupling mechanism I haven't been able to fully repair yet. It's my go-to street camera. The final camera is a Fuji X100, which is my preferred platform for grab shots and metering large-format flash portraits. 
Thanks to everyone who had a look. Feel free to check out my work on Instagram (@rustbeltraw) or my site (http://rustbeltraw.com/). 
Lex Dodson
http://facebook.com/rustbeltraw/
Thanks for sharing your bag with us, Lex. It is really cool to see someone shooting a Crown Graphic. You are right, they are some of the best designed cameras, and they look stunning too.
Check out the links and make sure you come and comment.
Keep them coming folks, we need more submissions, so get your bag on Japancamerahunter.com.
Send me a hi resolution image of the bag. Optimum size is 1500 across. Please ensure there is a bag in the shot, unless you don't use one. The more you can write about yourself the better, make it appealing and tell us a story.
Oh and don't forget your contact details (twitter, flickr, tumbler et al). Send the bag shots here. Please understand that there is a long wait now as there is a backlog of submissions. Not all make the cut, so make sure yours is funny/interesting/quirky. And please make sure the shot is of good quality, as the ones that are not do not go up.
Cheers
Japancamerahunter