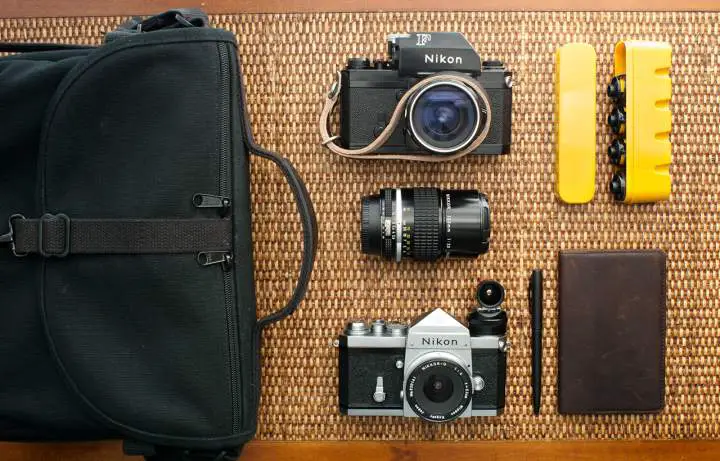 In your bag No: 1308, Jake Horn
Now this is a lovely bag. Simple and precise. With a real timeless classic of a camera. Jake has got it locked down tight with this one. Check it out.
My name is Jake Horn and I'm a mechanical engineer living in Nashville, Tennessee. My passion is for landscape photography where I shoot mostly medium format. My primary cameras for most of my shots are the Voigtlander Bessa IIIW and the Pentax 645IIn. I travel often and carry camera gear where ever I go. Sometimes I'll pack my Bessa for urban exploration and weekend travel, but most often I take my manual Nikon film kit. I've been playing with different vintage Nikon lenses lately, and have found the following kit to be a joy to use.
BAG
Domke F-803 w/FA-230 Insert – I still get tempted by some fancier bags once and a while, but the 803 is perfect for a kit this size. It's discrete and looks great. When this one wears out, I'll be getting another.
GEAR
Nikon F Photomic Tn (Kanto Repaint) – I can't recommend Bellamy's service and Kanto's work enough!
Nikon F – Pairs very well with the 2.1cm Nikkor since you can not meter with this lens anyway. Most of the time I use the sunny 16 rule (practice makes perfect), but I sometimes use the Gossen Digisix. This may need the Kanto treatment some day…
Tap & Dye Legacy Wrist Strap – A new addition to my kit and it's very comfortable.
Nikkor 2.1cm F4 w/Voitlander 21/25mm Finder – Very cool lens. It has a very old school look but is surprisingly sharp when viewing negatives and scans under close inspection. I was able to pick this up on the cheap since it came without the viewfinder and cold shoe adapter. This was actually perfect for me since I'm a big fan of Voigtlander finders.
Nikkor-H 28mm F3.5 – Gives a unique classic look and feel. Not the sharpest lens at 3.5, but gets better stopped down.
Nikkor 135mm F2.8 AIS – Great lens for compressed landscapes, I wish Nikon still made lenses with retractable hoods.
FILM
JCH 135 half case – Usually filled with a combination of Kodak Ektar 100, Portra 400 (@ ei 250), Cinestill 800 (@ ei 500), and Cinestill 50.
ACCESSORIES
Fisher Space Pen
Moleskine Notebook w/Renaissance Art Leather cover
Cleaning Gear – Zeiss Wet Wipes, Lens Tissue, and a MagicFiber Cloth
Please check out my portfolio and projects at jakehornphotography.com. You can also visit my Instagram feed at jakehorn_photography. Please feel free to drop me a line.
-Jake Horn
Thanks for sharing your bag with us, Jake. I am loving that F, it was easily one of my favourite repaints. Thanks for the kind words, it was a pleasure to help you create it.
Keep them coming folks, we need more submissions, so get your bag on Japancamerahunter.com.
Send me a hi resolution image of the bag. Optimum size is 1500 across. Please ensure there is a bag in the shot, unless you don't use one. The more you can write about yourself the better, make it appealing and tell us a story.
Oh and don't forget your contact details (twitter, flickr, tumbler et al). Send the bag shots here. Please understand that there is a long wait now as there is a backlog of submissions. Not all make the cut, so make sure yours is funny/interesting/quirky. And please make sure the shot is of good quality, as the ones that are not do not go up.
Cheers
Japancamerahunter