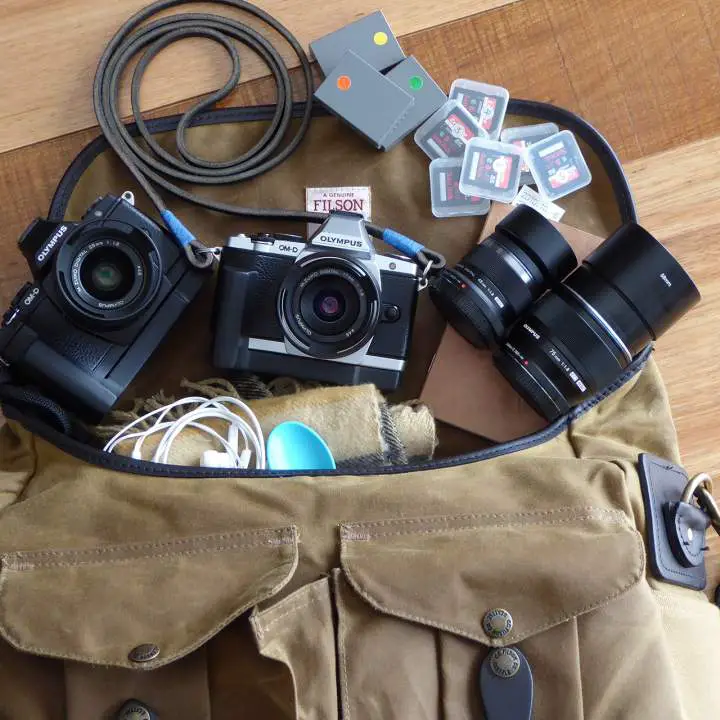 In your bag No: 1303, Rod Thompson
Rod bring a totally digital bag to the table today. This is his setup from a recent trip touring the streets of Tokyo. Simple and includes a spoon….wait, what? A spoon? I guess you never know when one might come in handy…
Here is the kit I recently used for a trip to Tokyo.
After trying a lot of different cameras (and brands), my kit has finally settled on the ever reliable and efficient OMD EM5 mk1,s that I have had from the get go. I really have tried to find something to replace or at least support them, but all challengers have failed (I work in a camera shop, so there were no unturned stones!). My main interest in the last few years has been street and they are perfect for this, light, fast, small, quiet, great lenses and the useful M43 DOF bonus.
The kit comprised;
OMD Body on a Gordy's 60″ strap, usually with a 17mm lens attached. This rig sits comfortably at hip level, zone focussed and instantly ready to react.
OMD body on my left wrist (must get another Gordy!) with my portrait or detail lens (25, 45 or 75mm), AF set to centre point with manual override. I can literally lift, aim and shoot with this. 
A scarf, spoon, headphones and note book, because you never know.
All packed into my favourite ever camera bag, a Filson (camera) field bag.
(I did pick up a Domke f3 in waxed olive in Tokyo, so the Filson has some competition)
Lots of cards and batteries (the EM5 goes through a few batteries if left on all day).
If interested, my photos from this and other trips are on my website photokensho.net
Cheers, and thanks for reading.
Thanks for sharing your bag with us, Rod. Though I am still baffled by the spoon.
Keep them coming folks, we need more submissions, so get your bag on Japancamerahunter.com.
Send me a hi resolution image of the bag. Optimum size is 1500 across. Please ensure there is a bag in the shot, unless you don't use one. The more you can write about yourself the better, make it appealing and tell us a story.
Oh and don't forget your contact details (twitter, flickr, tumbler et al). Send the bag shots here. Please understand that there is a long wait now as there is a backlog of submissions. Not all make the cut, so make sure yours is funny/interesting/quirky. And please make sure the shot is of good quality, as the ones that are not do not go up.
Cheers
Japancamerahunter