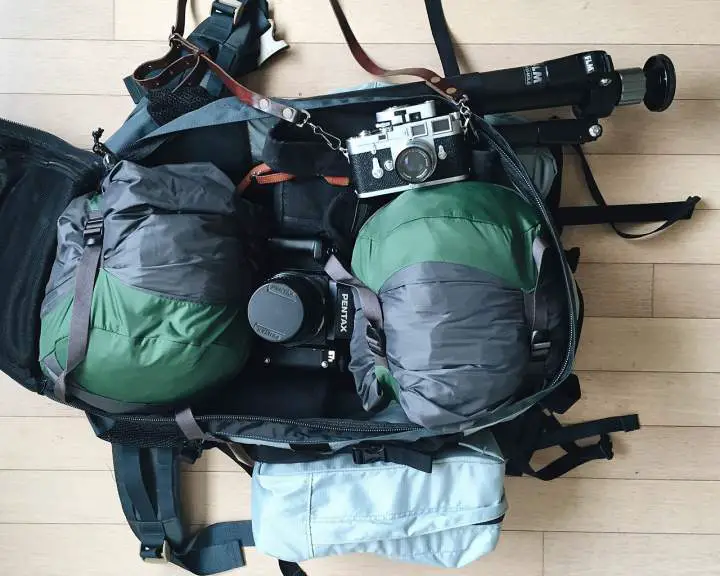 In your bag No: 1296, Logan Egbert
Today we have a pretty cool travel bag for you all. Logan and his wife will be spending the next few months travelling around the world living from this bag. That is a lot of living for not a lot of gear. Check it out.
My name is Logan Egbert, I'm a photographer and darkroom printer on his way back to Portland, Oregon, which is where I call home. I make photos on film, ranging from 35mm to 8×10 and am an obsessive darkroom printer. 
What you see in the shitty iPhone picture above is the bag I'll be living out of for the next 5 months as my wife and I travel from our current 'home' in Seoul, South Korea, where we just survived a 7 month stint teaching English. 
We'll be leaving Korea for Australia, then SE Asia, the Indian subcontinent, South African and finishing things off with a cross country road trip from Knoxville, Tennessee to our home in Portland, Oregon.  
The bag is a Photobackpacker RPT P3 pack, which I originally purchased to lug my Deardorff 8×10 out here to Korea. The Deardorff is being sent home, because I'm not a complete nutter, but there are some fun things coming along with me on the trip.
The first is a Pentax 67ii with three lenses: 45mm f/4, 90mm f/2.8, and 165mm f/2.8. As insane as it is to schlepp this kit across the world with me, I can't resist. The negatives off of this camera are absolutely magical to see as prints. And for portraits and pictures of people, which I plan to take a lot of, there is no better medium format camera in my mind. In the side pocket of the pack there are bout 30 rolls of Portra 400 and 35 rolls of Ilford Hp5+ which should hopefully last me until we get to the United States. 
The other camera is my trusty Leica M3 double stroke. I love this camera unconditionally, it's just so smooth and such a joy to shoot. It usually has a Nikon Nikkor 50mm f/2 LTM lens on it, but I find myself shooting my other lens for this kit, a 35mm f/2.8 Jupiter 12 Soviet LTM lens, more and more these days. Out of frame are about 40 rolls of Ilford Fp4+ and Foma 200 that I will be sharing with my wife, who is bring her mom's old Nikkormat along for the trip. The Nikkormat has its own story, having been the family camera on an 8 month trek around the globe that my wife's family went on when she was just 8 years old! 
I'm also bringing a few books, assorted writing gear, and the clothes you see jammed into two small compression sacks on either side of the Pentax. 
Aside from the photos I'll be taking on this trip, I'm primarily focused on a long-term portrait project I'm working on involving people that train Brazilian Jiu Jitsu, shot entirely on 8×10. Each picture is being contact printed in the darkroom and hopefully shown somewhere at some point down the road. I haven't bothered to scan many of the photos, so unfortunately there isn't a lot to share at the moment digitally, but each of the first 15 subjects has a print of their own as we speak. 
I just rebuilt my website from the ground up, but the work featured is pretty old. That site can be found at loganegbert.com. I'm also on flickr at https://www.flickr.com/photos/logan-egbert/ and VSCO. 
That's about it. Hope you and your readers enjoy!
Cheers
Logan
Thanks for sharing your bag with us, Logan. I hope that you have a fantastic trip and get a lot of lovely memories.
Keep them coming folks, we need more submissions, so get your bag on Japancamerahunter.com.
Send me a hi resolution image of the bag. Optimum size is 1500 across. Please ensure there is a bag in the shot, unless you don't use one. The more you can write about yourself the better, make it appealing and tell us a story.
Oh and don't forget your contact details (twitter, flickr, tumbler et al). Send the bag shots here. Please understand that there is a long wait now as there is a backlog of submissions. Not all make the cut, so make sure yours is funny/interesting/quirky. And please make sure the shot is of good quality, as the ones that are not do not go up.
Cheers
Japancamerahunter