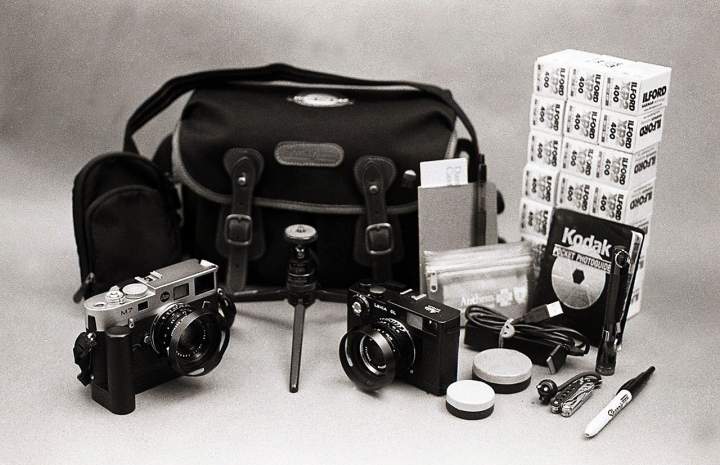 In your bag No: 1290, Dan Castelli
Dan is a dedicated film shooter, and his bag shot really reflects that. Not just in terms of what it contains, but the delightful graininess of the image itself. This is a brilliant start to the weekend.
Thanks for creating the "In Your Bag" feature. My daughter, who is a professional illustrator and art professor at a university in Boston, tells me that the "In Your Bag" series is the photographic equivalent of artists peeking into other artist's studios. We want to see what our fellow photographers carry, and if they are as odd we are.
I'm calling my submission "The Italian Bag." My wife and I are planning a trip to Florence Italy this upcoming October. I hope to follow my eye and stomach through that beautiful city.
This is our retirement gift to us. We were both public school teachers. I taught traditional photography, graphic design and woodworking at a public high school in Connecticut. My wife was a special education teacher at an elementary school. Between the two of us, we represent 70 years of teaching experience. We're a couple of education dinosaurs.
Style-wise, I admire Elliott Erwitt for his gentle humor, Kertesz for his life-long devotion to keeping an amateur's eye, David Douglas Duncan for showing us humanity in extreme circumstances and Martin Parr for his unique and ironic vision. I've always worked in black & white, and I've always had a darkroom wherever I've lived – from a small closet to a dedicated room in my basement.
This is my bag. It's a Billingham Hadley [small]. I had a local sailmaker cut off the strap, and attach d-rings and swivel snaps to the strap and bag. I really don't like twisted shoulder straps (see my odd comment). Everything is in the bag for a reason; if I don't use it, then I'll remove it.
I won't carry everything listed below when we go out for the day; Just the M7, some film and a notebook. However, I may be on the lookout for a fine Italian leather camera bag.
The bag contains:
Leica M7 w/a 35mm Summicron. Fitted with a Leica motor;

Leica CL w/a 35mm Voigtlander color-skopar (back-up camera);

Manfrotto mini-tripod;

A mini mag light;

A mini Leatherman tool;

20 rolls of XP-2 (to be processed in-country.)

A notebook, pen, business cards & permanent marker (Sharpie);

Two small Kodak filter cases – one contains Altoids, the other one a 39mm yellow filter (#48.);

A Kodak pocket photo guide.

A small first-aid pouch.

Not seen:
A bandana.

An emergency battery for the iPhone.

Lens & body cap.

Spare batteries for the cameras.

A Luna-pro Digisix exposure meter.

4 rolls of Delta 3200.

Small storage pouch.
This configuration may see minor changes in the next couple of weeks. I'll probably be re-packing the day of the flight; then I'll second guess my choices.
 I find that the single camera w/a moderate wide-angle is how I view the world. However, lately I'm using my 50mm Summicron more & more…It's currently out being CLA'd, so I don't think it'll be back before we leave for Italy.
I have a fully operational darkroom in the basement of my house. I'll scan selected negative or prints and post them on my flickr account. You may view my work here: https://www.flickr.com/photos/dcastelli9574/
Thanks for a great site. I look forward to more great articles.
Dan Castelli
Thanks for sharing your bag with us, Dan. I love the purity of focus with this bag. Excellent.
Keep them coming folks, we need more submissions, so get your bag on Japancamerahunter.com.
Send me a hi resolution image of the bag. Optimum size is 1500 across. Please ensure there is a bag in the shot, unless you don't use one. The more you can write about yourself the better, make it appealing and tell us a story.
Oh and don't forget your contact details (twitter, flickr, tumbler et al). Send the bag shots here. Please understand that there is a long wait now as there is a backlog of submissions. Not all make the cut, so make sure yours is funny/interesting/quirky. And please make sure the shot is of good quality, as the ones that are not do not go up.
Cheers
Japancamerahunter