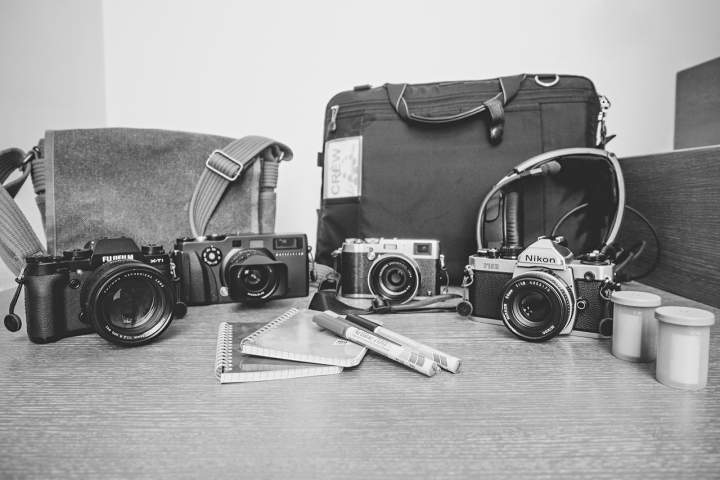 In your bag No: 1278, Tom Henderix
Tom is very generous, as he shares two bags with us. And he is also very lucky, as he seems to have a knack for picking up cameras for bargain prices. Check out his two setups.
Not one bag, but hope you won't mind if I share my 2 bag setup. I travel a lot for work, and I usually use these bags together in one way or the other.
The bags
– ThinkTank Retrospective 5, with the inserts and shoulder pad removed so it folds near flat
– ThinkTank Urban Disguise 60 v2.0, which I use as my flight bag for work
The cameras
– Fujifilm X100T
– Fujifilm X-T1, 56mm f1.2 APD
– Nikon FM2N, 50mm 1.8
– Hasselblad Xpan, 45mm f4
The extras
– Batteries
– Lens pen
– Notebook
– Film
– Work stuff, papers, licences, passport, headset
I'm a newcomer to film photography, and I generally shoot just for fun and the personal challenge. I've been trying film for the first time these last few months, since I managed to pick up a dirt cheap Hasselblad 503CW. It was on sale by people clearing out a house. Don't think they quite understood just how valuable it was. I had been on the lookout for a film body for quite a while, but landing a pristine Hasselblad was not exactly what I had in mind at first…
I started getting more serious about photography some 8 years ago. I grew tired of having mediocre pictures to remember so many great trips and sights. My day job is flying around Europe as an airline pilot, and as such I have the opportunity to visit lots of different places, however briefly that may be sometimes. When I'm not at work, you can find me around Diest, Belgium.
At age 18 I started my flight training, during which I took lots of mediocre pictures using a mediocre compact digital camera. Can't quite recall which brand it was, but it was ugly and grey and churned out pictures that were utter crap. Whatever pictures turned out to be more or less interesting, were killed in "the great hard drive crash of 2007". A nasty shortcircuit which killed my main hard drive and also the backup that was attached to my pc at that time… 6 years of pictures and lots of memories, all gone apart for a few that were still left on the memory card.
So I decided that I should finally get a more serious camera and so I got a Canon 500D and a whole bag of lenses to accompany it. I shot that 500D happily until around 2012, when a chronic injury acted up again and kept me from doing pretty much anything, apart from work and getting the day to day stuff done. Until last year that was, when we moved into our new home and I felt the urge to photograph once more.
I did replace the ageing 500D by mirrorless bodies. My current setup is more portable and that's what matters most to me. Also, the Fuji's just look plain sexy, especially with a fast prime mounted. Image quality is superb and the manual controls are far superior to the usual DSLR control layout. I always have the Fujifilm X100T in my flight bag or jacket pocket. This camera serves as my go to camera for most occasions. I rarely leave home without it. I also use a Fujifilm X-T1. This is the one I bring for more serious shooting, portrait sessions or longer layovers where I will have adequate time to do some sightseeing.
The latest additions to the bag are a Hasselblad Xpan and a Nikon FM2N. A colleague gave me a hot tip, which lead to the acquisition of the Xpan (thanks Mark!). I haven't finished a roll on it yet, so I hope I can do it justice. The Nikon FM2N I found in near mint condition while browsing a flea market, best 35 euro ever spent! I'll be taking these along on layovers from time to time. Something I'm not inclined to do with the big 503CW.
My normal setup is the X100T and X-T1 with the 56mm in my flight bag. When I'm on layover, I keep the small Retrospective bag folded in my luggage. It fits both cameras easily and I like the fact that it doesn't look like a camera bag. At home, I tend to go with a digital/analog combination. One of my digital bodies and one of my film bodies in the small retrospective bag, or just the one camera, depending what mood I'm in. I don't try to load up on accessories, so I just use a Peak Design strap, which fits on all my bodies, and I keep a lens pen and some spare batteries nearby just in case.
Considering the cost of film and having it developed, it's not something I'll be doing every week… But now and again, I'll shoot a roll and see how it goes. I'm glad to have learned the basics on digital, but I feel that I'd miss out on something if I didn't at least try some film photography. The lack of choice, fixed ISO, basic controls, basic metering and manual focus is what makes it refreshing. I find that my keeper rate when shooting digital has already improved. We'll see where it goes from here…
Feel free to checkout some of my work at www.tomhenderix.com or Instagram @tomhenderix, leave a message if you like it or if you have some tips for me. Always eager to learn more.
Cheers!
Tom
Thanks for sharing your bags with us Tom. You are a very lucky man, perhaps you should be the CameraHunter?
Check out the links and please make sure you come and comment.
Keep them coming folks, we need more submissions, so get your bag on Japancamerahunter.com.
Send me a hi resolution image of the bag. Optimum size is 1500 across. Please ensure there is a bag in the shot, unless you don't use one. The more you can write about yourself the better, make it appealing and tell us a story.
Oh and don't forget your contact details (twitter, flickr, tumbler et al). Send the bag shots here. Please understand that there is a long wait now as there is a backlog of submissions. Not all make the cut, so make sure yours is funny/interesting/quirky. And please make sure the shot is of good quality, as the ones that are not do not go up.
Cheers
Japancamerahunter