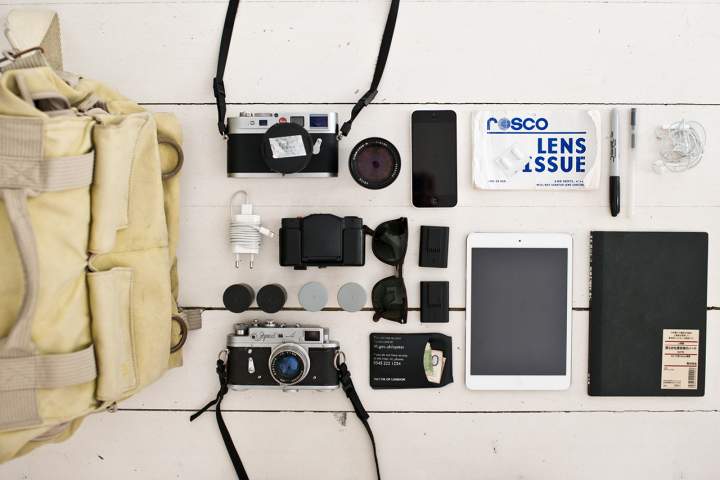 In your bag No: 1277, Sergej Radovic
Cool beans. Today we have a very classy bag from Serbia. A bit of modern camera tech, next to an old Soviet camera. This is what we like to see, the perfect Friday bag.
My name is Sergej and I come from Belgrade, Serbia. I am a filmmaker, but I spend most of my waking hours photographing stuff. Here is my bag that you will find me hauling on the streets of Belgrade most days.
The bag is a National Geographic photo bag, but I'm not sure what model it is. I've had it for ages now and it has served me well (it used to be a much darker colour, but it has washed away quite a bit). I have always been a sucker for the magazine and I couldn't resist getting a bag that had the famous yellow rectangle on it regardless of how silly it might be.
The cameras are:
– Leica M8 with a Elmarit-M 28mm f/2.8 ASPH which is an amazing lens. Also, next to it is a 90mm Summicron-M.
– Minox GT-E. I love this camera. It has an amazingly sharp 35mm lens and one of the most quiet shutters I have ever used. It is a very low-profile pocket camera that is great for street shooting. And Minox used to make spy equipment which is pretty badass.
– Zorki 4 with the infamous Jupiter-8 f/2 50mm lens. This Soviet rangefinder is a pretty cool camera. Although it can't be compared with the quality of Leicas, it is incredibly fun to shoot with (and incredibly loud).
– iPhone. I always have it with me therefore it is the b…. you know the cliche.
Rest of the stuff:
– Film – two rolls of HP5 and two rolls of Kodacolor.
– Spare M8 batts
– Iphone charger
– Money, sunglasses, headphones
– Rosco lens tissue paired with Panavision lens fluid (not shown) = amazingly clean lens
– painkillers
– iPad – not a big fan of, but got it as a prize at a film festival. Guess its easier to lug around them my laptop.
– Pen and paper, you can't beat it.
There you go!
Best regards,
Sergej Radovic
Instagram: @bleya
Thanks for sharing your bag with us, Sergej. I love those Minox cameras, you don't see enough of them in peoples bags.
Check out the links and please make sure you come and comment.
Keep them coming folks, we need more submissions, so get your bag on Japancamerahunter.com.
Send me a hi resolution image of the bag. Optimum size is 1500 across. Please ensure there is a bag in the shot, unless you don't use one. The more you can write about yourself the better, make it appealing and tell us a story.
Oh and don't forget your contact details (twitter, flickr, tumbler et al). Send the bag shots here. Please understand that there is a long wait now as there is a backlog of submissions. Not all make the cut, so make sure yours is funny/interesting/quirky. And please make sure the shot is of good quality, as the ones that are not do not go up.
Cheers
Japancamerahunter