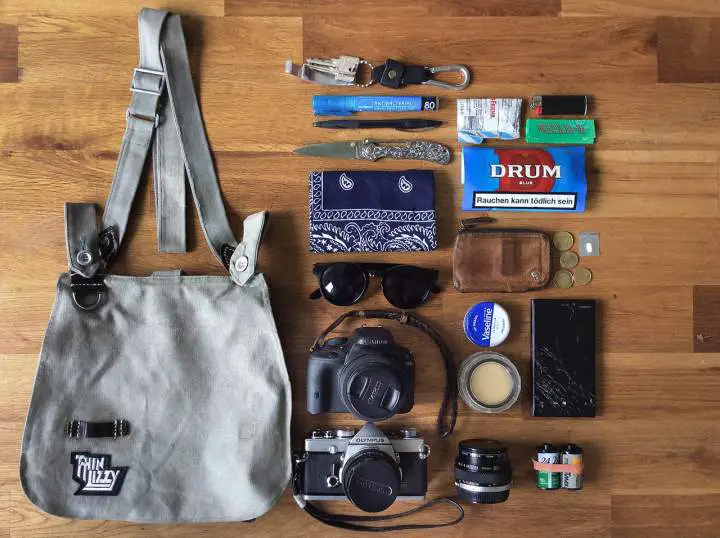 In your bag No: 1275, Christopher Kelaart
Todays bag has all the makings of a very interesting evening. Cameras, smokes, money, a knife and dark sunglasses. Whatever happens you know with this setup things might be less than ordinary. Check it out.
My name is Christopher.
I fell in to photography, kind of by default. It's not something I ever thought I'd care for, but 8 months after my girlfriend gave me a DSLR for my birthday, I am now well and truly immersed.
I've taken pictures over the years – point and shoot – like most anyone, but not until the job I was in asked me to take over a sales roll in the camera section of our store, could I have told you an f-stop from a shutter speed.
A couple of months before I was give my 100D, I was loaned a Canon 350D and some lenses to learn on, and get a feel for what I was doing. I read up a lot, and went on some shooting missions with my girlfriend (who shoots predominately live music, in the digital format) and after a short time, developed a taste for it. My approach to learning digital was to shoot as if I was shooting analogue, ie: set the camera to manual, take my time, frame the shots and don't just click one million times and hope for the best.
It was only a matter of time until I invested in a film camera. After researching and physically feeling out models I'd narrowed down, I arrived at the Olympus OM1. The design, functionality, and feel of the camera fit right in with my sense of aesthetics, and it was a reasonably priced entry level film SLR. We are now a proper team. Since picking it up, I've increased my understanding of what it is to shoot, and have learned to develop my own film too.
The bag I scored for €3 at a flea market in Hamburg. It's simple and perfect for everyday carry. Front pocket holds all my bits and pieces and the main pouch holds my cameras and accessories:
– Canon 100D w/40mm 2.8 – Standard. I still like using my digital. It's compact, sharp enough and good for immediate gratification. I'll eventually find myself a nice wide angle to add to this, and probably settle there. Simple. Less options = best options. This was one of the best birthday gifts I've ever received. The strap was handmade by my cousin. Another fine gift.
I have a macro filter and a B&W spectralstar effect filter – a great creative filter when one uses it outside of it's designated purpose. Psychedelics forever.
– Olympus OM1 w/Zuiko 50mm 1.8, + Zuiko 35mm 2.8 – This was a great find. An old man from a small town, who'd it since new decided to sell it on line. When it arrived, the back door spring was busted, so I took it to a small shop in Newtown, Sydney, and swapped one of the zoom lenses it came with for a new door. The 35mm I found for super cheap in a tiny, quirky old store in Malmö, Sweden. He threw in a neck strap – which I chopped down in to a wrist strap – a couple of cheap filters and possibly some of his own blood.
I'm still experimenting with films, and haven't settled on favourites. I try and scout out expired films, at any rating and just load and shoot.
I'm still learning, and have no grand desire to call myself a photographer, but the process of picking film, to shooting to developing brings me a simultaneous calm and excitement like nothing else. The closest I come, is writing music. Taking pictures urges me to slow down, take in my surroundings and view the world and what's happening in it, in ways I'd not previously seen.
Anyways… that's the long and short of it. Thanks. I hope you enjoyed my bag and my pictures as much as I enjoy JCH and all the other submissions!
Christopher.
Shots:
https://www.flickr.com/photos/christopherkelaart
https://instagram.com/theantichristopher/
Thanks for sharing your bag with us, Christopher. Now you have me wondering, what is that next to the money?
Check out the links and please make sure you come and comment.
Keep them coming folks, we need more submissions, so get your bag on Japancamerahunter.com.
Send me a hi resolution image of the bag. Optimum size is 1500 across. Please ensure there is a bag in the shot, unless you don't use one. The more you can write about yourself the better, make it appealing and tell us a story.
Oh and don't forget your contact details (twitter, flickr, tumbler et al). Send the bag shots here. Please understand that there is a long wait now as there is a backlog of submissions. Not all make the cut, so make sure yours is funny/interesting/quirky. And please make sure the shot is of good quality, as the ones that are not do not go up.
Cheers
Japancamerahunter