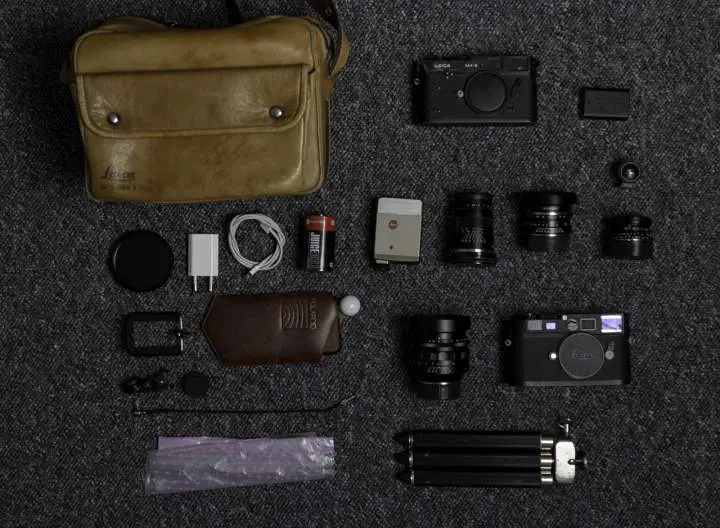 In your bag No: 1258, Mathias Ertnaes
Mathias returns to us after a very long break, with a completely different setup from his previous submission. And this is a beauty too, with all of those lovely lenses. Check it out.
So i´m back, and since last time (Bag Nr: 724) my bag have changed completely. This setup is what I'm bringing along for a five day trip to Warsaw. I´ve tried to simplify it a bit, and the Leica bug have bit me. What also had changed is that i´m finished in school, i´m now about to start interning for photography for a guy called Tor Orset.
So anyways, here are what i cram into my bag:
First of all, the bag itself. It´s a tan leather bag from Leica, I assume it´s made for some happening in 1983, cause it says «Leica 1904-1983 (???) on the side. This bag doesn't look that big, but it sure fits a whole lot of stuff.
So the first camera is the Leica M8. I bought this used back in 2013, and i still like it a lot, even though i´m starting to get tired of the smaller-than-fullframe sensor. I dont use correction filters with this camera, as i usually dont see any difference (i own a correction filter for one of my lenses). It it there is a battery and a Lexar Professional 16GB card.
The second camera is the Leica M4-2. This i bought in March this year, used from an old news/conflict photographer from my home country, Norway. This, and the M8 is used about as much as each other, as i shoot both film and digital a lot.
Voigtländer Color-Skopar 28/3.5. This is defiantly my tiniest lens. I bought this used locally, and realised afterwards that the lens is becoming a collectors item. Im like it a lot. It isn´t that fast, but at 3.5 it is quite alright. It has some vignetting, but i either correct it in Lr or just let it be.
Voigtländer Nokton Classic 35/1.4 SC. The first lens i bought back in 2013 when i only had my M8. This lens sits half the time on the M8 and the other halv on the M4-2. I tend to shoot wider lenses on the M4-2, don´t know why, it just is that way. I got the SC version of the Nokton because i bought this used as well, from B&H.
Voigtländer Nokton 50/1.1. This is a beast. The poor mans Noctilux. I´ve only had it for a month or so, but i like it a lot. This is mostly used for portrait work for clients, being why i got the f1.1 and not the f1.5, but i obviously use it for my personal work as well. It´s quite a beast to carry around, but i dont really mind.
Leitz Wetzlar Elmar-C 90/4. My only Leica lens. I acquired this in march, and the guy i got it from sol it to me cheaply as it was «so fun to se someone as young as me shoot Leica» . It´s surprisingly sharp, both on the M8 and on full frame M´s. It´s not my most used focal lengt, but it´s really nice to have.
Leica CF Minilux Zoom. This flash i was given to me when i bought the M4-2. The previous owner gave it to me as a gift, because he was´nt using it. It is a quite simple flash, but for the 1/50 times i need a flash, it does the job.
Vivitar Series 1 HD Pro NDX Variable Neutral Density Filter. A simple way to be able to shoot the 50/1.1 wide open during daytime.
28mm viewfinder. The cheapest viewfinder i could find for 28mm lenses. Made by some guy in Israel. It´s pretty bad, but as its only for the M4-2, i´ll stick with it.
Spare battery for the M8
Old small tripod. I got this unnamed tripod at a flea market in 2014 for about 5$. It extends up to a meter, but i won´t really use it over 30cm, as it is pretty weak.
Cable Release
Zip-Lock bag, I always bring this with me in case of extreme rainfalls. I usually don´t care about rain, but in some cases it´s nice to have.
Clip On wideangle and fisheye for my iPhone. Mostly for snapchatting and random picks.
Tripod mount for my iPhone. For making timelapses and other stuff that require steadiness. Also to hold my phone while skyping. (haha)
USB to European socket and iPhone charger cable.
Travelcharger from UA. It looks nice, and dont take up to much space.
Polaroid Sunglass-sleeve which i use as a sleeve for my iPhone
iPhone 6 64GB. For all my phone needs, and as a lightmeter paired with the Lumu light meter. (Thanks to Jip van Kuijk for the hookup) I use it whenever i start shooting for the day, or in tricky lighting situations.
3 rolls of Kodak GOLD 200. For lovely colorful photos.
Ilford HP5+. In case of grey weather og dark nights.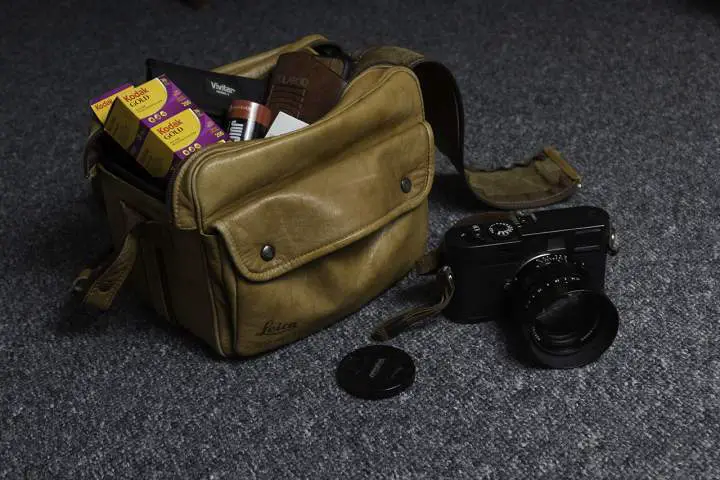 NOT PICTURED
(because i forgot and/or they dont go in my bag, rather in my carry-on.)
Macbook Pro Retina 13» 16GB RAM i7
Lenspen and lenscloth
RayBan Sunglasses
A spare Lexar Professional 16gb
Marshall Earbuds
Notebook and pen
Macbook charger
So yeah, thats my bag++
It´s so nice sharing, and seeing what other people carry
Most of my stuff goes on Instagram, so check it out @mathiasertnaes
and also my website www.mathiasertnaes.com
500px: @mathiasertnaes
Cheers
Thanks for coming back to us, Mathias. Interesting to see how your setup has changed.
Check out the links and please make sure you come and comment.
Keep them coming folks, we need more submissions, so get your bag on Japancamerahunter.com.
Send me a hi resolution image of the bag. Optimum size is 1500 across. Please ensure there is a bag in the shot, unless you don't use one. The more you can write about yourself the better, make it appealing and tell us a story.
Oh and don't forget your contact details (twitter, flickr, tumbler et al). Send the bag shots here. Please understand that there is a long wait now as there is a backlog of submissions. Not all make the cut, so make sure yours is funny/interesting/quirky. And please make sure the shot is of good quality, as the ones that are not do not go up.
Cheers
Japancamerahunter