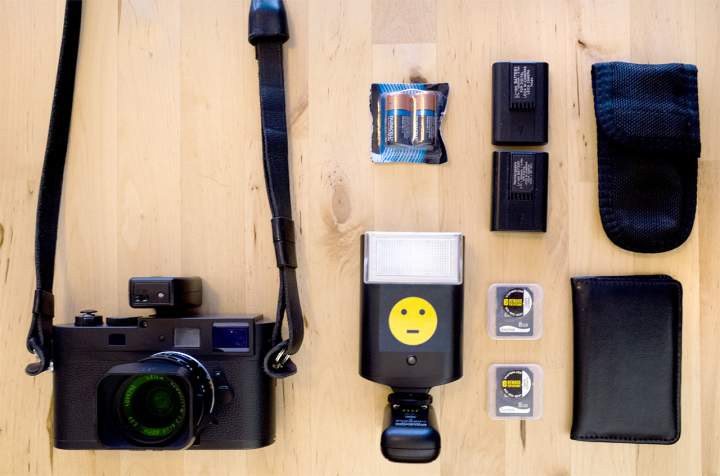 In your bag No: 1250, Jason Paul Roberts
Todays 'In your bag' doesn't actually have a bag. But this time there is a valid reason. Jason doesn't take one with him when shooting. That must be an extremely liberating experience. Check it out.
My name is Jason Paul Roberts. I'm a photographer based in the USA, although I travel extensively. I thought I would share with you my street photography setup.
The first thing you'll notice is that I don't carry a camera bag when I'm shooting on the street. I used to carry a bag with an extra body and several lenses, but I found it was too distracting. Also, when I would review my images at the end of the day I would often wish I shot "wider." So now I almost always hit the streets with one lens, my 28mm Elmarit. The simple kit lets me focus on the people I meet, instead of my gear.
So here's my setup:
· Leica Monochrom
· Leica 28mm Elmarit (with green filter)
· Leica SF 24D flash
· Yongnu wireless flash trigger & receiver
· Two extra Leica batteries (in belt pouch)
· Two extra memory cards
· Two extra flash batteries
· Business Cards
When I shoot street portraits I set my lens to the minimum focus distance (.7m). I like to interact with the subject, so this allows me to get up close and have a conversation while photographing them. I usually shoot with my flash off camera, although if I'm spending a lot of time with someone I might mount the lens on top of the camera.
Thanks for taking time to look at my "bag."
Cheers,
Jason Paul Roberts
www.jasonpaulroberts.com
Twitter
Facebook
Googleplus
Tumblr
Thanks for sharing your setup with us, Jason. I wish I could do this, but Japan is so damned hot in the summer you need wipes, a towel and iced water at all times, before you have even thought about a camera.
Check out the links and please make sure you come and comment.
Keep them coming folks, we need more submissions, so get your bag on Japancamerahunter.com.
Send me a hi resolution image of the bag. Optimum size is 1500 across. Please ensure there is a bag in the shot, unless you don't use one. The more you can write about yourself the better, make it appealing and tell us a story.
Oh and don't forget your contact details (twitter, flickr, tumbler et al). Send the bag shots here. Please understand that there is a long wait now as there is a backlog of submissions. Not all make the cut, so make sure yours is funny/interesting/quirky. And please make sure the shot is of good quality, as the ones that are not do not go up.
Cheers
Japancamerahunter