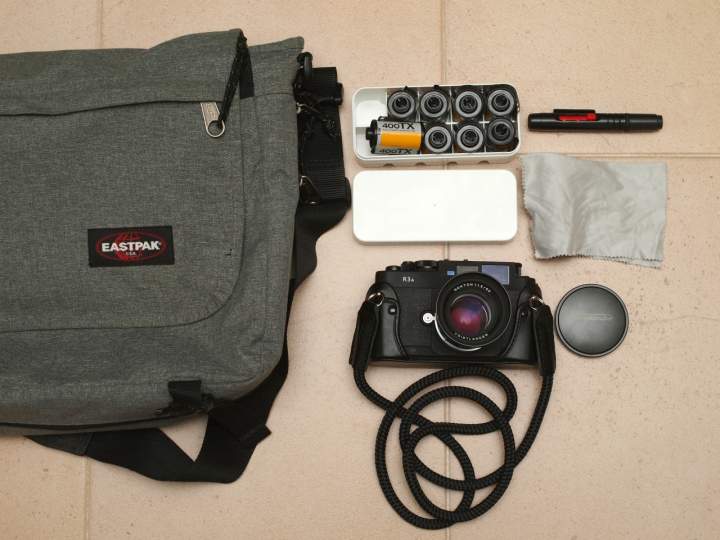 In your bag No: 1194, Rui Esteves
Rui shares with us a really simple bag. This is what it is all about. Just enough to get out there and shoot. He has been on the site before with a different setup, which was just as pure. Come and check this lovely little setup.
My name is Rui Esteves and I'm from Lisbon, Portugal. Last time I emailed you my Medium Format Bag (www.japancamerahunter.com/2014/12/bag-1069-rui-esteves). This time I would like to show you my 35mm setup.
I like to keep it simple. A camera, a lens or two, a few rolls of film and that's it.
Recently I tried a rangefinder for the first time, and fell in love with it. For about six months I shoot with a Yashica Elecro 35 GS, and while it is a good camera, with an awesome lens (especially if one considers the price tag on it), its heavy and somewhat unbalanced.
So, after a while I got myself a Voigtlander Bessa R3a and a Nokton 50mm f1.5. While its not exactly cheap, its not close to Leica money and produces great results.
Usually I use an Eastpak messenger bag with a insert to carry my gear around. Its cheap, durable and discreet.
And of course, the JCH 35mm film case filled with Kodak Tri-x 400.
This is my 35mm kit at the moment. I'm saving for a 15mm and viewfinder, hopefully by next year I'm able to get it.
If you wish, you can check out some of my photos on:
– Flick (https://www.flickr.com/photos/ruiesteves/)
– Blog (http://barbaaovento.blogspot.com/)
Anyway, thanks for showing my bag, and keep up the good work. Love the film using articles on your site.
Kind Regards,
Rui Esteves
Thanks for coming back and sharing your kit again, Rui. Always happy to have returnees here.
Check out the links and make sure you come and comment.
Keep them coming folks, we need more submissions, so get your bag on Japancamerahunter.com.
Send me a hi resolution image of the bag. Optimum size is 1500 across. Please ensure there is a bag in the shot, unless you don't use one. The more you can write about yourself the better, make it appealing and tell us a story.
Oh and don't forget your contact details (twitter, flickr, tumbler et al). Send the bag shots here. Please understand that there is a long wait now as there is a backlog of submissions. Not all make the cut, so make sure yours is funny/interesting/quirky. And please make sure the shot is of good quality, as the ones that are not do not go up.
Cheers
Japancamerahunter