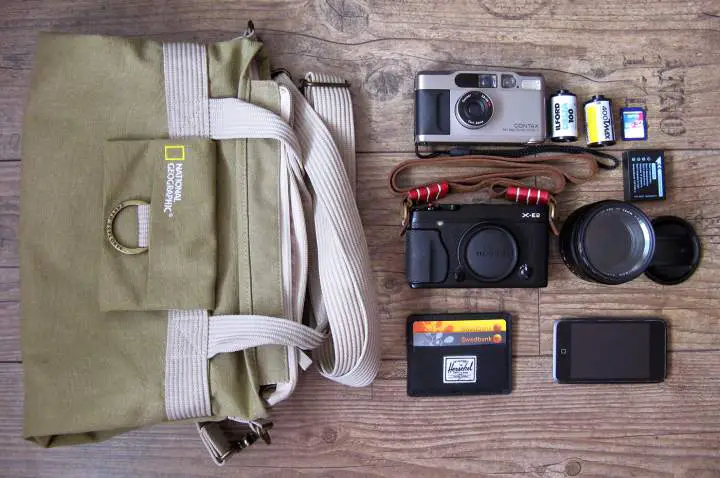 In your bag No: 1182, Andrejs Lavrinovičs
Andrejs has a cracking bag for us today, all the way from Latvia. Simple and with just the essentials. This is a bag that could go just about anywhere. Check it out.
Greetings everyone!
My name is Andrejs Lavrinovičs and I'm co-founder of Popper Magazine (Link: www.poppermag.com) and in the free time I shoot a lot!
So, what I got in my bag?
1.) Contax T2 with Sonnar 2.8/38 lens, I think this camera is no need to be described!
2.) Fuji X-E2 with Fujinon 56mm F1.2 lens, I got this lens only few weeks on my camera and it is perfect lens for me. Also I prefer Fujinon 35mm F1.4 lens.
3.) There is National Geographic bag, 32gb SD card, one more battery for my Fuji X-E2 body, Herschel Supply Co. credit card wallet, Apple iPod-touch (1st generation) and two films. This time it is Kodak T-MAX 400 and Ilford Delta 100, but my favorite for last three months was Rollei RPX.
I prefer shooting with very small setups and one of my dream camera is Minolta TC-1.. I think it is brilliant! Time after time I'm thinking about buying it! I prefer shoot with film, but I need a lot of "fast photos", so thats why my only digital camera is Fuji XE-2. It is cheap and make a good quality photos.
For scaning I use Epson Perfection V600 and my Apple MacBook Pro retina 13″ laptop.
Shortly it is all what you need to know. Thank you for checking my stuff, now you can check my Flickr too: https://www.flickr.com/photos/andrejslavrinovics/
Hugs from Latvia,
Andrejs
Thanks for sharing your bag with us, Andrejs. Always happy to see a Contax in the bag.
Check out the links and make sure you come and comment.
Keep them coming folks, we need more submissions, so get your bag on Japancamerahunter.com.
Send me a hi resolution image of the bag. Optimum size is 1500 across. Please ensure there is a bag in the shot, unless you don't use one. The more you can write about yourself the better, make it appealing and tell us a story.
Oh and don't forget your contact details (twitter, flickr, tumbler et al). Send the bag shots here. Please understand that there is a long wait now as there is a backlog of submissions. Not all make the cut, so make sure yours is funny/interesting/quirky. And please make sure the shot is of good quality, as the ones that are not do not go up.
Cheers
Japancamerahunter