In your bag No: 1180, Steve Hayman
Steve shares with us his bag and his love affair with photography. It is bags and passion like this that keep me going when I am feeling doubt about my photography and what I do. Thanks Steve.
Falling in love with photography and if I'm honest all types of cameras I started collecting from charity shops, car boots and eBay more old film cameras than I have room in the house, everything from early vest pocket Kodak WW1 era cameras to a modern Canon 6D.
I try and get them working again if I can, as it's always a great feeling when you collect the developed photos and hope you have some interesting and possibly in focus shots.
Iv recently changed my setup for 35mm from a really nice late 1930's Ihagee Exakta with various Carl zeiss lenses to a slightly more modern Nikon FE.
The Nikons from the 70's and 80's are now my go to cameras for shooting film, I picked up a basic but still perfectly decent Nikon EF for a few pounds in a charity shop and was hooked so recently upgraded to an FE and hope to get when I can afford it a Nikon F3.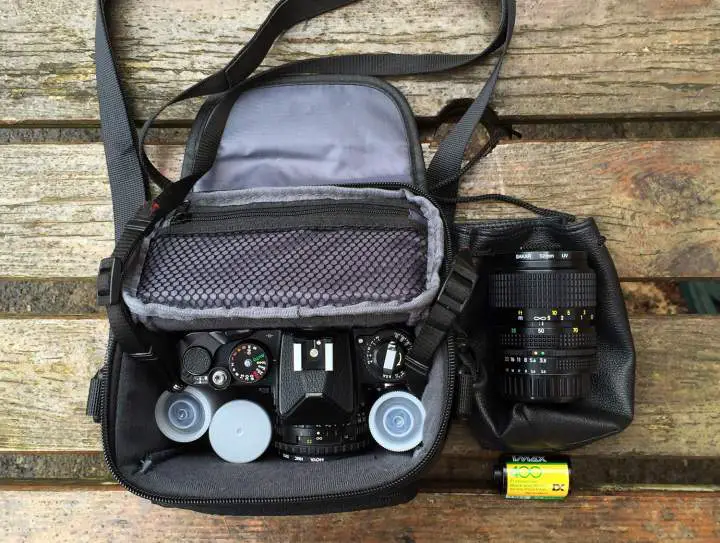 Film wise I'm not too bothered it's all about experimenting and I usually pick up off eBay job lots of film to keep the cost down.
The only two Nikon lenses I currently own are the Pancake 50mm F1.8 and the
Nikon 35-70mm F3.5-4.8 AIs Manual Focus Zoom Lens.
The bag is from PC World and was a bargain £7.99.
Kind regards
Steve
P.S
If this gets posted and your reading this and you love old film cameras, then I highly recommend you Pop in that old second hand shop you usually walk past, ask them if they have any old cameras, and you may be very surprised what you can pick up for just a little money. And it's for a good cause.
Thanks for sharing your bag with us Steve. It is good to hear such joy for the craft. And you are right, support your local camera shop.
No links this time, so comments are more than welcome.
Keep them coming folks, we need more submissions, so get your bag on Japancamerahunter.com.
Send me a hi resolution image of the bag. Optimum size is 1500 across. Please ensure there is a bag in the shot, unless you don't use one. The more you can write about yourself the better, make it appealing and tell us a story.
Oh and don't forget your contact details (twitter, flickr, tumbler et al). Send the bag shots here. Please understand that there is a long wait now as there is a backlog of submissions. Not all make the cut, so make sure yours is funny/interesting/quirky. And please make sure the shot is of good quality, as the ones that are not do not go up.
Cheers
Japancamerahunter