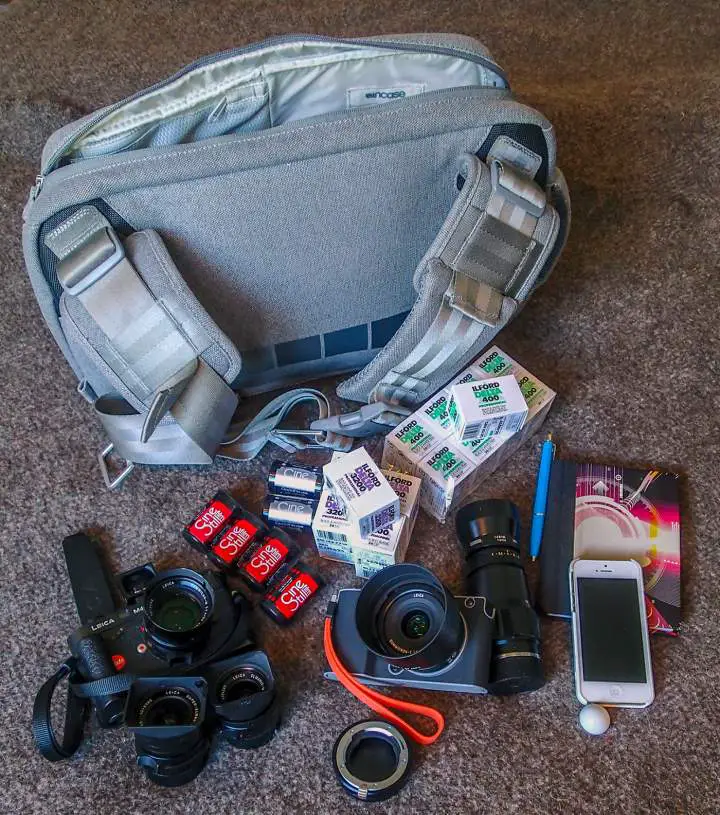 In your bag No: 1178, Lars-Göran Hedström
Lars-Göran has been on the site a few times, and now he is back with another film stuffed bag for you all to drool over. Check out this beauty.
I have been using a Crumpler New Dehli 510 for many years now. The Crumpler New Dehli is a ordinary kind of messenger bag. But I always have been looking for a sling bag type. Somehow I appreciate if I can easily swing my bag from my front to my back. Use it messenger style or back pack style. On the net I found a bag designed by photographer Ari Marcropoulos (http://arimarcopoulos.net). Checking out on his webbsite http://arimarcopoulos.net/incase-camera-bag/ I thought that his bag might be the answer to my wish. I ordered the Marcropoulos bag from incase https://www.goincase.com/shop/camera-bags/incase-ari-marcopoulos-camera-bag/. This is a bag I really fancy and use in home and on travel. It´s rather compact but can take a lot of stuff. It´s easy to sling frontal or back. On one of the shortsides there is a carrying handle which makes it really easy to sling the back back and forth. A nice thing is that the Marcropoulos bags color may serve as grey (white) reference and there is also a small grayscale on the back as well (part of this scale can be seen in my picture), nice for post in Lightroom to find the correct color balance.
When travelling I usually carry a analog as well as a digital camera. In most cases I pack my beloved completely mechanical Leica M4-P. Need no batteries ever. Works always. Sometime I exchange the M4-P for my Leica M7 (which by the way I bought from JCH). As light meter I use a Lumu attachment and soft ware in my iPhone 5 (http://lumu.eu). The Lumu light meter really works, both as an incident light and reflected light meter. And I really gives correct and accurate metering.
In my Ari Marcropoulos bag also goes a iPad (not in the picture!) and an analog note book. The other camera has been my Leica M9 but half a year ago I fallen for the new Leica T. It´s a magnificent camera with a really easy to use menue system. It´s all a Appelesque way of using the Leica T camera. No deep menues to explore and searcheways to forget. Just push the correct ikon. Lovely! No buttons that cluster the camera just two wheels – wonderful! It´s a compact an light APS-C camera which I find to be a fully sufficient format. To my Leica T I have a Leica M-lens adapter (of course). I use my Leica M primes on my Leica T as well. Though I have the nice Summicron T 2/28 (35 mm equivalent on a 35 mm camera).
The lenses i carry along is the super sharp Super-Elmar 3,4/21 ASPH, the lovely drawing Elmarit 2,8/28 ASPH (which I use most of the time), Summilux 1,4/50 ASPH (for night and shallow depth pictures). And for distant subjects I carry along the good old, but heavy, Tele-Elmar 4/135.
Normally I bring along all analog Ag-films in my JapanCameraHunter cases. As you can see tiday I use CineStill film for color and BW as well as Ilford Delta 400 and 3200.
See my pictures on https://www.flickr.com/photos/leicaswede/
Lars-Göran Hedström, Varberg, Sweden
Thanks for coming back to us again, Lars. It is always nice to see what you are carrying.
Check out the links and make sure you come and comment.
Keep them coming folks, we need more submissions, so get your bag on Japancamerahunter.com.
Send me a hi resolution image of the bag. Optimum size is 1500 across. Please ensure there is a bag in the shot, unless you don't use one. The more you can write about yourself the better, make it appealing and tell us a story.
Oh and don't forget your contact details (twitter, flickr, tumbler et al). Send the bag shots here. Please understand that there is a long wait now as there is a backlog of submissions. Not all make the cut, so make sure yours is funny/interesting/quirky. And please make sure the shot is of good quality, as the ones that are not do not go up.
Cheers
Japancamerahunter