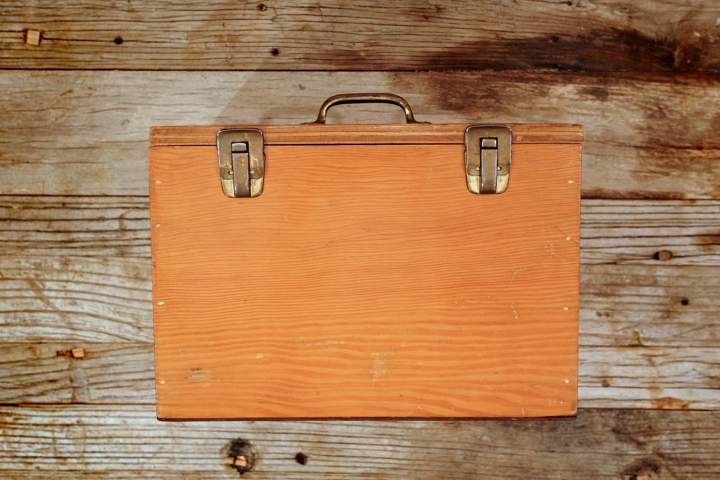 In your bag No: 1174, Anon c/o Aislinn Chuahiock
Aislinn has been on the site before with some wonderful and fascinating bags, and now she is back with something really special. This is a more of a case than a bag, but it is the way it is put together and the way it was used that interests me. A true 'yesteryear bag' Come and have a look at this fantastic setup.
Hi Bellamy, since we're always in the subject wonderful "In your Bag", I thought I'd like to share an amazing bag from an ANONYMOUS decades ago.
I think this is quite timely given the state of Rollei these days.
Whenever I go back home to Vancouver, I always touch base with some its finest camera collectors and dealers to see if I can score a fantastic find. One of the dealers (Mr. Tonchi Martinic), began his hello with something like this, "Aislinn, boy do I have something that will make you extremely jealous. Something you have never seen before or probably ever will.
He takes out this handmade wooden box and shows me a Rolleiflex kit. I didn't really scrutinize it further as I was already spellbound by the fact that it was a Rolleiflex Planar.
The only background to this collection was Mr. Martinic was able to acquire it from an estate sale. The previous owner was a German immigrant, and his wife was looking to dispose some of his possessions.
"Do you want it? I have no room for this"… Knowing my Rollei obsession and unhealthy crusade to try to save everyone of them, he asked me.
I ended up making an epic trade on the spot for this. A near mint Leica iiic (NOT the one you got for me :) + $ for CLA for the entire box. I was lucky, both of us had something the other wanted bad enough.
When I got the wooden box home, cleaning materials on hand, I unravelled one of the most awesome "In your bags" from yesteryears.
My heart leapt to my throat, as to realize how much love and pride went into this collection, by someone who obviously treasured it enough to handmake a box for it.
Today, we all have our bags and its wide array of cameras and knick knacks to boast, but seeing something like this just blows your mind away…
CONTENTS:
– A near mint Rolleiflex Zeiss Planar 3.5F as per serial number, it places the camera between 1958-1960
– Rolleikin 35mm adapter
– Rollei leather case and hood
– Heidosmat-Rolleinar 1, 2, & 3
– Filters
– "The Rollei Book: A Manual on Rolleiflex & Rolleicord Photography" by Dr. Walter Heering
– the kit also included Heidosmat-Rolleinars 1 &2 and 2 Rollei-geib-mittel that obviously belonged to a Rolleicord… I wonder where the Rolleicord went… DANG!…
– And a roll of exposed film (I developed it but to my dismay, nothing came out of it… looks like a test roll)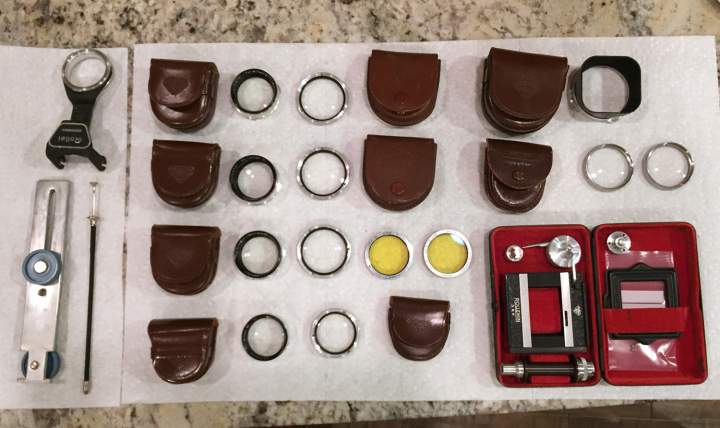 So to whoever you are, Sir… thank you. I promise I will take care of your prized Rolleiflex and never let it go.
Thanks for sharing this with us, Aislinn. I really hope that this camera gets to be used as intended and gets a walkabout in this lovely case from time to time.
Check out the links and make sure you come and comment.
Keep them coming folks, we need more submissions, so get your bag on Japancamerahunter.com.
Send me a hi resolution image of the bag. Optimum size is 1500 across. Please ensure there is a bag in the shot, unless you don't use one. The more you can write about yourself the better, make it appealing and tell us a story.
Oh and don't forget your contact details (twitter, flickr, tumbler et al). Send the bag shots here. Please understand that there is a long wait now as there is a backlog of submissions. Not all make the cut, so make sure yours is funny/interesting/quirky. And please make sure the shot is of good quality, as the ones that are not do not go up.
Cheers
Japancamerahunter